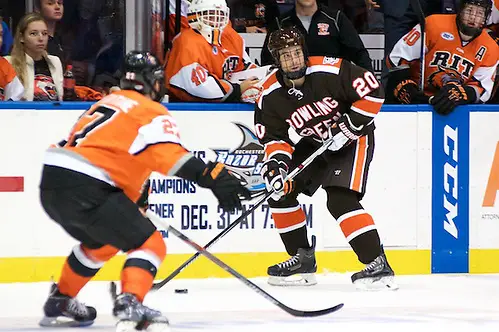 It's been a struggle for Bowling Green to find its identity this season.
Before the season started the Falcons were a trendy preseason pick to win the WCHA and advance to the NCAA tournament for first time in decades.
But the Falcons started off flat. They had some subtractions due to injury, but the effort simply wasn't there as they seven straight games (technically six losses and an overtime loss to Western Michigan).
"We aren't playing hard and we aren't putting in the effort you need to be a winning team," Bowling Green coach Chris Bergeron said during the losing streak. "That's the most frustrating thing. We can coach and improve certain things, but at some point, you need your lineup to wake up and show that effort needed to win."
The lineup finally woke up during a nonconference series against state-rival Miami and the Falcons picked up their first win on Oct. 29.
Since that 4-1 win against the RedHawks, the Falcons have re-established themselves a contender in the WCHA. They split with Ferris State and then bombed home 10 goals in a weekend sweep against Northern Michigan.
Like his team, senior Kevin Dufour has broken out of his slump and was named the WCHA Offensive Player of the Week after scoring in each game against Northern Michigan. The senior from Quebec came in with higher expectations after scoring 14 goals as a junior. He showed off his ability as a passer early in the season, but seemingly couldn't find the back of the net.
Now the goals are coming, and Bergeron doesn't want the Falcons to forget the struggles.
"I don't want us to forget we worked through bad things to play better," Bergeron told BGSUHockey.com. "It took effort, and it took attention to detail, and it took focus on the process. I don't want us, now that we've won a couple games, (to) get loose and we forget about the details, and we forget about the process, and we stop working. There's only one way this group can be successful and that's with process, that's with detail and purpose to what we're doing, and that's with everybody."
And the Falcons' front-loaded nonconference schedule ended up being an unforeseen blessing.
By getting struggles out of the way against nonconference opponents, the Falcons still have the second-most WCHA games remaining on their schedule (only Alaska-Anchorage has more).
"I don't want winning four of the last five to have us take our foot off the gas and think, 'OK, we're the team we were supposed to be, the team everyone thought we'd be, so we don't have to work,'" Bergeron said. "We don't have to do what we did to fight through that bad start to get to the point we're at right now. I just want us to remember how we got here."
Tech coming on strong
Don't look now, but Michigan Tech is back near the top.
The Huskies struggled out of the gate, dropping four straight games on the road at Minnesota-Duluth and Minnesota State. They gave up 17 goals in those games.
That put them behind the eight-ball, but now Tech is winners of five of its last six contests and has leapfrogged a bunch of teams to sit in second in the league standings behind Bemidji State.
Tech head coach Mel Pearson said following the Huskies' sweep of Lake Superior State that his team is finally starting to come together.
"The thing I like about it is, it's coming from a lot of different areas, it's not just three or four players," Pearson said during the postgame interview. "Our depth is starting to show now, and that's good."
The Huskies (6-6-2) have just one player who is in double digits scoring (junior defenseman Mark Auk has 10 points). But 22 of the players on Tech's roster have at least a point, and 18 have at least one goal.
Last weekend, Tech outscored the Lakers 10-3 in the two games. Seven different players scored, with Joel L'Esperance, Gavin Gould and Jake Jackson all netting two goals apiece.
"Our depth was tested this weekend, and I think we did a good job," said Pearson.
Pearson earned his 100th career win in Friday's 6-1 romp of the Lakers.
Now, the Huskies go into a two-week road trip to Alaska — first to Anchorage, then to Fairbanks — nipping at Bemidji State's heels. Although the Beavers have a 12-point lead, the Huskies have two games in hand on Bemidji — which hosts Northern Michigan this weekend but goes out of conference next week.
Ice Chips
– Alabama-Huntsville is now second in the NCAA With 198 blocked shots this season. Cam Knight and Brandon Parker are tied for the team lead with 30 blocks, while Brandon Carlson has blocked 29.
– Alaska has the week off after a successful trip to Alabama this past week. The Nanooks will play Michigan Tech after resting this week.
– It seems early to be completely done with nonconference play, but Alaska-Anchorage already finished its non-league slate after getting swept at Penn State last week. The Seawolves finish nonconference play with a 1-5-0 record — the lone win being a 1-0 shutout of Canisius. That is still UAA's only victory overall. They host Tech this weekend.
– Bemidji State continued its hot start with five points against Minnesota State last weekend. The No. 13-ranked Beavers are still undefeated in conference play at 9-0-1; they're 9-2-1 overall. This is their best start through 12 games since 2009-10, when they went 10-1-1 in their first 12. That season was the Beavers' last NCAA tournament appearance.
– Ferris State and Lake Superior State played four low-scoring games last season and combined for just 15 goals in head-to-head matchups. They meet this weekend and the traditional rivals have played on a consistent basis since 1977.
– Lake Superior State sophomore Mitch Hults continues to lead the Lakers and the WCHA in scoring with 14 points on the season. Hults added an assist in Saturday's loss and continues to lead the league in points per game (1.40), assists per game (1.00) and is tied for the league-lead in total assists (10).
– No. 15 Minnesota State looks to rebound from last week's struggles against Bemidji State with a home-and-home series with their instate rivals, No. 7 Minnesota. Although the Gophers lead the all-time series 36-13-7, the Mavericks have won three of the last four — including a victory in last season's North Star College Cup.