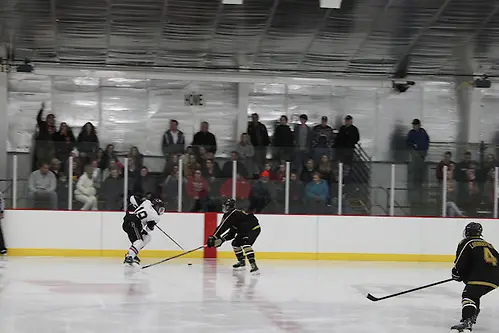 Barely on the radar last year, Russ Jordan has burst onto the Division III hockey scene this season.With eight goals and six assists, the junior forward leads Hamline in scoring and is one of the top offensive threats in the MIAC. It's a stark contrast to last season, when Jordan managed only one goal and two assists after transferring in from Wisconsin-River Falls.If you are wondering what has made the difference for Jordan, his off-season workouts have a lot to do with his success. Jordan spent the summer working out with fellow Illinois native Ryan Dzingel, who plays for the NHL's Ottawa Senators."He's my best friend from back home and we trained together over the summer," Jordan said. "We both shot a lot of pucks and I learned so much about hockey from him. He's a big reason why I'm having a breakout season."As much as skill has fueled Jordan's success, the right mindset has as well."I've been mentally strong and have stayed focused," Jordan said. "I'm just going out there and playing my game and taking advantage of opportunities."Jordan has Hamline poised to contend for a MIAC championship. The Pipers are 6-1-2 overall and 3-1 in the conference, just three points behind first-place Saint Mary's in the standings."We've worked hard to get where we are; nothing has been given to us," Jordan said. "I think one of the reasons we are doing so well as a team is because we have three great lines and everyone is playing within the game. We've all bought into coach (Cory) Laylin."Jordan started playing hockey after his dad introduced him to the sport and he's stuck with it ever since. He played in the NAHL before beginning his college career with Wis.-River Falls. He came to Hamline last year, but the Pipers won only 10 games and Jordan's impact on the team was minimal.It's a different story this year."I feel like my speed has improved, not just with how fast I am on the ice, but with the decisions I make, too," Jordan said. "I've just worked to become a better player all around and be consistent in every game."Jordan has had to work harder to cash in on opportunities as of late because defenses have started to change their approach when facing him."At the beginning of the season, my speed alone was enough to give me scoring chances," Jordan said. "Teams have started to close the gaps on me a little, but I've still found ways to get the puck and make my move."Jordan is thrilled with the way his season has gone up to this point and wants to continue doing what he can to help the Pipers stay in contention for a MIAC title."It's been exciting so far and we want to keep this going," Jordan said. "We're playing well as a team and as long as we stick with what has gotten us to this point we'll be in good shape."
Tough Start
Bethel, Gustavus Adolphus, and St. Olaf are the only teams in the MIAC that have yet to win a conference game. The Royals are 0-3-1 while the Gusties and Oles are 0-4. Each team has just one win overall.Yet all three teams have the potential to bounce back because of the talent on their teams. Bethel is led by Justin Bonanno and Andrew Bjorklund. The duo has combined for 10 goals and six assists, with Bonanno and Bjorklund coming through with five goals apiece, accounting for half the goals the Royals have scored this season.The Gusties, who have picked up their only win of the year on neutral ice, have lost twice by a goal and another game has gone to overtime. Evan Erickson has shown a great deal of promise despite the tough start, scoring four goals and dishing out two assists.St. Olaf has competed hard throughout the year and has lost three games by a goal, including one in overtime. Steven Sherman is among the top players for the Oles, scoring a pair of goals and tallying six assists. Five other players have scored three goals and four of those players, Tobias Gabrielsen, Patrick Sivets, Drew Otto, and JT Paine, have come through with three assists as well.
Vikings on a roll
Lawrence swept Finlandia over the weekend, winning 4-0 and 5-0 to push its win streak to three games. It's a stark contrast to the way the season started for the Vikings, who lost their first three games.Lawrence has scored just 16 goals but has allowed only 17. Evan Cline and Mattias Soderqvist have both been instrumental to the Vikings' early-season success. Cline is 2-0 and has one shutout while Soderqvist is 1-2 and has a shutout on his record as well. Cline has given up just one goal in his two starts while Soderqvist has allowed 11 goals in three starts.Greg Procopio has also seen time in goal for the Vikings, playing in three games. He has given up five goals on the year.
Falcons Bounce Back
Wisconsin-River Falls snapped a three-game winless streak Saturday with a 5-2 win over the Milwaukee School of Engineering. It was the second win this season for the Falcons, who are 2-6-1 overall. Four of those losses have been by one goal. Zach Quinn has earned both wins in goal for the Falcons this season. He has a .193 goals-against average in seven games and has racked up 140 saves.Offensively, Joe Drapluk has paved the way for the Falcons, scoring five goals and dishing out an assist. Only one other player on the team has tallied at least three goals, and that's Michael Lant, who has scored three times to go along with two assists.The Falcons get a bit of a break with the arrival of Thanksgiving and won't play again until Dec. 2, when they begin WIAC play against reigning national champion Wisconsin-Stevens Point.