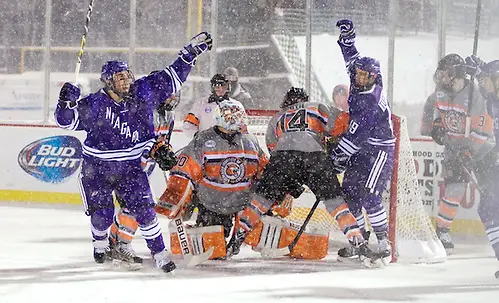 Niagara registered a couple of firsts back on Nov. 15.
For starters, a 5-4 win over Mercyhurst on home ice was the first victory of the season for coach Dave Burkholder's team after an 0-7-2 start.
It was also the first career win for sophomore Guillaume Therien, who was a hard-luck 0-13-3 coming into the contest.
"We didn't make it easy for him," said Burkholder. "We had a 3-0 lead early and then nine minutes into the second period, it's 3-3. We had to really battle."
Four of the five Niagara goals in the game were scored by seniors, with TJ Sarcona getting the tying and winning tallies.
Defenseman Vinny Muto also scored. Muto, Sarcona and classmates Stephen Pietrobon, Kevin Patterson, and Jackson Teichroeb have had their ups and downs, including some serious injuries.
"The seniors are the glue," said Burkholder. "When you have major injuries, it can change your career. But they've persevered and want to go out on a high note."
Teichroeb has found his groove over the past couple of weeks, allowing just three goals in his last three starts including two shutouts, the seventh and eighth of his career. That's a marked improvement after a rough start that saw him allow 21 goals in five games.
"A lot of the credit goes to the play of Jackson," said Burkholder, a former All-American goaltender at Rochester Institute of Technology. "He and the entire team got off to a rough start to the season. But he put in the work, put in the extra time with the goaltending coaches. He got rewarded."
One of Teichroeb's shutouts was a 0-0 tie with American International last Friday. It was the third scoreless tie in school history. The Purple Eagles also skated to scoreless draws with RIT (Oct. 8, 2011) and Robert Morris (Feb 28, 2009 when both were members of the defunct College Hockey America conference).
"It was frustrating," said Burkholder. "As a former goalie, you're thinking, 'Just get me a goal'. We had three Grade A chances including one on overtime, but (AIC goaltender Alex Murray) made some nice saves."
Niagara saw its momentum end the next afternoon with a 3-1 loss to the Yellow Jackets.
"[The scoreless tie] was a good road point," said Burkholder. "Unfortunately, we didn't follow up on that and lost the next game. To come away empty handed was disappointing."
Looking ahead, Burkholder's squad will host his alma mater in a pair of games this weekend, the only time the teams will square off in the regular season.
"We're looking forward to it," he said. "It's been a great rivalry all the way back to our first season in the (Division III) ECAC West. They're the defending champs and picked to finish first, so it will be a good challenge.
"They have a great fan base that travels well, and we've had some success against them at Dwyer (Arena). It should be a great atmosphere."
Another first
Another goalie picked up his first collegiate win recently.
Robert Morris junior Andrew Pikul, usually used in a relief role throughout his career, made the most of a rare start and blanked visiting Dartmouth 3-0 last Saturday.
Pikul stopped all 33 shots he faced for the victory. Brady Ferguson scored what would hold up as the game-winner midway through the first period, and Daniel Leavens scored in his fourth straight game.
Ferguson now has nine goals, tops in Atlantic Hockey.
A game in hand is worth…
We're about a third of the way into the season, and there's still a lot of variability in the number of conference games in the books for each team.
We'll end the regular season on Feb. 25 with 28 league contests completed for each school. But for now, there's as much as a six game swing.
Holy Cross (2-2-2) and Air Force (4-2), thanks to front-loaded non-league schedules, have played only six conference games so far, while American International has played 12 (3-5-4). So while AIC sits one point out of first behind Army (6-4) and Rochester Institute of Technology (6-5), every team in the league has at least one game in hand on the Yellow Jackets.
Sorting the standings by winning percentage yields a more accurate assessment of who's had a good start to the season. Air Force (4-2) jumps from seventh to first place, followed by Army (6-4), Robert Morris (4-3-1) and Canisius (4-3-2).
To see for yourself, the full standings are here. Click on "Win %" to sort by winning percentage.
A rising tide
After a 3-5 weekend, AHC teams are now 12-28-10 (.340) in nonconference play. Not great, but so far better than last year's dismal .246 (15-49-3). It's the best winning percentage for the league since the 2012-13 season, when Atlantic Hockey, boosted by eight wins against a new Penn State program, went 25-49-3 (.365).
That was, not coincidentally, the year that regular season champions Niagara earned the league's only at-large berth to the NCAA tournament.
Right now, Air Force sits in 19th place in the PairWise Rankings; Robert Morris in 21st. More non-league wins would help move them closer to contention for a national bid.
Let's go to the video tape
I'm probably dating myself with the Warner Wolf reference, but it was too good to pass up.
Highlights these days are of the digital variety, and the NCAA's weekly pick of the Top Five Plays features four Atlantic Hockey teams — two pluses and two minuses. Enjoy.
Weekly Awards
I'm in agreement with the league's picks this week:
Player of the Week —.Jordan Minello, Sacred Heart: The senior had a whopper of a weekend, with four goals and an assist in come-from-behind wins against AIC and UConn. He now has eight goals on the season.
Goalie of the Week — Andrew Pikul, Robert Morris: Pikul picked up his first collegiate win in style, with a 33-save shutout of Dartmouth.
Defensive Player of the Week — Phil Boje, Air Force: The junior blueliner had a pair of points in each game to help the Falcons to a 1-1 weekend with a win over crosstown rival Colorado College and a tough 4-3 overtime loss to Denver. Boje had a goal and an assist against Denver and a pair of assists, including on the game-winner, in the 6-3 victory over CC.
Rookie of the Week — Colin DeAugustine, Mercyhurst: DeAugustine picked up his second victory of the season with a 39-save performance in a 5-1 win over Canisius. Mercyhurst was outshot 40-26 in the game, but DeAugustine stood tall, making 32 stops over the final two periods.