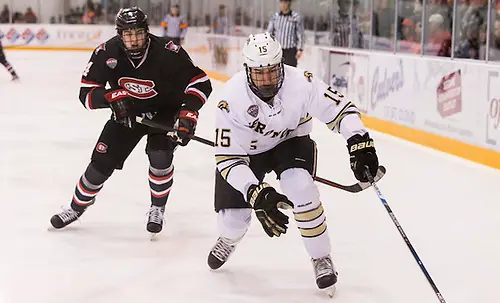 Many college hockey teams are idle over Thanksgiving weekend.
With the season's midway point approaching, the fourth week of November is as good a time as any to recharge the batteries.
Western Michigan's are working pretty well so far this season. The Broncos entered an off week carrying a 7-3-2 record that includes a win and a tie at home two weekends ago against Air Force. WMU is still unbeaten at home at 5-0-1.
Broncos head coach Andy Murray won't want to think about it, but his team is setting him up well early for NCHC coach of the year consideration. Western is already only one win away from matching its total during the 2015-16 season, which saw the Broncos finish 8-25-3.
During his weekly press conference Monday, Murray was asked what has sparked the 16th-ranked Broncos' turnaround since being swept in the first round of the NCHC playoffs in March at St. Cloud State.
Out came, among other things, an itemized list.
"I think one of the reasons that we've played better this year was last year," Murray said. "The fact that we were humbled as a team, as a program, the coach wasn't good enough, the players did not execute the way that they wanted to, and I think everybody took it on themselves to be better this year, to make sure from the start of the summer training session right through training camp and into the regular season that we would not allow that to happen again, what happened to us last year.
"Now, we can use all of the excuses we want for last year, [but] none of them are valid and it's a matter of everyone stepping up and getting the job done. We're just early into this season and we've played 12 games, so there's a lot of hockey to be played yet and we've got a lot of points we still have to make, but we were humbled last year, and when that happens you need to have a positive response, and thus far this season, we've had that."
This week, WMU welcomes to Kalamazoo, Mich., the same SCSU team that went a perfect 6-0 against the Broncos last season. The last time St. Cloud played at Lawson Ice Arena, on Nov. 14 of last year, the Huskies rolled to an 11-1 win.
None of the teams' four regular-season meetings in 2015-16 ended up being especially tight on the scoreboard. Take away that one nightmarish result and SCSU still outscored Western 20-7 over the other three games.
Meetings Nos. 5 and 6 were much closer. SCSU took Game 1 of the teams' playoff series 4-3 in overtime before a three-goal second period in Game 2 was the difference in the Huskies' 4-2 clinching win at the National Hockey Center.
In beginning to prepare last week for SCSU's visit, Western took Thanksgiving Day and Friday off before holding a team practice Saturday. The Broncos weren't allowed to make up for lost time with an official team practice Sunday, but players got together for a captains' skate.
Now into a more routine week of practice, the Broncos are further gearing up to try and get their first win over No. 17 SCSU (6-6) since Jan. 24, 2015.
Doing so would be easier said than done, but determination can pay dividends.
"Tremendous team," Murray said of the Huskies. "Great puck skills, speed, coach [Bob] Motzko's always had a team that's continued to get better as the year goes on and, at the end of the season, they're normally a national contender, and that's no different this year.
"They're going to be an angry team coming in. They also had last weekend off. The previous weekend, they got swept at home by the University of North Dakota, and that just doesn't happen very often to St. Cloud. We've got an angry team coming in, but obviously when you get beat six times like we did last year, you've got a point to make yourselves."
Omaha still unbeaten away from home
When Omaha has hit its home ice so far this season, fans have usually left having seen the Mavericks (2-5-1 at Baxter Arena) fall to their visitors.
When UNO hits the road, the script flips.
Omaha is 5-0-1 in away games this season, including a 3-1 neutral-site win over Alaska-Anchorage at the start of the season in Fairbanks. After being swept at home two weeks ago by current No. 1 Minnesota-Duluth, UNO hit the road again last week and picked up a win and tie at nonconference foe Northern Michigan.
Last Friday in Marquette, Mich., Omaha weathered three third-period penalty kills to pick up a 2-2 tie against NMU. The Wildcats scored a goal with 8.3 seconds left in an exhibition 3-on-3 overtime period to send NMU fans home happy.
Omaha goaltender Kris Oldham made 30 saves in a solid outing after conceding two goals in the game's first 11:17. In head coach Dean Blais' eyes, however, there was something missing from the Mavericks' performance in the series opener.
Logistics around playing over the holiday weekend may have had something to do with it.
"Friday just seemed out of sync," Blais said. "Any time we're missing the net 18 times and we've got some of our pure shooters missing the net, you're not there mentally.
"You can say that we didn't practice Wednesday because it was a travel day, but you still have to have a decent practice on Thursday after a Thanksgiving dinner, so maybe Thanksgiving dinner screwed us up, but when we looked around, there weren't many seconds at that meal.
"Part of the deal with the hotel was you could have two plates full of food, which is good for anyone, and nobody went back for seconds," Blais continued, "so I know they didn't overeat on Thursday, Thanksgiving Day, but we sure played like it on Friday."
When the teams reconvened Saturday at the Berry Events Center, two goals 14 seconds apart in the second period from Omaha's Jake Randolph and Justin Parizek supplied all the scoring support the Mavericks needed in a 2-0 victory. Evan Weninger made 31 saves for UNO, 19 of them in the third period.
Nothing Omaha got on Saturday came easily, however, against one of the Mavericks' former league rivals in the now-defunct Central Collegiate Hockey Association.
"I thought that was a hard-fought game and I think when they won on the 3-on-3 (Friday), it gave them confidence," Blais said of NMU. "Although it didn't count, it still helped them mentally that, 'Hey, Omaha's a pretty good team and we're not far off.'"
Later this week, Omaha visits a Wisconsin team whose 7-5 record isn't far away from the Mavericks' (7-5-2). After that, UNO travels to NCHC rival St. Cloud State to end a string of six consecutive away games.
Blais will be reunited this weekend in Madison, Wis., with Wisconsin assistant coach Mark Osiecki, who was Blais' assistant on North Dakota's national championship-winning team in 1997 and assisted Blais' gold medal-winning United States team at the 2010 IIHF World Junior Championship.
Wisconsin's coaching staff, which also includes first-year head coach Tony Granato and assistant Don Granato, earned praise from Blais this week.
"They've got three good coaches and the players are buying in," Blais said. "I'm sure that what Tony Granato told the guys is, 'We're going to honor everyone's scholarship this year. At the end of the year, we'll both sit down and kind of assess your year and if it's not up to our liking, see you later.'
"They've got a lot of recruits verbally committed there in the next three years, they've got actually five players off one (junior) team, and they're not fooling around. They're all business."
Players of the week
Offensive player of the week: Dylan Gambrell, Denver. A five-point weekend from Gambrell propelled Denver to victories over Air Force and Wisconsin. Three of those points were collected during DU power plays.
Defensive player of the week: Will Butcher, Denver. The senior defenseman recorded four points against AFA and UW, including one goal early in Denver's 6-5 home victory Saturday against the Badgers. Denver's captain finished the weekend with 12 shots on goal and three blocked shots at the Pioneers' end of the ice.
Rookie of the week: Henrik Borgström, Denver. A five-point weekend from the Finnish forward gave DU a boost. Borgström finished the weekend with two goals, both of those scored in the second period of the Pioneers' victory Saturday against UW.
Goaltender of the week: Evan Weninger, Omaha. The sophomore goalie only appeared in one of two games last weekend but made 31 saves in a 2-0 shutout win over Northern Michigan on Saturday, Weninger helped the Mavericks kill off all three of NMU's power-play opportunities on the night.