For the current group of seniors at Colby, the opening four games in their prior three seasons had been anything but kind to the Mules. Collectively, the record over the first two weekends in their first three seasons is 2-7-3, so this year's 3-1-0 start has everyone excited and very happy for a dedicated group that has never doubted their character.
"Equating failure with losing and success with winning doesn't define you as a person," stated coach Blaise MacDonald. "That would baseline people with a pretty shallow existence if those were the only determinations. We look at the whole person here and not just the hockey player when it comes to growing as an individual, but looking at the hockey player piece, I am very happy, we are very happy for the players coming off our opening games."
As NESCAC is the last conference to begin play in real games, the schedule usually means jumping right into competitive league play and then a tournament with high-level nonconference opponents. Case in point, the Mules opened with Middlebury and Williams, last year's NESCAC champions, before co-hosting a tournament with Bowdoin that brought in Becker College and a nationally ranked Geneseo squad.
Opening night saw the Mules outshoot the Panthers by a 48-18 margin, but regulation ended in a 1-1 deadlock. Captain Geoff Sullivan scored the game-winner for Colby just over two minutes into the extra session for the home team, which skated off with the 2-1 win. Fellow senior EJ Rauseo assisted on the game-winner and also scored Colby's first goal of the campaign on a power play early in the second period.
"I am not completely sure but that might be the first time we have ever beaten Middlebury in my time here as coach," noted MacDonald. "I think they were the only team we hadn't beaten in the conference and to see Geoff and EJ play so well and factor in the scoring was very satisfying for the coaching staff. We have a really veteran team here this season that knows how tough this league is. There are very small margins for error and this group has learned to handle the peaks and the valleys while embracing the challenges."
On Saturday following the win over Middlebury, the Mules spotted Williams a goal in the first 90 seconds of play, but that was the only goal they allowed and sophomore forward Nick O'Connor answered just over a minute later to change momentum for Colby. The 4-1 win capped a 2-0 weekend which has confidence surging in Waterville, Maine.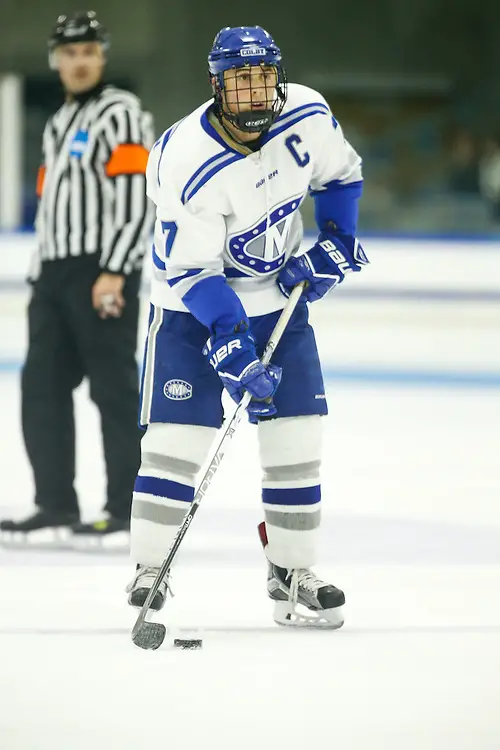 Confidence which may have, in part, come from some changes in practice routine and some sage wisdom from a coaching legend.
"I have the opportunity to have lunch quite frequently with coach Jack Kelley," said MacDonald. "He described a season where he didn't have the players scrimmage at all in the early practices as a team. I thought that was an interesting concept and we tried it out. We didn't have our first situational scrimmage until the Tuesday before the Friday night game with Middlebury. The energy level was huge and so too was the engagement level as you saw players figuring things out and actively communicating with each other to quickly adjust in game-like scenarios."
This past weekend, Colby added its third win in a row over Becker by an 8-3 score before falling in the tournament championship game to nationally ranked Geneseo by a 4-3 score in overtime in a seesaw battle that saw the Knights jump out to a 2-0 lead only to see Colby rally for three unanswered goals and the lead entering the final minute of play in regulation. An extra-attacker goal tied it up for Geneseo, which then won the game in overtime. Both teams recorded 40 or more shots in the game and despite the hard-fought loss, there is much optimism on campus for hockey at Colby.
"It was great to open with two wins," said Colby SID Bill Sodoma. "The schedule worked well in that you know after a weekend like this, that you can compete with anyone in NESCAC. It's not like you are playing two nonconference games against weaker teams. I am anxious to see how we do against Geneseo on Sunday and then the following weekend against Bowdoin."
At 3-1-0, and 35 seconds from 4-0-0, there is a lot to look forward to for Colby hockey this season and the excitement continues this weekend in one of the most storied rivalries in all of college hockey when Colby and Bowdoin play their home-and-home series this weekend beginning Friday night at "The Sid" in Brunswick.