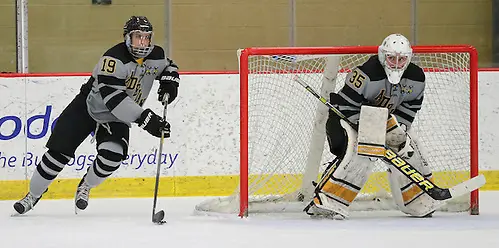 Kevin Entmaa was asked to play goalie for his team when he was only 8 years old. He gave it a shot and has stuck with it ever since.
It turned out to be the right position for him as Entmaa, only a sophomore at Adrian, has developed into one of the top netminders in the nation at any level.
He led the country in winning percentage a year ago and was the last goalie in men's Division I or Division III to lose a game. He finished at 14-1 as a freshman and is 5-1-1 in seven games this season.
"I went into last season with no expectations," Entmaa said. "I had worked hard over the summer to get ready and things just kind of fell into place for me."
Indeed they did. Entmaa's stellar play in goal helped Adrian reach the quarterfinal round of the NCAA tournament. The Bulldogs fell, 5-2, to eventual national champion Wisconsin-Stevens Point.
The experience was invaluable for Entmaa and he entered this year with high expectations.
"The expectations are definitely much higher, but things are going well," Entmaa said. "I'm a lot more comfortable and know what to expect, but it's not all me. The offense does a great job of scoring and the defense in front of me plays great. It's a team effort."
Entmaa said the role his teammates played in his success helped him thrive as a freshman. He allowed only 33 goals all year and fashioned a save percentage of .926.
"I had a couple of doubts about how well I was going to do, but I was prepared to play and I was able to have some success early and run with it," Entmaa said.
Entmaa said he has never stopped to think about what he has accomplished in a short period of time, focusing on each game as it comes, and noted one of the keys to his success has been his ability to read the play.
"I've been able to watch the play develop and let the puck come to me rather than force something," Entmaa said. "I'm quick, too, and that has allowed me to keep up with the speed of the game."
Playing in the NCHA is a challenge in itself. Adrian also schedules challenging nonconference games. The Bulldogs played against defending national champion Wis.-Stevens Point this past weekend and won 6-3. The Bulldogs also skated to a 3-3 tie with MIAC power St. Thomas.
"We play a lot of good teams during the season and I think that helps build character and makes you a better team in the long run," Entmaa said. "I've gained a lot from the experience."
Expectations are high for Adrian this year, as is the case every season, and Entmaa is hopeful the Bulldogs can make a run at a national title.
"Our expectations are high every year," Entmaa said. "Our focus is on taking it practice by practice and game by game, but we feel that we have a great shot at making a run at the title this year."
Cobbers come out of November battle-tested
Concordia had a challenging November, winning only two of its six games, although two of its losses were to Wis.-Stevens Point (6-3) and Norwich (3-0), both of which are ranked in the top 10 of this week's USCHO.com poll.
The Cobbers also came through with a signature win this past month, knocking off nationally ranked Plattsburgh, 4-3, in the opening game of the PrimeLink Great Northern Shootout last weekend.
Concordia is 4-4 on the season and has come through with 19 goals while allowing 25. Seven of its goals have come off the power play.
Dalton Mill has paved the way offensively, scoring five goals. Garrett Hendrickson and Zach Doerring have tallied three goals apiece while Jeremy Johnson leads the team in scoring with seven assists.
Both goalies for the Cobbers have seen nearly equal time on the ice and both have two wins. Jacob Stephen owns a 2.98 goals-against average while Sam Nelson has a 3.02 goals-against average.
Concordia will have a short month, playing just three games, including a two-game series against MIAC leader Saint Mary's on the road this weekend. The Cobbers are 1-2 away from home this season.
Saints set to hit the ice again
After nearly two weeks off, St. Scholastica will be back on the ice this weekend when it plays a two-game series at Marian.
The Saints have won three of their last four, scoring at least five goals in each of their wins, and are 4-3 overall and 3-1 in the NCHA.
St. Scholastica has scored 25 goals in all and Brandon Millin has led the attack, scoring three goals and dishing out four assists. Steven Phee has also risen to the occasion, coming through with a team-high four goals to go along with two assists.
Derek Sutliffe ranks third on the team in scoring with three goals and three assists, and Josh Hansen currently has a six-game point streak. He has two goals and four assists on the year.
Goaltending for the Saints hasn't been bad either. Peter Megariotis owns a 4-3 record in seven games and has a 2.50 goals-against average. The Saints have given up 17 goals.
Blue Devils aim to get back on track
Wisconsin-Stout hasn't played in almost two weeks and will try to snap a two-game losing streak when it hits the road for games against Wisconsin-Eau Claire and Wisconsin-Superior this week. Wis.-Stout is 4-4 overall and that record includes a 1-3 mark in road games.
Riley Colvard has been instrumental to the success of Wis.-Stout, leading the team in scoring with five goals and three assists. Connor Velesano has risen to the occasion as well, coming through with four goals and two assists.
The Blue Devils have played in their share of close games this year, with all but three being decided by a goal. They have won three one-goal games, including a 5-4 overtime win Nov. 12 against St. Olaf and have lost two one-goal games.