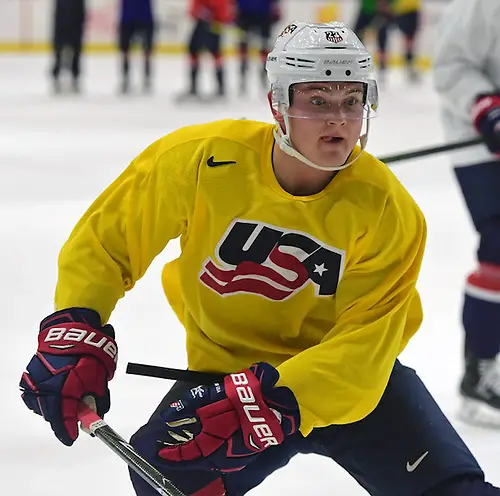 The year 2013 seems like such a long time ago for USA Hockey.
It may only be four calendar years, but three years and three fruitless attempts to bring home the gold medal at the IIHF World Under-20 Championship, better known as the World Juniors, make 2013 seem like a distant memory.
2017 World Junior Championship
Dec. 26, 2016-Jan. 5, 2017, Toronto and Montreal
United States schedule (all times Eastern and all games on NHL Network):
Monday, Dec. 26: U.S. 6, Latvia 1
Wednesday, Dec. 28: U.S. 5, Slovakia 2
Thursday, Dec. 29: U.S. 3, Russia 2
Saturday, Dec. 31: U.S. 3, Canada 1
Monday, Jan. 2: Quarterfinals -- U.S. 3, Switzerland 2
Wednesday, Jan. 4: Semifinals -- U.S. 4, Russia 3, shootout
Thursday, Jan. 5: Gold-medal game: U.S. 5, Canada 4, shootout
The team that has made that time feel so long is Russia. In each of the last three tournaments, Russia has ended the U.S. dream of gold, twice in the quarterfinals (2014, 2015) and last year in the semifinals.
All three matchups were one-goal games (in 2014, Russia scored a late empty-netter for a 5-3 final) where the Americans found themselves unable to bury that clutch goal in the moment. That despite the fact that in pool play, the U.S. outscored their opponents on average by more than three goals a game.
That's something that Jim Johannson hopes to have addressed in selecting this year's team. The Rochester, Minn., native will serve as general manager for Team USA for the eighth time as his team begins play on December 26 against Latvia. That game, and all Team USA games, will be televised on NHL Network.
"[One-goal losses] shows you how tough the tournament is going to be and how good the goaltending is," said Johansson. "Looking at this team here, especially up front, it's safe to say we're going to be a four-line team. Guys are all going to play. We're not going to be a one-line dependent or two-line dependent team."
At forward, Boston College's Colin White is the only player returning from last year's bronze-medal winning team. But he is joined by plenty of offensive talent with a distinct college flavor. All but one forward, Jack Roslovic who is in the American Hockey League, play college hockey.
"It's a good group," said Johannson. "It's a real diverse group that has a lot of potential for a lot of offense with scoring ability spread out throughout the lineup."
On the back end, Johannson stressed the ability to create offense from defense, emphasizing the ability to move the puck and get back to the attack as often as possible.
Boston University's Charlie McAvoy, one of two defensemen returning for a second time, will be the workhorse and Johannson expects him to play in every situation. But don't read that for a lack of depth. This is a U.S. team that has experience and talent on the blue line.
"Combined, the [defensive] group has really good mobility and puck-moving ability," Johannson said. "I think we'll look for Charlie to be the leader back there.
"But as a group, we'll look for them to play all of the situations as needed the key to it being the skating ability and the ability to move the puck."
Goaltending is the only area where the Americans will bring three newcomers. Boston College and Boston University freshmen Joseph Woll and Jake Oettinger, respectively, will be joined by Memorial Cup-winning netminder Tyler Parsons for a very strong backstopping trio. If anything, the decision on which goaltender to start and whether one can catch fire will create the only difficulty when it comes to goaltenders.
"They're all very competitive and all guys with a good track record," Johannson said of his netminders. "[Woll and Oettinger] both know what they have done at BC and BU, respectively, this year as freshmen thrust into the starting roles there, both playing really well. Tyler Parsons is a Memorial Cup Champion last year. He's shown he can win the big games and play in the playoff.
"Going into it, there's a comfort level with all three."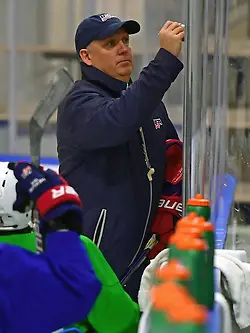 And that leaves the man who will lead it all, another college veteran, St. Cloud coach Bob Motzko. Motzko was an assistant in 2014 and will assume his first head coaching duties for Team USA.
Appointing a first-time coach didn't matter so much to Johannson as did finding a coach who shares his philosophy. Playing in a short tournament where generating offense and scoring timely goals is often the key to success, both Johannson and Motzko believe in allowing players to play without trying to overly impose systems.
"He coaches and believes in what I believe in for World Junior hockey is and that's pace to the play and puck pressure where you're letting your skill come out and letting the offensive players play the game they love to play," said Johannson. "Bob has been known for that at St. Cloud, but he's also had a fierce, competitive team that can tighten things up in tight hockey.
"He's going to instill everything he wants in these guys, but he does it in a very open manner and a manner that these guys want to play for him."
All this leads back to how does this team bring home gold, particularly playing in the hostile Canadian cities of Toronto and Montreal. Consistency will be a big part of it. Looking back to the 2013 gold medal team, the team never struggled offensively, scoring 34 goals in seven games. But when it came time to tighten things defensively, particularly in a 3-1 victory in the gold medal game against Sweden, Team USA could rely on strong play from the blue line and stellar play in net by tournament MVP John Gibson.
Pool play will be difficult with long-time rival Canada, recent nemesis Russia joined by Slovakia and Latvia, all part of the American's pool that will play at Toronto's Air Canada Centre. But pool play is really about building chemistry among lines and as a team. The real key will be if the Americans can advance to the medal round at the Bell Centre in Montreal. That's when the one-and-done, survive-and-advance mentality must take over.
"The whole tournament you build around trying to get better," said Johannson. "The kids are the game and they all know what's on the line when you go into the tournament, so you highlight games a little bit but you have to keep getting better throughout the tournament to put yourself in position to have success throughout the end of the tournament."
As for Team Canada, BU freshman Dante Fabbro and North Dakota freshman Tyson Jost will suit up for the Canadians. Denver freshman Henrik Borgstrom, Providence's Kasper Bjorkqvist and BC freshmen Jesper and Julius Mattila will suit up for Finland, North Dakota goalie Matej Tomek and Connecticut goalie Adam Huska made the Slovakian team and Karlis Cukste from Quinnipiac is on the roster for Latvia.