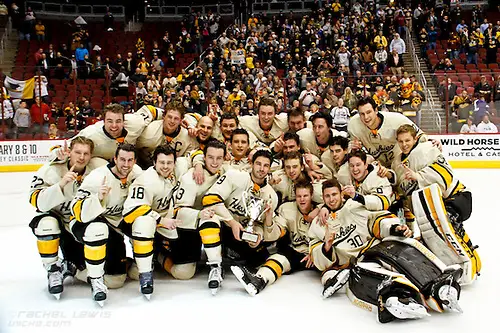 This time of year brings many teams together for holiday tournaments as schools are on break and regular-season play is put aside until the first weekend in January.
Six tournaments dot the schedule this week and we have capsule previews of each.
Ledyard Bank Classic
Location: Thompson Arena, Hanover, N.H.
Host School: Dartmouth
Dates: Dec. 30-31
Participating Teams: Dartmouth, Army West Point, Massachusetts-Lowell, Colgate
2015 Winner: Dartmouth
Quick Tournament Fact: Both Dartmouth and Union finished 2-0 at last year's Ledyard Bank Classic, but the Big Green won the tournament based on goal differential. This year's tournament will have semifinals as Colgate faces UMass-Lowell and Army faces Dartmouth. The winners of those games face off in the championship game, while the losers face off in the consolation round.
Notable Quotable: "It's going to be fun at home [where] we play a really good Army team," Dartmouth coach Bob Gaudet said. "Brian Riley has done a fabulous job with that program – they are playing great. Colgate plays Lowell – of course, Colgate is in our league – and we know them really well. We play them a lot, we played them in the playoffs last year and I think the year before, too. Then a Lowell team with Norm Bazin coming in is going to be fun to watch. They are one of the top teams in the country. It should be a great tournament. It should really fun."
Tournament Picks: I will take Dartmouth and UMass-Lowell on Dec. 30. In the few games Dartmouth has played at Thompson Arena, they are 3-0-1 this season. I like them against Army. UMass-Lowell has been solid under Bazin and this year is no exception. I think the River Hawks take the Ledyard Classic to end 2016. They are a veteran team and Dartmouth is a young team. I think that will play a factor in a close tightly contested game. In the consolation game, I will take Army over Colgate.
— Nathan Fournier
Florida College Hockey Classic
Location: Germain Arena, Estero, Fla.
Host School: Cornell
Dates: Dec. 28-29
Participating Teams: Cornell, Merrimack, Colorado College, Northern Michigan
2015 Winner: Ohio State
Quick Tournament Fact: Nearly 40 players who played in the Florida College Classic have gone on and played for the ECHL's Florida Everblades (Germain Arena's main tenant) in their pro careers. Maine leads with 12 alumni, while tournament host Cornell has had five players play for Florida.
Notable Quotable: "It's always a great tournament and [Everblades president and GM] Craig Brush has done a tremendous job with the tournament down there," Cornell coach Mike Schafter said. "We love heading down there and you never can judge who does well in the tournament because everybody is coming off Christmas break. The games are always interesting with the level of play and the quality of teams. The excitement is always fun."
Tournament Picks: In the semifinals, I see Cornell and Merrimack moving on. Both Northern Michigan and Colorado College have a combined seven wins this season. Cornell will get by Northern Michigan, while Merrimack will get by Colorado College. It makes an intriguing championship game as Merrimack and Cornell will now face each other three times this season. The teams met on Oct. 28 where the Warriors won 3-2 at Merrimack. They meet again on Jan. 7, also at Merrimack. I think Cornell will win down in Florida, but it should be another close game. Northern Michigan should take the consolation game as they have more scoring threats than the Tigers.
— Nathan Fournier
Desert Hockey Classic
Location: Prescott Valley Event Center, Prescott Valley, Ariz.
Host School: Arizona State
Dates: Dec. 30-31
Participating Teams: Arizona State, Brown, Connecticut, St. Cloud State
2015 Winner: Michigan Tech
Quick Tournament Fact: A year ago, host Arizona State, playing in its first season as an NCAA Division I team, struggled and failed to score a single goal. Don't expect that in Year 2, as the Sun Devils enter riding a three-game winning streak. These are hardly home games for Arizona State as the venue is more than 90 minutes north of the Tempe campus. And the remainder of the field is strong, including upstart Connecticut, an always competitive Brown team and No. 18 St. Cloud State
Notable Quotable: "We want to bring ASU hockey to as much of the state as we can," said Arizona State coach Greg Powers, who noted this year's tournament was moved to Prescott Valley, a former pro hockey market, to not conflict with the Fiesta Bowl. "[Prescott Valley] is a pretty good hockey community. They had hockey for a number of years. They crave it."
Tournament Picks: It's difficult to pick against St. Cloud State, the only nationally-ranked team in this year's event. Given the fact SCSU could face the host Sun Devils in the finals could make it a tough road, but St. Cloud should win.
— Jim Connelly
Three Rivers Classic
Location: PPG Paints Arena, Pittsburgh
Host School: Robert Morris
Dates: Dec. 29-30
Participating Teams: Boston College, Ferris State, Quinnipiac, Robert Morris
2015 Winner: Robert Morris
Quick Tournament Fact: Robert Morris has won two of four tournament titles to date. This is the only holiday tournament to feature a pair of ranked teams (No. 6 Boston College, who won this tournament in 2013 and No. 14 Quinnipiac). The combined wins so far by the four teams (39) is also tops of the six holiday tournaments.
Notable Quotable: "Year after year, this is the best field of any college hockey tournament," said RMU coach Derek Schooley.
Tournament Picks: Robert Morris over Ferris State and Boston College over Quinnipiac. BC over RMU in the title game.
— Chris Lerch
Great Lakes Invitational
Location: Joe Louis Arena, Detroit
Host School: Michigan Tech
Dates: Dec. 29-30
Participating Teams: Michigan, Michigan State, Michigan Tech, Western Michigan
2015 Winner: Michigan
Quick Tournament Fact: The 52nd annual GLI will be the fifth straight with an all-Michigan field. It will also be the last tournament at the Joe Louis Arena until the Little Caesars Arena is completed next season. Michigan is the two-time defending champion, but still has yet to put together a two-game weekend sweep this season. Their first-round opponent Michigan Tech, on the other hand, comes into the field as one of the hottest teams in the country — the Huskies' only loss in their past 10 games was a 3-1 decision against No. 15 Bemidji State. No. 16 Western Michigan, the last non-Wolverines team to win the GLI, takes on Michigan State in the other first-round game. The Broncos haven't played since Dec. 9-10 against No. 8 North Dakota — a series split in Grand Forks. MSU hasn't won the GLI since 2009.
Notable Quotable: "I played in the very first GLI game at Joe Louis Arena, and now at the other end of it to be a coach in the last GLI at The Joe will be special," MTU coach Mel Pearson told the Detroit Red Wings website. "I've seen a lot over the years and have a lot of fond memories. To me, it's bar none the best college hockey tournament in the country."
Tournament Picks: With the way Michigan Tech has been playing as of late, it would be tough to pick against them. They played Michigan already this season in Ann Arbor and managed only a loss and a tie. They Huskies been playing much better since then, though — especially with the emergence of freshman goaltender Angus Redmond. Don't count out Western Michigan, though. Head coach Andy Murray's Broncos have done some damage in the NCHC this season.
— Jack Hittinger
Mariucci Classic
Location: Mariucci Arena, Minneapolis, Minn.
Host School: Minnesota
Dates: Dec. 30-31
Participating Teams: Alabama-Huntsville, Mercyhurst, Massachusetts, Minnesota
2015 Winner: Harvard
Quick Tournament Fact: On paper, the Golden Gophers are the strongest team in the field. Minnesota finished the first half with a sweep of Michigan State and went 4-2-0 in the six games leading up to the break. Mercyhurst (3-2-1 in the last six of the half) and Alabama-Huntsville (3-3-0 in the last six) also come into the tournament with more recent success than Massachusetts, which is looking to break a five-game losing streak in Minneapolis. As the only team in this field under consideration in the PairWise Rankings at midterm, Minnesota has a bit at stake in these games.
Tournament Picks: The Golden Gophers haven't captured the title in their own tournament since 2012. Minnesota is still struggling with consistency, but a tough first-half schedule may have seasoned this team. At 7-5-2, Mercyhurst is no pushover, but the Gophers should prevail in this year's Mariucci Classic.
— Paula C. Weston