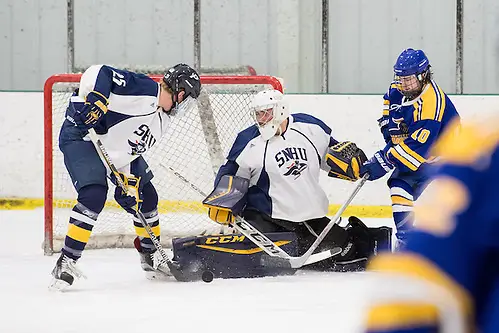 "A single snowflake does not make a blizzard," stated Southern New Hampshire head coach Ken Hutchins.  "That is a quote from 'Snooks' Kelley back in the 1950s, and it is our motto for the second half coming up where we are not taking anything for granted after a good first half."
A good first half may be an understatement by coach Hutchins, as his Penmen had more wins at the break than any team in D-II or D-III with 11 victories that included a pair of bookend 3-2 wins over St. Anselm and Lebanon Valley in their current five-game win streak.
"There have been a few keys to our success so far," stated Hutchins. "[Ryan] Slatky has been very good for us in goal all season. He really has been a workhorse for us and seems to have it figured out in his junior year in terms of his consistent play and really carrying us in some cases back there. No question he is a big part of our penalty kill numbers and keeping our team in games at times when we haven't had it going."
Slatky so far this season has put up some impressive numbers while going 9-2-0 with a save percentage of .948 and goals-against average of 2.14 for SNHU. While the back end has been covered, up front, the return of Joe Collins has SNHU scoring in bunches and his 26 points puts him among the nation's offensive leaders in the D-II/III ranks.
"We lost Joe to injury in the second or third game of the season last year," said Hutchins. "We are thrilled to have him back since he may be the most complete and unselfish player I have ever coached here at SNHU.  You hear the cliché about making everyone else around him better, but that is really Joe when he is on the ice in practice or in a game situation. He does make everyone else better and I think his numbers so far, including 18 assists in the first half, show that."
While Collins and Slatky deservedly get a lot of recognition for the team's success, their coach is quick to point out some of the more unappreciated aspects of his team that he feels are important contributors to the current level of play and results on the ice. The D-corps has been a six-man rotation that has proven to be simple and effective in their approach to the game and the foundation of SNHU's early success.
"We have six stay-at-home guys that just focus on playing good defense and making the first pass out of the zone or clearing the zone when it isn't there," said Hutchins. "There really is no drop-off in play from one to six in our group, but Alex Cochran, a transfer from St. Anselm, may be the best example of what I am talking about. Alex may be our best defenseman and he doesn't have a single point for us this season. We lost him for some games around the PAL Cup and it really showed how important that consistency in that group of six is for us. We didn't play very well in those two games but really got up for the St. A's game right after the Thanksgiving tournament. That is a backyard brawl that means a lot not just at the D-II level. That game got us going again to a strong finish before the semester break."
The Penmen haven't played since December 11. and return to action on Thursday night against a competitive Westfield State team from the MASCAC. The home game is just one of three games on home ice in January, while they travel for six away matchups, including a game this weekend at nationally ranked Salve Regina and a weekend series at D-I Arizona State later in the month.
"Right now our focus is on Westfield State," stated coach Hutchins. "We have come back from the break and our physical conditioning looks pretty good from what I have seen on the ice. Now we will see the important mental part of the game against a good opponent with a great player like Jackson Leef. While there is naturally a lot of excitement about going west and playing a D-I school, we are focused on what is right in front of us and that is Westfield State. It's the single snowflake thing — we need to focus on our next opponent and start accumulating the snowflakes to get ready for our NE-10 schedule and conference tournament.  Hopefully, we can continue to improve and build on what we have going as a team."