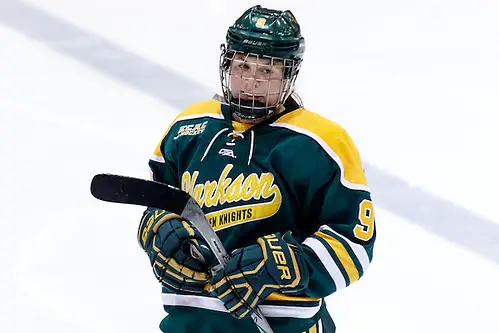 The increased depth and parity in women's hockey — especially in the NCAA — can be a bit of a double-edged sword. On the one hand, there are more talented players available for a wider array of teams and, as Clarkson proved in 2014, the National Championship can be won by any team, from any conference, by a school of any size.
However, just as the field opened up and allowed Clarkson to build a deeper roster, which coach Matt Desrosiers attributes as one of the main reasons they were able to win it all in 2014, it's also now open to teams across the board.
Four ECAC teams were ranked among the top 10 at the winter break. Though Clarkson sits atop the conference, just six points separate the top six teams. And there are no days off. From top to bottom, the conference is competitive and teams near the bottom of the standings are proving capable of upsetting teams at the top.
"We pretty much talk about that throughout the year; every game is important," said Desrosiers. "We look for our leaders and our upperclassmen to drive that point home. Any team can beat any team. It doesn't matter where you are in the standings. It doesn't matter what you did last year. We don't look to the future. We kind of focus on the present, even when we're setting goals. There are more daily goals and daily habits that we want to address and get better at."
Desrosiers points to the increased depth of talent in women's hockey as a reason his team has been able to be successful; he's now got a much deeper roster. He said he likes to regularly roll four lines on offense and six defensemen on the blue line. All of those lines are producing. That depth gives their opponents a lot to think about when strategizing matchups.
The Golden Knights have 18 players who've played in all 22 of their games so far. Just one of them is in the minus and nine of the 17 remaining players are double-digits in the plus. Ten of them have 10 or more points on the season so far.
The increased emphasis on offense is a change for Clarkson, which in the past had focused much more on stopping teams in the defensive end. Increased depth — and increased confidence — have allowed them the freedom to be creative and active in the offensive zone.
One major reason for that confidence is goaltender Shea Tiley. Averaging less than 1.5 goals-against over two and a half ECAC seasons, her solid presence in the back gives her forwards the much more freedom.
"Any time you have a really good goaltender, a strong goalie that your players have confidence in, it allows you to play a little bit looser, a little bit more freely, and allows you to use your talent and skills and not be afraid to make mistakes," said Desrosiers.
Desrosiers emphasized the importance of players being able to make mistakes. He doesn't expect perfection — that's impossible in hockey. He wants his players to be creative and able to try new things. He just also wants them to learn from their mistakes and not repeat them in the future.
"Our players have the confidence to try different things and do different things because they know that Shea's back there," he said.
With nothing but conference games left on the slate for Clarkson, Desrosiers said he's focusing on making sure the players — and the team as a whole — improve daily. With the winter break out of the way, Desrosiers called the final few weeks of the regular season a bit of a sprint.
The Golden Knights are well-placed to secure themselves a tournament bid regardless of how the postseason plays out. The dream of another title is definitely within their reach.
Though he said neither he nor the team are looking too far into the future, what he and the 2013-14 Golden Knights accomplished makes the dream feel all that more accessible.
The thing about Clarkson's 2014 National Championship win over Minnesota is that its significance is much farther-reaching that a line in the history books.
As Desrosiers put it, no coach — of any program — goes into a season thinking they have no chance to win it all, but until Clarkson did it, that was more of a pipe dream than anything. It was overconfidence and no small amount of bravado.
Clarkson is a school in far upstate New York, closer to Ottawa and Montreal than it is to New York City. With an enrollment of just around 2,400 undergrads, it's tiny by pretty much any standard. When they won, not only did they prove than an Eastern school could win, they proved that any school could. That's given programs across the country, regardless of location, something they didn't have a whole lot of before — hope. Desrosiers said it helped bring perspective to the game as a whole.
For Clarkson, the win was more of that double-edged sword. Recruiting becomes easier and they are now a household name in women's college hockey, but they've also got a pretty sizeable target on their backs.
Desrosiers, however, is humble about it.
"We welcome that. It's a privilege to have that kind of pressure; you know you're doing things right. You're going to have everyone's best game when they come and play you. We really thrive on that. We want to be in those competitive games. It's exciting."