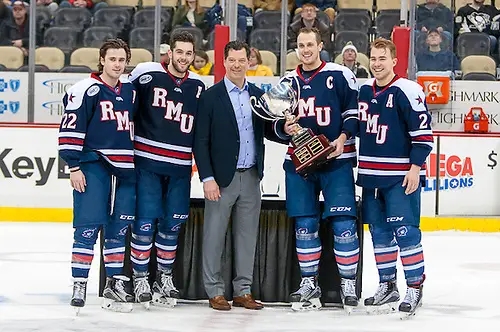 For college hockey, holiday time is usually something of a cut scene.
Conference regular seasons, most of which are starting to kick into gear, abruptly stop, allowing coaches, players, fans, and even us journalists a chance to catch our respective breath. It allows for the time-honored holiday tournament tradition and an opportunity for teams of different conference affiliations and geographic backgrounds to travel and play matchups that don't ordinarily pop up during a normal weekend calendar.
At Robert Morris, that creates a unique opportunity to shine. The hosts of one of college hockey's youngest tournaments, they've made the Three Rivers Classic something of a personal playground. The defending champions from a year ago, the Colonials won their third championship in the short, five-year history of the bracket, defeating Ferris State 1-0 before knocking off Quinnipiac 5-2 in the championship game.
"Quinnipiac is a team with two national championship game appearances in the last five years," RMU coach Derek Schooley said. "Beating them shows our team that we have the ability to go out and play with most anyone in the nation. We were a little bit in awe of the Bobcats' speed in the first period, and we got out of that period lucky to down by only one goal. In the second and third, we played some outstanding hockey, and I think we started to realize we could go up and down against one of the nation's best programs."
Quinnipiac scored that goal in the first period early when Chase Priskie netted a delayed penalty call less than 150 seconds into the frame. But the next five goals belonged to the Colonials, with the Bobcats' only other goal coming with less than a minute to play and the issue no longer in doubt.
It was the third time the Colonials earned the trophy, which is contested annually at PPG Paints Arena (formerly known as the Consol Energy Center). It was also the first time a team won back-to-back championships at the tournament, with Boston College and Colgate winning in 2013 and 2014 before RMU's '15 victory.
It's a holiday tournament fast becoming a high-profile bracket. Since its inception in 2012, it's hosted some of college hockey's elite powers, teams like Miami and Boston College. In a hockey-mad city like Pittsburgh, where the defending Stanley Cup champions reside, it's something that links the professional culture to the emerging hockey market.
"(The tournament) draws some great local attention through the media and youth hockey," Schooley said. "The public knows that it's a good tournament, with some high-profile opponents and teams attending. It has a great location with the Pittsburgh Penguins' involvement, and it's really outstanding because it really sparks an interest in college hockey (in the area).
"These tournaments are kind of like a mini-Final Four. It's the opportunity to play for a trophy, and they have a very long tradition of being exciting and drawing attention. They're very neat and I think they're exciting to play in, so I hope this is something that we can continue with."
For the Colonials internally, it will hopefully serve as the springboard to the second half of the season. All 14 of their remaining games are in conference, in a league where "stretch run" usually translates to "chaos." As they prepare to return to the ice this weekend to begin a four-game homestand against AIC and Air Force, they'll do so with one of the most explosive lineups in the league.
Their top line of Brady Ferguson, Daniel Leavens, and Alex Tonge rank 1-2-3 in points in the league, with 34, 26, and 25, respectively, and freshman goaltender Francis Marotte is one of two goaltenders with a goals-against average under 2.00 (1.74, behind Parker Gahagen's 1.66). Marotte leads the league with a .947 overall save percentage.
"Our goal has to be to get better every game, and we have to focus on how we're playing especially down the stretch," said Schooley. "The last four champions of this league all played well at the end of the year, and they really win a sprint instead of the marathon. You can't peak too early, but at the same time, you have to get home ice, so you have to prepare for most everything."
The Colonials host American International this weekend for two games at 7:05 p.m. EDT.
Monstah Games
For the second time in four years, Atlantic Hockey will serve as the kickoff hockey game for the Frozen Fenway event, a tradition hosted by the Boston Red Sox that began when the Boston Bruins played the 2010 Winter Classic against the Philadelphia Flyers.
Over the next two weeks, outdoor hockey and ice skating events will populate the rink constructed on the infield at the venerable ballpark, with casual fans and hardcore supporters heading to Yawkey Way for a chance to experience a special event.
In 2013, Bentley "hosted" Holy Cross in an instant classic of a one-goal game. Tied 1-1 after one and 2-2 after two, Brett Gensler a hat-trick goal halfway through the third to give the Falcons a 3-2 victory over their league rival.
Army, meanwhile, participated in an outdoor game of their own when they defeated AIC, 4-1, at wind-swept Rentschler Field in East Hartford in the 2011 Whalers Hockey Fest. It was the second-ever Atlantic Hockey outdoor game on the heels of UConn's 3-1 victory over Sacred Heart the weekend prior.
This year's Bentley-Army game is calling for temperatures in the 20s, with cold, thin air permeating a clear sky. That's perfect conditions, as opposed to when RIT and Niagara tied 2-2 in snowy conditions in Rochester in 2013 or when Robert Morris tied Bowling Green, 2-2, in a Toledo, Ohio rainstorm.
Scholarships? Pffffft.
The hottest Atlantic Hockey topic all season has been institutional investments. The league's increase in scholarships runs parallel with new buildings and facilities improvements across the board.
Yet as of this week, the teams currently in first and second place are Army West Point and Air Force. The Black Knights enter the weekend pacing the peloton with 18 points while the Falcons are one point behind them. Even if we flip to winning percentage, the teams remain first and second, though Air Force (.708) overtakes Army (.692) in that regard.
We spoke with Army West Point head coach Brian Riley on USCHO Live! about the challenges and opportunities military academies face. What's interesting and often overlooked is that the two schools draw from smaller talent pools because they can only recruit American skaters, while every other team is able to recruit Canadian and international players.
While other schools may not offer scholarships, it's a completely unique dynamic to have the two military academies in the conference. I know I discuss it a ton at extreme lengths all year, but it's a really intriguing boat to float the discussion on.
No pun intended on using the word "boat" there. I swear it.
Hey now, you're an all-star
When last we all met, Chris released his picks for the first-half Atlantic Hockey All-Star Teams. You'll notice mine don't really have many changes:
First Team
F – Brady Ferguson, Robert Morris
F – Jordan Minello, Sacred Heart
F – Daniel Leavens, Robert Morris
D – Lester Lancaster, Mercyhurst
D – Chase Norrish, RIT
G – Parker Gahagen, Army West Point
Second Team
F – TJ Moore, Holy Cross
F – Max French, Bentley
F – Alex Tonge, Robert Morris
D – Phil Boje, Air Force
D – Eric Israel, Robert Morris
G – Francis Marotte, Robert Morris
Third Team
F – Danny Lopez, Holy Cross
F – Derek Barach, Mercyhurst
F – Myles Powell, RIT
D – Brady Norrish, RIT
D – Spencer Trapp, Holy Cross
G – Charles Williams, Canisius
Rookie Team
F – Blake Christensen, AIC
F – Ryner Gorowsky, Bentley
F – Zach Evancho, Army West Point
D – Adam Brubacher, RIT
D – Matt Sief, Canisius
G – Francis Marotte, Robert Morris
Players of the Week
Here's the latest from the league offices:
Player of the Week – Air Force's Tyler Ledford: Ledford had three points in a sweep weekend win over Sacred Heart on the road. His two assists both came on the Falcons' respective game-winning goals.
Defensive Player of the Week – Canisius' Cameron Heath: The sophomore scored his first two goal game in a 3-0 win over Holy Cross. He also recorded six blocked shots, which earns him all kinds of respect for giving up the body.
Goalie of the Week – Robert Morris' Francis Marotte: No shocker that he takes home the award after earning Three Rivers Classic Tournament MVP honors. Marotte recorded 43 saves in the 5-2 win over Quinnipiac and a .974 save percentage for the entire show.
Rookie of the Week – Army West Point's Zach Evancho: Evancho went +1 for the Black Knights in their third-place finish at the Ledyard bank Classic, scoring what was tabbed as the game winner in a 4-1 win over Colgate.