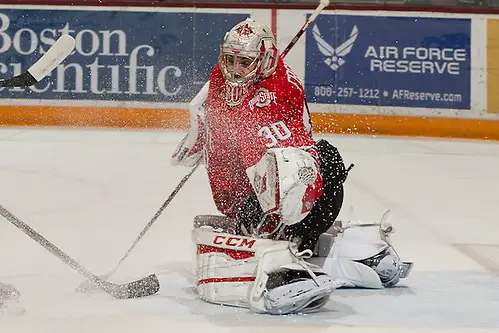 Each week during the season, we look at the big events and big games around Division I men's college hockey in Tuesday Morning Quarterback.
Paula: Well, Jim, I hate to brag about my own psychic abilities, but I kind of had a feeling we'd have a new No. 1 in this week's USCHO.com Poll. Of course, I didn't realize how divided the polling would be for that top spot. I voted for Boston University myself after thinking very hard about Minnesota-Duluth, and for me it came down to the record of each team for the last 10 games. The Terriers extended their win streak to eight games with their sweep of Maine this past weekend and are 8-1-1 in their last ten. As impressive as the Bulldogs' sweep of North Dakota was, Minnesota-Duluth is 5-3-2 in the last 10. That was really the biggest factor for me, as I think both teams are deserving, are formidable and are playing well.
But back to Penn State's brief — and deserved — stay at No. 1. The Nittany Lions didn't succumb so much to pressure as they did to Ohio State, a team that has played Penn State very well since the formation of the Big Ten. While Saturday's 6-3 loss was only the second the Nittany Lions have suffered at home this season, the Buckeyes extended their road record to 8-1-3. With the extra point after Friday's 3-3 tie and the win Saturday, Ohio State took five of six possible points from Penn State in Pegula Arena. Buckeye goaltender Christian Frey made 97 saves in the two games. And the Buckeyes did what they did without two of their top offensive players, who were out with injury: senior captain Nick Schilkey, who has 17 goals this season, and freshman Tanner Laczynski, who was injured after returning from the IIHF World Junior tournament with a gold medal. Ohio State coach Steve Rohlik told me last week that his team has been so injured that he has run a different power play in every game since the end of November.
Maybe I don't think the Buckeyes get the credit they deserve. The Big Ten coaches picked them in preseason to take the league title because the team has real talent. Beyond that, though, I think the top three teams in the Big Ten are better than most people realize. Minnesota has earned a respect for sustaining a certain level of play in that program, but the Nittany Lions haven't been around long enough to do that Ohio State simply hasn't done it yet. This may be the year that B1G hockey finally — and belatedly — emerges. Or time may prove that this year is the exception, not the rule.
Jim: At this point, Paula, I think that you may have a little more faith in the Big Ten than I do. Trust me, I do think that the league's top three schools – Penn State, Ohio State and Minnesota – are all good teams, but I wonder how competitive these schools will be come NCAA tournament time. As for the rest of the league, I don't see Wisconsin, Michigan and Michigan State being competitive other than each having the opportunity to be spoilers.
I, too, voted for Boston University number one, but I also believe that Minnesota-Duluth deserves a significant amount of respect at this point. You can see how divided the country is with the Bulldogs receiving three more first-place votes than BU, but the Terriers finished this week's poll with three additional points. What this tells me is that the voters maybe know which teams should be in the top four right now but the order of those four teams varies greatly ballot to ballot.
Going back to Minnesota-Duluth, this weekend's sweep completed a four-game season sweep of North Dakota. I am sure it's happened before, but is seems like it has been a very long time since any team swept the Fighting Hawks with four victories in a season. That alone was a reason I almost considered giving the Bulldogs my first-place vote. But then noticing the 5-3-2 record in the last 10 games as opposed to an 8-1-1 mark for BU led to how I voted.
Penn State wasn't the only top 10 team to hit a bump in the road. In fact, the aforementioned BU and Minnesota-Duluth were joined by Union as the only three teams in the top 10 to not lose a game last week. I know that people get tired of hearing this word, and when I attempt to look at some teams that we might consider bottom tier this season (I'm not sure even I believe this word is correct), but is parity in college hockey as strong as we might think?
Paula: I have no doubt about the parity. You mention how teams need to prove themselves come NCAA tournament time, and all we need to do is look at how in the last decade we've seen teams that were essentially outliers advance to the Frozen Four, or how many times lower seeds have prevailed in regionals.
The parity doesn't come from teams being equally talented. Although the rise of youth hockey in the U.S. is leading to a greater number of better talented players, not every team has equal access to the talent that is out there. Programs with sustained histories of success naturally are going to attract top talent, as will programs with greater financial resources, by and large. The parity, instead, comes from the ability of individual teams to study opponents and the game itself – and the credit must go to the very talented coaching staffs across the country. All of this gives real meaning to old idea that anybody can beat anybody on any given night. We see it happen pretty regularly now. Upsets that shock us seem to be rare.
The movement among the top 10 teams in the poll this week is interesting. It's nice to see Union jump to the top five. The Dutchmen have the fourth-best offense nationally and the second-best win percentage. We talk about perception even more than parity here, Jim, and I think Union was under the radar for a while because of the way the voters were looking at the ECAC overall this season. Minnesota goes up one after splitting with Wisconsin, while Harvard beats Brown, ties Yale and drops from sixth to ninth.
Jim: Okay, you've brought up Union which brings us to the topic we discussed last week: why has it been difficult for Union to garner respect. Honestly, I think their large move up the poll has everything to do with what I just mentioned: Union was one of only three top 10 teams without a loss this weekend.
But when I looked at the RPI to see what Union's strength of schedule is, I found out that Union's is 36th. That's by far the worst of any of the top 10 teams in the PairWise right now (the next closest is Ohio State, which carries an SOS of 22nd).
I know strength of schedule is relative and a team can only do what it can with the schedule is has. In Union's case, they're winning. They have the most wins and the second-best winning percentage. The one thing a weak SOS can do, though, is make the line between an NCAA tournament team thinner. A couple of losses down the stretch could be enough to hurt Union.
While we're on the topic of Union, two of their forwards – Mike Vecchione and Spencer Foo – will both get significant looks when it comes to the Hobey Baker Award. The two of those players aside, give me three other players you think are deserved of becoming a Hobey Baker finalist.
Paula: If Ohio State's Nick Schilkey can return from injury and play as he did in the first half, he's someone who comes to mind. He has 17 goals in 20 games and has been a real leader on a team through some very interesting times – and he's arguably the best offensive player in his league this season.
Army senior goaltender Parker Gahagen is having a career season. He may not top all goaltenders statistically right now, but he's currently fifth in goals-against (1.77) and sixth in save percentage (.938), and he will be going into active duty for five years following his graduation from West Point. Call me old-fashioned, but I like it when the Hobey stands for more than just statistics.
A few other players come to mind, but I think New Hampshire's Tyler Kelleher deserves a look. Not only is he having a great season with 14 goals through 24 games, but for his career he's averaging just over a point per game. He's dynamic, playing on UNH's power play and penalty kill.
What about you?
Jim: I'll add just one name to the list (though there are plenty others I like): Northeastern's Zach Aston-Reese. He's the nation's top goal scorer right now with 21 goals in 24 games and he has been red hot of late. He had hat tricks in back-to-back games in December and has scored 10 goals and 17 points in his last eight games.
The one thing I worry could hold Aston-Reese back is his team's success. It's not a requirement that you be part of a national contender to win the Hobey Baker, but in recent years it's been difficult to win the award if your team misses the NCAA tournament. That's probably not fair, but it does seem to be what happens.
You've Got Mail
"Do you feel the current RPI – which for all practical purposes, other than in rare cases, is the Pairwise – system is robust enough to adequately be the single determinant of tournament seeds and, most importantly, participants? It seems raw win percentage very highly correlates with RPI ranking and factors such as strength of schedule and quality wins are minimized." — Matt Sjoberg, Eveleth, Minn.
Paula: Matt, that is a really interesting question — and a set of variables that Jim and I often debate here in this column.
If I'm not mistaken, strength of schedule is a dominant factor of the RPI, so I am a bit unclear about your reference at the end of your question to strength of schedule being minimized.
To answer your question directly, though, I do think that RPI (and by default the PWR) is robust enough seed the NCAA tournament and to determine the bulk of the tournament's participants, notwithstanding the occasional autobid that goes to a conference champion whose RPI/PWR is below 16th. It's not a perfect system, but in terms of seeding, it does seem to reward the teams that have prevailed most successfully through the toughest season schedules.
As for the entire field, I've seen bubble teams bumped because of upsets in conference playoff tournaments, but I can't remember the last time I thought there was a serious miscarriage of justice with the NCAA tournament field.
Jim: I think that I may sympathize more with the reader here. I think the RPI is overly emphasized in the carrying out of selections. Right now, there are only three criteria in the PairWise – the RPI, record against common opponents and head-to-head. Given that many of these teams won't play one another, you're often can eliminate head-to-head. Thus, you're down to just two criteria. If each team wins one criteria each, then the RPI is used to break that tie. Thus, RPI is counted twice in a number of comparisons, which I think can overly emphasize the RPI.
Years ago, the committee dropped the criteria that considered a team's record in the final 16 (it was once 20) games. They dropped it because not every team played an equally easy or difficult schedule over that span. I understand that, but I think that the teams in the NCAA tournament should be the hottest teams in the nation. I may be in the minority in this, but I've always valued teams that close their season strong.
The committee also recently dropped the "Record Against Teams Under Consideration (TUC)," which used to give preference to teams that had the best record against teams in the top 20 of the RPI. Sure, there were inherent problems with that criteria, as well, as some teams might only play one or two games against a TUC. Win that game, and you likely own that criteria against every other team in the country, while other teams are still posting a good winning percentage by playing 10 or 12 games against TUCs.
Is there a perfect formula or solution? Not really, which is why the NCAA Ice Hockey committee continues to tweak the criteria. But, as the reader pointed out, in most cases you can simply look at the 10 teams with the highest RPI that don't win their conference tournament and give them the at-large bids.
Want your question answered in next week's TMQ? Email it to [email protected].