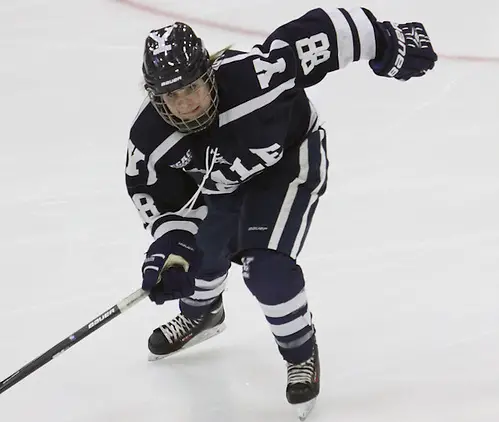 Arlan: Entering the final month of the regular season, there isn't a ton of drama remaining in the conference races as far as the league winners are concerned. Both Wisconsin and Boston College enjoy three-game leads in the WCHA and Hockey East, respectively. The margins for Clarkson in ECAC Hockey and Robert Morris in College Hockey America are a single game, but both have completed the head-to-head schedule versus their closest pursuers and own the tiebreakers over them. I suppose at this point St. Lawrence and Syracuse would happily settle for the second seed in the conference tourneys if they could climb up to share the regular season crown. The Golden Knights are more vulnerable on that count, given that they finish with four of six games on the road and play upper-division squads Princeton, Quinnipiac, Colgate, and Cornell, but the Saints will face the same slate.
Robert Morris set itself up for the program's first regular-season championship with a split at Syracuse. The Colonials put themselves firmly in the driver's seat with a 3-1 win on Friday. Second-period goals by Maeve Garvey and Jessica Gazzola provided Jessica Dodds, who finished with 27 saves, all the offensive support that she would need, and Garvey sealed the victory into an empty net. When the Orange bounced back with a 5-1 triumph on Saturday, it appears to have been too little, too late.
RMU's remaining games, after the entire conference has a bye week coming up, will be against the bottom half of the standings, with two of those series taking place in Moon Township, Pennsylvania. Lindenwood did upset the Colonials in their first appearance of 2017, so the biggest obstacle may prove to be that final weekend in St. Charles, Missouri.
In the past, you've expressed a fondness for the underdog and up-and-coming programs. Given BC and Wisconsin would be repeat winners, and Clarkson shared the ECAC title a couple of years ago, does it make you happy to see a new champion emerging in the CHA, be it Robert Morris, Syracuse, or even both?
Nicole: Absolutely. I love seeing programs succeed and it only means good things for the future of the sport. Ultimately, that's what I'm really a fan of. Success begets success in a lot of ways, but especially through confidence and improved recruiting. Every time a new program makes an impact on the national scene, they're improving their reputation and ensuring the game continues to grow.
It's been a few years since anyone in the WCHA has really knocked Minnesota off the top pedestal, so while I understand Wisconsin isn't exactly a surprise to anyone, their win alongside the re-emergence of Minnesota Duluth and the play of the bottom half teams in that conference make me excited. And though we take Clarkson for granted as a top team these days, that's a relatively new development, as well. Even BC's current reign atop Hockey East has been short-lived. So while I suppose the likely end results of the regular season standings seem sort of boring, they still represent a shift in each conference in the big picture.
After a couple of rather tumultuous weekends, this past weekend's slate of games felt rather tame. Which ones stood out to you and what do you think we learned after this most recent week's matchups?
Arlan: Given you follow Wisconsin as closely as I do Minnesota, that may be why the Badgers success has you excited! In all seriousness, they won both WCHA titles last season and sat atop the preseason polls, so I don't think anyone would see the Badgers as a sign of much of a shift. The same goes for BC. If the Eagles haven't been the leaders of Hockey East in recent years, than who has been? Boston University has had more success in the league's tournament until last season, but BC has reeled off three straight season titles. New Hampshire was the boss of the league once, but those days are long gone.
Clarkson, I'll concede, doesn't have the longevity of other national powers, but the Golden Knights have given every indication that their program intends to remain at or near the top. If Clarkson represents something other than one of the established powers of the ECAC, then who is that league's establishment? Cornell maybe? The Big Red have been a power of late, but they slumped to .500 in the league, finished seventh, and were swept out of the first round by none other than Clarkson last year. Harvard perhaps? The Crimson have been around the top for as long as I can remember, but not last year, when they also went out in the ECAC's first round, and their free fall has yet to hit bottom so far in this campaign. Quinnipiac is an even newer program than Clarkson, so I think that for the short term in either direction, Clarkson has been and will continue to be the ECAC's gold standard.
You mentioned UMD rising higher than the Bulldogs have been for some time, 2011 at least, but can they stay near the top? I think that Maura Crowell is doing great things in Duluth, but the Bulldogs top four scorers will play their final games in March, so I see UMD having a bit of a dip before its next renaissance.
If the big picture shift is more of a case of who isn't there, then Harvard's drop may be a sign of things to come. Perhaps Mercyhurst as well, but I'm not sure that steady goaltending wouldn't fix some of the problems in Erie.
I see Minnesota play a lot, and even before its trip to Madison that resulted in the injury to Dani Cameranesi and the slide down the rankings, the Gophers didn't look like a Frozen Four team to me. With four forwards who were skating regular shifts, including three from the top two lines, now gone from the line chart, that's become obvious to everyone, but given who they have signed for next season and committed for the years to come, I doubt Minnesota will be absent from too many big pictures.
As for what stood out to me this weekend, it was one of the little things. Every year when I'd interview Minnesota seniors as their careers were winding down and ask what they'd remember from their years in Minneapolis, almost to a player they'd say that winning championships was great, but what they held most dear were just the little day-to-day things with their teammates.
I don't remember a Gophers team that has held a lead for as few minutes this late in the season as this one has. As such, there haven't been many chances for players lower on the depth chart to get ice time, even with all of the injuries. Saturday, Minnesota enjoyed a rare multi-goal lead throughout the third period, all the skaters dressed skated regular shifts, and sophomore Tianna Gunderson scored her first collegiate goal with an assist going to Anna Barlow, in just her fifth game of the year. The celebration of that tally that made the score 5-0 displayed more joy than I've seen from the team in a long while. It was a reminder that maybe teammates and sharing the journey is more important than the topics that we discuss each week.
If it seems like I avoided your question, given I led with the battle at the top of the CHA, where else did anything of great significance take place? BU lost again to a team we'd expect the Terriers to defeat, but that's become somewhat commonplace. I think that their defensive shortcomings are well documented, but do you see other reasons why the Terriers can post wins over the likes of BC and Minnesota but fizzle on both ends of the ice against seemingly lesser competition?
Nicole: You mentioned Minnesota's unfamiliar footing and needing to find their victories in other places. It made me think of what BC coach Katie Crowley said to me last week about needing to help her kids adjust to losing. Her juniors lost their first Hockey East game this season and struggled with it. I'm certain there are fans — and players and coaches — across the country that don't have too much sympathy for those situations, but it's good to get perspective on all of this, and to remember they're just college-aged women trying to figure things out like all other college kids while also being elite athletes.
Crowley was chuckling when thinking back to having to teach her players that it's OK to lose; she knew how ludicrous it was. But for her players, that was their normal. It's the same in Minnesota.
I find in women's hockey it's always necessary to try to maintain some perspective. In Madison, I used to get frustrated by what felt like a lack of fan support, but a player who'd transferred to Wisconsin from a Hockey East school reminded me about all the advantages Wisconsin has, from community and university support to facilities and attendance. It's something that's stuck with me for a few years now.
You didn't ask me about that though, so on to BU. It's no one thing that's dooming Boston University, but all these little issues added together that have made it a bit of a tough season for them.
You mentioned defensive woes and I don't want to harp on them, but two things I saw that I think are worth nothing — they are 3-4 in one-goal games this season and this is the first season in many where opponents are outshooting them. Is that a symptom of the poor offense or an effect? We don't know, but those are two small but significant things that don't help out a team already weak on the blue line.
The past few seasons, the Terriers have either had a 50-point scorer or, like last season, had players incredibly close. It's feasible that Victoria Bach could still get there — she sits at 36 points — but it's unlikely Mary Parker will join her. Last season, it was Rebecca Leslie who was just one point behind Bach at the top of team scoring and she's fallen off quite a bit this season. They've also had the underclassmen contribute in much more significant ways in year's past. Sammy Davis is the only underclassmen with double-digit points. They need Bach and Parker to be present in the game. If the opponent can keep those two neutralized at all, I think the Terriers struggle to step up and fill in for them.
They've not been great on the road and their penalty kill is in the bottom 10 while they are seventh in the country in penalty minutes. They also score quite a few more goals in the third period. That's good and shows resilience, but I also think it's sometimes too little, too late. I don't know if they're starting flat and need to warm up, but if they can find some of that energy in the first period, it might make a difference.
They might have been able to survive any number of these small cracks in the foundation, but put them all together and it makes them very vulnerable. Victoria Hanson is actually much improved in net and I think she's played some really great games when the Terriers have needed her to, which has helped propel them to some of the bigger wins.
Candace and I spoke quite a bit about Cornell last week and I was thinking they'd gained experience and momentum as the season carried on and had sort of peaked at the right time to make a strong case for the postseason, but they sort of fizzled a bit this week, narrowly beating Dartmouth 1-0 and tying Harvard 2-2. With that in mind, I'm even more confused by the Big Red then I was before. I expected good things out of them when I did preseason predictions and it felt like they were finally fulfilling that early promise. What do you make of this past weekend's results, and who do you think the "real" Cornell is?
Arlan: Of teams with whom you and I are more familiar, I'd say that Cornell is very similar to North Dakota. Both can be in games against ranked teams. Cornell defeated Clarkson and went 2-0-2 versus the Princeton and Quinnipiac travel pair. The Fighting Hawks played Wisconsin tougher than it might appear, as a couple of empty-net goals made the margins look larger. If you ignore those, then the four wins for the Badgers were by a total of five goals. UND was only outscored by Minnesota Duluth by a total of one goal in their series, and it had two ties against Minnesota when the Gophers' roster was still intact.
However, each is capable of mixing in some disappointing results. Cornell suffered shutout losses to both Rensselaer and Providence. North Dakota is even less consistent, having split with St. Cloud State, Syracuse, and Lindenwood, tying Mercyhurst, and being unable to win either game in Columbus. The primary reason that the Big Red and the Fighting Hawks are a threat to the best teams but can struggle with underdogs is that they have better defenses than offenses. They rank seventh and sixth, respectively, in scoring defense, but only 18th and 19th in scoring offense. The net result sees them come in at 12th and 13th in scoring margin, with Cornell being just 0.02 goals per game better.
Power play is the one area where Cornell is markedly better, ranking fourth and converting 19.1 percent of the time to 21st-ranked UND's 13.9. The differences aren't all that significant as far as penalty kill, where the Big Red are successful 0.1 percent more frequently, and penalty minutes, where they are whistled for 0.1 fewer minutes per game.
Both teams are strong in goal. UND's Lexie Shaw ranks between Paula Voorheis and Marlene Boissonnault in save percentage, with all three slotted between fourth and 12th. All benefit from playing behind strong defenses.
Offensively, both are a bit top heavy. Cornell sees a drop off after Hanna Bunton and Kristin O'Neill. For the Fighting Hawks, Ryleigh Houston and Amy Menke have separated from the other forwards in terms of points. For both squads, those duos are comprised of a senior and a freshman.
Each has a pair of star defensemen, seniors Gracen Hirschy and Halli Krzyzaniak at UND, and Cornell's Jaime Bourbonnais and Micah Hart, both underclassmen, which is likely a factor in the two Fighting Hawks chipping in offensively with more regularity.
When you add all of that up, you get teams that are capable of being a thorn in anyone's side that are difficult to put away. When asked to carry the attack themselves, they don't shine as brightly. Those points that get away are a big reason that UND has fallen just short in recent years, and history and the PairWise suggest that the same fate may befall Cornell this year.
Cornell sits higher in the ECAC, third, than does fourth-place UND in the WCHA, but they're being closely pursued by Princeton and Quinnipiac. Those two went into their Tuesday-night game tied three points behind the Big Red, and Princeton emerged with a 3-0 shutout. Do you see either being able to catch Cornell, given only six games remain, and they don't include any head-to-head action?
Nicole: After the slim margins this weekend, I'm so unsure about what to think about Cornell in the coming weeks. They are a young team, with seven freshman, so it'll be interesting to see if those two games serve as a wake up call. It's cliché to point out that a team has to take every game seriously, but I think it's especially true here. They can't overlook these teams that are sitting below them in the standings. Not only that, but I think Cornell needs the knowledge, confidence, and momentum that would come along with doing well in the next 4-6 games if they're going to do more than go one-and-done in the post-season.
Cornell probably has the easiest path to the end of the season, but it could be a detriment to them to have these somewhat easier weeks before facing off with the two heavyweights in St. Lawrence and Clarkson on the final weekend. They do get them both at home, saving them travel fatigue and hopefully garnering some crowd support. But it's a lot to ask of a young team to pull off upset wins in the final weekend when they're post-season life might depend on it.
The Big Red struggle with scoring and most all of their games have been decided by a single goal or two. There's not a lot of room for error for them, but they do seem to know that and play smart hockey. Kristin O'Neill has a ton of speed and is still learning how to harness it. She leads the country in short-handed goals, but I'd love to see what she can do more on a fast-break or on transition. They're fourth in the country on the power play, which is impressive all on it's own, but takes on greater meaning in the context of their somewhat meager offensive output. They're capitalizing on the opportunity when they have an advantage and it's pretty impressive.
Princeton has the advantage, I would think, especially after dispatching Quinnipiac 3-0. The game was pretty much dead even on the stat sheet and yet the Tigers showed they've got the advantage where it matters. If Cornell drops any games — or even concedes any more ties — they are leaving points on the table. The Tigers have to be feeling a huge confidence boost and like that win can springboard them towards the postseason. It's been a rough second half for Quinnipiac and just a few weeks ago I think I'd have been very surprised if you told me they'd be on the outside of the PairWise looking in. I'm fairly surprised by the decisive win by Princeton.
You said history might make the same fate befall Cornell. Does that mean you see one of the other two catching up?
Arlan: Not really. There isn't any single team across the country that currently sits below it that I think is in better position than Cornell as far as making the tournament goes. The Big Red may even have a better shot than a Minnesota team that has floundered in recent weeks.
I have to keep in mind that a third-place team in the WCHA, as UND often was when it landed on the wrong side of the tournament bubble, plays a higher percentage of its conference games against teams above it in the standings (eight out of 28) than the third ECAC squad (four out of 22). That's part of the reason that Princeton was able to advance last year despite being knocked out of the ECAC tournament in the first round.
My overall point was more that those teams that defend well but don't score much often wind up on the wrong side of the cut line. They pull an upset or two, make some noise through the schedule, but also bleed points to lesser teams because they struggle to separate on the scoreboard and fall victim to an unkind break here and there.
We haven't see that many teams knocked out of the bracket by automatic bid winners over the years, but we know that seventh in the PairWise will be at best the last team in without a CHA team above it. We'd need one upset conference tournament victor to bump the seventh-ranked team. Wisconsin looks almost certain to win the WCHA, and should the Badgers lose, it would likely be to a team that currently sits above Cornell. The odds would certainly have to favor one of Clarkson, St. Lawrence, or Cornell taking the ECAC tournament rather than one of the rest of the field. That leaves Hockey East. While BC certainly looks more at risk of being upset than it was last year, I can't really identify a challenger capable of doing the deed.
I don't know that I've written much about Providence in recent years, but the Friars seem to have a different look about them than they've had in any season since goaltender Genevieve Lacasse graduated back in 2012. There haven't been many years where their conference mark is above .500 as it is now. PC may not stay there, as it plays most of its six remaining games against teams with winning HEA records, including two with the Eagles. BC drubbed the Friars, 8-0, back in December, so there isn't much foundation for optimism.
Providence does have a top-10 offense that features five players with at least 20 points, led by senior Cassidy Carels with 28. There is depth beyond that, as a dozen players are in double figures, including five freshmen. Bob Deraney has often coached teams that are playing their best hockey when the postseason arrives, so perhaps a team with some youth can raise its ceiling in the playoffs. For that to happen, someone will have to heat up in net. Deraney has played all three of his goaltenders, and none have managed a save percentage above 90. Most of the minutes have gone to Madison Myers, and given she's just a sophomore, it's likely that there will still be improvements in her game.
Do you give teams like Providence, Vermont, New Hampshire, and Northeastern a chance, will any threat to BC have to come from its usual nemesis BU, or do you think that the Eagles are home free in Hockey East?
Nicole: I think in a one-game situation, any of those teams certainly have a chance, but they have to make it to that part of the tournament first. Northeastern and Providence are most likely to move on past their first-round conference tournament best-of-three, but I'm not sure if Vermont will. I really want to have a lot of faith in the Catamounts, but then I'm reminded they're 7-6-5 in conference play and I'm not certain I can see them making an extended run.
For all that you listed why Providence should probably be on our radar, I've just not found reason to keep sustained attention on them this season. For every good win there's an equally head-scratching loss. Yes, the goalkeeping is probably the main issue, but that makes it really hard to be confident in them for any stretch of time.
I do think BC can be vulnerable — last week I said I think there could be an upset in the Beanpot this week — but they also have a lot of depth and experience. They know how to play the long game and they've been looking toward St. Louis all season. They're set up to make this run to the NCAA tournament and many of their players know the grind of these final weeks. I wouldn't underestimate that experience — the "we've been here before" mentality that can help keep them collected and focused and not distracted.
I love that there's such strength in the middle of Hockey East and I do think there's a chance for an upset; it wouldn't surprise me at all, in fact. I think that BC still has too many pieces for these other teams to overcome, but I think there's a lot to be excited about from these squads and their continued growth only means good things for the future of the conference and the types of games we'll see in the next couple of years.
We've covered every conference, but since we're talking upsets, I'm going to make you pick one. Who's your pick to surprise folks in their conference tournament this year?
Arlan: I'll phrase my answer this way — here is the road team that you don't want to have to face in each conference. It's a little soon to pick an upset when we don't know what the pairings will be. I'm not trying to dodge the question, so feel free to ask me to address that issue the next time you and I share this column.
The CHA quarterfinals are a special case with the first-round byes, and neither RIT nor Lindenwood has inspired a lot of faith. The Tigers have shown some signs of life of late, and they've definitely proven that worst-to-first is possible once the playoffs start, but I think that the team neither of the top seeds wants to see in the semifinals is Mercyhurst. The Lakers' season has been mostly a train wreck by their standards. I get that. I've also backed them too often and for too long. However, they'll be a little like a wounded beast once the playoffs start, fighting to survive. Everyone is playing to extend their season, but for Mercyhurst, it will be a rare opportunity to embrace an underdog role on a CHA stage. If they come out flying and pop a couple of goals right out of the gate, the postseason of one of the favorites could be over almost as soon as it begins.
In the WCHA, I think Bemidji State is the road team most likely to get past the first round. The Beavers are as good as anyone at protecting a lead, and the pressure quickly mounts on a favorite even if a game remains scoreless. Backed by an All-American goaltender in Brittni Mowat, BSU is great at frustrating even explosive offenses. Get a bounce, score a goal, and Mowat and a squadron of players willing to block shots might make one goal enough. This team played in the final two years ago, and it might feel it has some unfinished business after a quick exit last March.
Connecticut is the road team I'd want to avoid in Hockey East. The Huskies can play that stingy defensive style that is effective in the playoffs, and they already have a couple of 2-1 wins over BU. Their first-round opponent will likely be more offensively gifted, but when goals don't come and the pressure builds, mistakes are made. This UConn edition isn't as strong as the team that was tied with BC in the third period of their 2016 semifinal, but then the league as a whole isn't as formidable either. Annie Belanger is a more-than-solid goaltender, and with 17 goals, Leah Lum is one of the better snipers in the country. If everyone else plays her assigned role, those are a couple of good first steps toward an upset.
The most dangerous road team in ECAC Hockey is Colgate. I think that the Raiders haven't gotten as much out of their season to date as they might have. A soft early schedule may not have prepared them well for the last few weeks. That adversity down the stretch should hone their edge come playoff time. A roster with many producers is always more dangerous than one with a threat or two, and Colgate has a lot of good hockey players. Games are usually close in the playoffs, and if the Raiders are down by a goal in the last couple of minutes, Greg Fargo has a lot of skaters to send over the boards that can make a play to tie it up. If goalie Julia Vandyk is on her game, then I could even see Colgate as a team that keeps advancing and winds up with a championship. The league has a lot of very good teams, but I don't know that it has any great team. A club that gets on a roll could go a long way, and I could see it being Colgate.
Who could you imagine making a run?
Nicole: I agree with you that Mercyhurst is a team that should be on everyone's radar in the postseason, not only for the reasons you mentioned, but also because they have a ton of postseason experience. The grind of the final few weeks combined with the heightened emotions of playoffs can get the best of young teams or teams that haven't experienced that before.
I think the bottom half of the WCHA is pretty much fraught with possible pitfalls. I agree with your pick of Bemidji, but also could see Ohio State, on the back of goalie Kassidy Sauve, stonewalling a team and causing them frustration. There's so much potential in the Buckeyes and though they've played the sixth-toughest schedule, I still am not quite sure why we aren't seeing a better offensive output from them. All it would take is a couple of skaters finding their knack for the net and Sauve to continue to play as she has to give a team a lot to overcome.
As we headed into the second half, Colgate had the second-lowest strength of schedule, which as you said didn't do them any favors in terms of inflating their record or preparing them for tougher opponents.
Yale is a team that I think could surprise people. They've got great leadership in Phoebe Staenz and they're actually pretty good on offense. It's the blue line that's given them issues this year. They've got a freshman, Tera Hoffman, in net and there's been an obvious learning curve there. They allow as many goals as they score, so that's the tipping point. If they can step up their defense, they have a chance to pull and upset or two.
You asked earlier if anyone other than Boston University could cause problems for Boston College and I didn't even address that I'm not entirely sure the Terriers even have a chance. However, BU had a late lead on BC in the opening round of the Beanpot, but BC was able to pot two third-period goals to come from behind and advance to the championship with a 3-2 win. My guess is that won't sit too well with the Terriers and it could light a fire with them and provide some motivation for the Hockey East tournament.