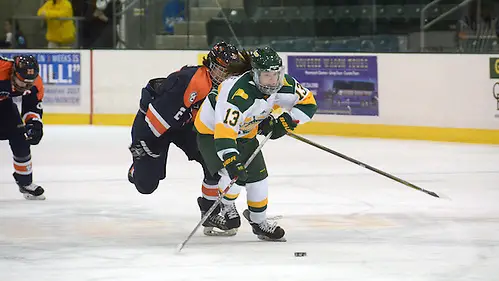 It's been an up and down season for the Oswego State Lakers. Currently ranked no. 10 in the country, they're the only squad to have beaten No. 1 Plattsburgh, a feat they accomplished on the road. But they've also stumbled, especially coming out of the winter break, said coach Diane Dillon. Some of the inconsistency can be pinned on the youth of the team — they have nine freshmen — but Dillon doesn't actually have an answer for why her team has been better in the second game of a series.
As the regular season comes to a close this weekend and teams head into the postseason, Dillon and her staff are looking for ways to help the Lakers adjust. Soon, they won't have the luxury of a second game to make their mark in — it's one-and-done and you're never promised a tomorrow, so the Lakers are working on switching up their style, looking to start strong, instead of just ending that way.
"I think we're at that point where consistency is a big part of our game," said Dillon. "Now heading into the playoffs where you have to win to survive, the mentality is that we have to have a good start. When you put a team on its heels like that, it's tough to recover from. … Physically, I think we're ready. It's now how do we mentally prepare?"
With a young team, it's a fine line for Dillon and her staff in terms of putting urgency into the players while not getting so in their heads that they psych themselves out. While the playoffs carry the burden of winning, in the end, they're all still just hockey games, something every player has to remember.
"We're trying to prepare them, but also not scare them," said Dillon. "You just have to go out and put skates on. Anything can happen in one game — good or bad. You have to make sure you focus on your job."
Dillon said she has a bit of a mantra for how to be successful that was passed on to her by a coach years ago: You have to be able to win on the road; you have to be able to win one-goal hockey games; and you have to be able to come from behind.
The Lakers are 7-4 in one-goal games and 8-3-1 in road games. They are 9-5-1 when their opponent scores first.
It's been a pretty good model for the Lakers to follow.
One reason Dillon said her squad has seen more success this season is the offensive prowess of the freshman class. Where historically Oswego State has been built on solid goaltending and strong defense, the newest recruits bring speed and a scoring touch, making the team much more well-rounded and allowing the coaching staff to layer the different skill sets of the players to make a more complete squad. Having a solid, experienced defensive corps has given the younger players the confidence to use their talents up front. And it's paid off. The Lakers are averaging more than a goal per game more this season — up to 3.35 from 2.19 last season.
"We've gotten to the point when if we're on the same page, we can play very, very well and compete with anybody; it's now about just being consistent," said Dillon. "If we can get the team all on the same page with that and everybody executing, we do fine. But it's easy to stray from that. We have a lot of young kids on the team. We have nine freshmen. They're learning. We have a strong core of juniors and seniors, but a big portion of the team is very young, so we're still learning how to compete, how to finish, how to win. We hope to get better every time we touch the ice."
In years past, the Lakers haven't had as much success at home as Dillon would have liked, so she's put a focus on owning their own rink. She calls Oswego a hockey town and the supportive atmosphere the team gets from their school and their community helps make playing at home — at a rink right in the middle of campus — something they're proud of, something they want to do well.
With a successful home slate, the Lakers have focused on bringing it all together. In their 11th season with Dillon at the helm of the relaunched program, they have a solid foundation and are looking to build upon it.
When Oswego State upset Plattsburgh, it was in the second game of their series. The Cardinals won the first game 7-1. One way Dillon knows her program and her players are progressing is how they handle adversity of losses like that.
"Back when we were getting beat 9, 10 nothing, it was really tough to get the team prepared for the second day and that's not really the case any more. We get our back up a little bit. We learn from it and we come back with a fresh attack plan and so far it's paying off," she said.
Despite the national ranking and their conference position, Dillon isn't just looking at the season as a single entity, but as a part of the greater whole of growing a program.
"We've had our ups and downs. We've certainly had some hiccups here and there but we've gotten stronger almost every year out and I'm very proud of what the future holds for the Lakers. We're on that path now, and we're only going to continue to improve. This is a lot bigger than just a game. One of the reasons I enjoy my job is I enjoy looking in an academic setting. We're hockey coaches, but we're still educators. Hockey is just the tool in which we do it."