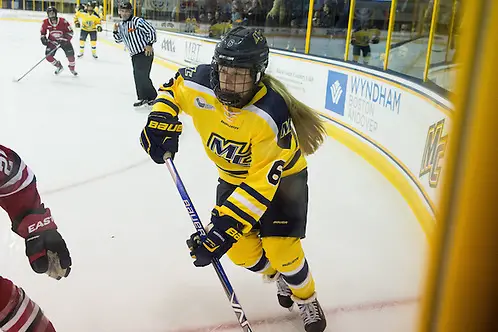 All too soon, the seemingly endless regular season comes down to one final weekend. Months of work can be decided by a single game, period, or play.
The final weekend of the season might not bring a ton of suspense for the top spot in each of the conferences, but there are plenty of battles still to be waged. Some teams are fighting for position and what amounts to postseason seeding. They're fighting for home ice and to give themselves a better shot at advancing in the tournament and earning an autobid. Other teams are fighting for playoff berths and the ability to extend their season.
A few schools control their own destiny — win, and their places are secure. Most schools, however, not only have to earn their own six (or four) points, but will need help from a few other teams as well. The scenarios aren't always the easiest to decipher, but these are a few of the teams playing for more than pride this weekend.
Merrimack
The Warriors are in just their second season as a Division I program. They currently sit one point behind Maine for the final spot in the Hockey East tournament with one game in hand. The Black Bears will play a single game against Boston University — a team they split with earlier in the season — to close out the regular season.
Merrimack has two games at Vermont to try to overcome that deficit and move into eighth place in the Hockey East standings. The two met once earlier in the season, with Merrimack pulling out the 2-1 overtime win.
It's been a great year of growth for the young Merrimack program. They doubled both their overall and conference win totals from last season and have showed marked improvement in nearly every single statistical category on both ends of the ice.
However, the goal all season for the Warriors has been to reach the playoffs.
"It would mean a great deal to our group to reach our goal for the season, and would be very special to do it for the two graduating players (the first two in our short program history)," said coach Erin Hamlen.
In a lot of ways, Merrimack controls their destiny. They've had a few close games slip away from them, including an overtime loss to Providence last week, but Hamlen said the loss only showed them a few loose ends they could work on this week to prepare themselves for the series with Vermont.
"(We) are very motivated for the weekend knowing what is at stake, and we are asking them to focus on the process. If we take care of the little things and attack the weekend, we will reach our goal."
Whether or not the Warriors make the playoffs won't take away from the tremendous growth they've shown so early in their program's short Division I history. They've already proven themselves a team that the rest of the conference has to look out for.
Vermont
Unfortunately for Merrimack, the Catamounts have quite a bit at stake in their series this weekend, as well. Vermont is looking to secure home ice for the first round of the Hockey East tournament. They're currently tied for fourth place with Providence, though the Friars own the tiebreaker. The Catamounts are in luck that the Friars play two games against league-leading Boston College, which certainly seems to play into Vermont's favor. Both teams sit a point behind Boston University, which finishes out its season against Northeastern and Maine.
Vermont's season has included wins and ties against a number of ranked teams, and coach Jim Plumer said their community has really responded to the team's success this season. Not only would home ice be validation for all the hard work the Catamounts have put in and what they've achieved so far, but it would be another chance for Burlington to rally around the squad, he said.
No matter what happens in this series for the Catamounts, they are guaranteed another set of games next week. So while the home-ice advantage would be nice, it's not something Plumer or his staff are really focusing on. With the final regular season coming at home, the Catamounts will be celebrating senior weekend, which always brings heightened emotions, different schedules, and a lot of distractions. So Plumer is doing his best to keep this weekend as much the same as any other home series the Catamounts have played so far.
"Frankly, I'm trying not to say anything that makes this weekend vastly different from the others of the past month or so; I'm quite sure that our players know what is at stake and there will be a lot of emotion swirling around anyway. Our message is to simply keep the focus on Friday's game and keep our game simple and effective," said Plumer.
Colgate
The season started out almost like a dream for Colgate, as the Raiders were one of the last teams to suffer a loss, getting halfway through November before adding a one to the loss column.
Then the winter break came and the next nine games proved to be some of the toughest the Raiders faced, including four ranked teams in that time, and they went 2-5-2 over the stretch.
It looked a bit like the bubble had burst, but the Raiders weren't ready to give up just yet. They've won six straight since then and currently sit fourth in the ECAC. Princeton and Quinnipiac are just a point and two points back, respectively. The Raiders obviously want to hold on to home-ice advantage for the first round of the conference tournament, but their schedule isn't in their favor. They close out against No. 3 Clarkson and No. 5 St. Lawrence, the two teams atop the ECAC standings.
The Raiders beat St. Lawrence 4-3, one of the two wins they had during the rough post-winter break stretch. They lost to Clarkson 2-1 the following day. Both those games took place before Colgate's resurgence and they proved they could compete with the top teams even then.
Coach Greg Fargo likes the growth his team has shown down the stretch and what that improvement could mean for this final weekend.
"Last time we took a trip up to play Clarkson and St. Lawrence, we left there knowing we had some areas of our game we needed to improve upon and I think since that trip we've made some strides in the right direction as we head into one of the most anticipated weekends on our schedule," he said.
Though Fargo said he's spoken to his team about how important home ice could be for the Raiders in the tough ECAC tournament, it's not something the team is focused on.
"We are just going to continue to control the things we can and it starts with our week of practice and then how we compete on Friday night against the top team in our league," he said.
Princeton
Colgate currently holds a one-point lead in the standings, but Princeton beat the Raiders in each of their meetings this year, meaning they own the head-to-head comparison. And while Colgate faces the top of the conference in the final weekend, the Tigers face two of the squads below them.
That doesn't mean they'll be easy games, though. Rensselaer is playing for its own life as the Engineers try to stay above Harvard for the final playoff spot.
Coach Jeff Kampersal knows that a lot of Princeton's destiny is held in their own hands, so they're trying not to think too much about who their opponent is and what their record might be.
"We do pay attention to our opponent's tendencies, but we mainly focus on ourselves and getting better as a team. I read a quote once (that said) 'It's not who you play, it's how you play.'  Every team in the ECAC is tough."
After a bit of an up and down season, the Tigers are looking to finish on a strong note. For every promising win they had, there was an equally perplexing tie or loss, but Kampersal said his squad is focusing on fixing things they saw last weekend and preparing for their two opponents this weekend.
"We know we have a chance to be home for the quarterfinals, but that is not our focus," he said.
St. Cloud State
The Huskies find themselves with a one-point lead over Ohio State for fifth place in the WCHA. Currently, the difference between fifth and six place in the postseason is playing North Dakota — a team they've beaten — or Minnesota-Duluth — the number two team in the country.
St. Cloud travels to Duluth this weekend to close out the regular season, so dropping to sixth place could potentially mean four or five straight games against UMD in Duluth, something no team in the country would relish.
Huskies coach Eric Rud said neither the coaching staff nor the players are focusing on what the "what ifs" of the postseason.
"It's a long season and every weekend is big, so we're not going to put too much emphasis on one weekend or another," he said. "We won't talk about it. We will continue to try to get better every day."
For the Huskies, the postseason isn't about who they play, or even where. It's about meeting goals the team set before the season and the validation that comes with doing the best they can. Rud said it's much more important and impactful to the players' self-confidence and worth to finish as high as they possibly can — the bit about who they play after the standings are set is out of their hands.
"When you start the season, you set a goal and part of your goal is to finish as high as you possibly can. Who you play in the playoffs really doesn't matter. They're all good teams, so we're not focusing on (it)," said Rud.