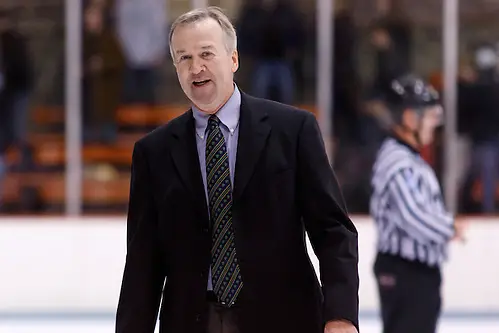 Dartmouth enters the final weekend of the regular season with a one-point lead for the final home-ice berth in the first round of the ECAC Hockey playoffs.
So while there is plenty on the line for this year when the Big Green host Clarkson and St. Lawrence this weekend, the stretch run has provided valuable exposure for a young Dartmouth team that graduated 18 seniors the last two seasons.
"We want to have these guys get a lot of experience, which they are," Big Green coach Bob Gaudet said. "They're playing in all kinds of situations."
Gaudet pointed to freshman Will Graber, a forward who has been playing defense due to injuries on Dartmouth's blue line.
"When he's a sophomore or a junior, he's going to weigh 225 [pounds] instead of 180," Gaudet said. "He's a pretty skilled player. The other guys are going to get bigger and stronger and this experience is really going to be something for them."
Gaudet is no stranger to having large groups of players graduate, as he has always had two smaller classes and two larger classes during his 20 years as head coach at Dartmouth.
"It's kind of perpetual," he said of the cycle. "It's hard to really affect any change. I'm not the type of coach where I want to force attrition or something like that to try and even it out. So it is what it is."
This year's team not only has a lot of underclassman, but has been hit by injuries, especially on defense. In addition to Graber shifting to the back end, senior Grant Opperman played on defense for the first time two weeks ago. He returned to forward last weekend and responded with a hat trick in Friday's 5-4 win over Brown.
"We've tried to alter our style a little bit," Gaudet said. "It's a tough process, but we're battling."
Dartmouth's one-point lead for home ice leaves the team with little room for error in the final weekend of the regular season, but that's nothing new for Gaudet.
"I wish we were in a position where we could breathe easy," he said. "I've been in this for 20 years and its always the same. It doesn't matter where you are in the standings; you're a win away from being where you want to be and an "L" away from dropping. It's fun, though."
On to the finish line
Friday and Saturday are the final two days of the regular season in ECAC Hockey. Union, Harvard, and Cornell enter the weekend having clinched first-round byes, but there is still plenty left to settle across the league, including the regular-season championship.
Here is a quick rundown of each team entering the weekend. Teams are listed in order of the standings entering Friday's games and each school's points in conference play are listed in parentheses.
Union (31)
The Dutchmen are in the driver's seat entering the final weekend of regular season play. A Union win and a Harvard loss on Friday would clinch the Clearly Cup for the Dutchmen after two consecutive seasons of finishing out of the top-four.
Harvard (30)
Harvard enters the weekend one point behind Union for first place, but can finish anywhere from first to third. This is the third straight year that Harvard will have a first-round bye.
Cornell (28)
The Big Red host Union on Saturday in a game that could potentially decide the regular season title, if Cornell wins Friday and both Union and Harvard lose or tie Friday. A Dutchmen win on Friday would eliminate the Big Red from Cleary Cup contention.
St. Lawrence (26)
The Saints are eliminated from clinching the regular-season title, but need one point this weekend to clinch a first-round bye.
Quinnipiac (23)
The Bobcats look like a good bet to play in the first round of the conference tournament for the first time since 2012. Quinnipiac needs to get at least three points this weekend and have St. Lawrence lose both its games in order for it to clinch a first-round bye.
Clarkson (21)
Clarkson is locked into a first-round home playoff series, but could finish anywhere from fifth to seventh depending on how the weekend shakes out.
Yale (18)
It looks unlikely that the seventh-place Bulldogs will move up in the standings, as they trail sixth-place Clarkson by three points. Yale can finish anywhere from sixth to tenth depending on how the weekend goes.
Dartmouth (16)
The Big Green currently have a one-point lead over Colgate for the last home-ice spot in the first round of the league playoffs. Dartmouth could potentially finish anywhere between seventh and tenth.
Colgate (15)
Colgate needs to win and hope for some help in order to host a playoff game next weekend. The Raiders could finish as high seventh and as low as tenth.
Princeton (15)
The Tigers are in the same situation as the Raiders. If the teams remain tied at the end of the weekend, Colgate would jump ahead based on its 1-0-1 series record against Princeton this season.
Rensselaer (10)
It's mathematically impossible for RPI to advance in the standings in the final weekend. The Engineers currently hold a three-point lead over last-place Brown.
Brown (7)
A loss or a win by No. 11 RPI would lock Brown into the No. 12 seed. It looks unlikely that the Bears will be able to move out of last place this weekend.
Around the League
• Yale not only swept the season series against Dartmouth, but didn't allow a goal to the Big Green all season. The Bulldogs blanked Dartmouth 4-0 Saturday after posting a 7-0 win on Jan. 20.
• Colgate senior Tim Harrison has two goals in his last three games, pushing his season total to ten. That ensures that every ECAC Hockey team has at least one double-digit goal scorer; in fact, every team except for Colgate and Dartmouth have at least two players with double-digit goals.
• Harvard's Tyler Moy (player) and Nathan Krusko (rookie) joined Union's Alex Sakellaropoulos (goalie) as the league's weekly award winners. Moy had seven points in a 3-0 week for the Crimson, while Krusko was named the MVP of the Beanpot tournament championship game on Feb. 13. Harvard beat Boston University to win its first Beanpot since 1993.