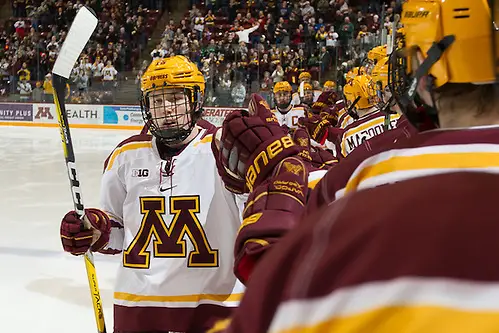 It hasn't been smooth sailing, but this weekend, Minnesota will host its shared-border rival at home with a chance to put the regular-season conference race to bed.
The Gophers, who hold a three-point lead over Wisconsin in the Big Ten standings and have a 90 percent chance of winning the regular-season crown, will host the Badgers on Friday and Saturday at Mariucci Arena.
Minnesota is 9-3-0 in 2017 and has won six of their last seven games. The latest win was an overtime thriller Saturday where the Gopher tied the game twice in the final three minutes of the third period, including a Justin Kloos goal with three seconds left, before Rem Pitlick scored his fourth goal of the weekend to win the game in overtime.
"It was obviously rewarding," Minnesota coach Don Lucia said of the win. "You're fortunate, a little bit of luck has to go your way too, when those things happen. Whether it's the goal to tie it off a faceoff with a few seconds to go and even I think our winning goal in overtime when (Pitlick) shot it, I think it went off somebody and went in. You want to shoot in overtime because you never know what's going to happen."
Kloos' goal came with goaltender Erick Schierhorn pulled for the extra attacker. That's something that the Gophers have managed to do four times this season, including twice in the same game against St. Lawrence.
Lucia attributed the feat to the team's experience.
"I think that helps, guys that have been in that situation before," he said. "The guys know what we're doing and what we're trying to do, and to make sure we get pucks to the net. If you've got seven seconds left on a faceoff, you know you can't take a lot of time, you've just got to get it to the net as quickly as you can."
Pitlick notched his first career hat trick during Minnesota's 6-3 over the Nittany Lions on Friday. The freshman forward, who plays on a line with Kloos and Tyler Sheehy, now has 10 goals and 13 assists this season. Lucia said his improved play is a result of moving from center to wing and playing on the line that he's on.
"That's a good line with Kloos and Sheehy and they complement each other well," he said of Pitlick. "Something we've talked to (him) about, he can shoot as good as anybody on our team and we're trying to get him to shoot the puck more because he does have such a good, hard, shot. Sometimes those freshmen, they want to defer to their line mates. It's nice to see him shooting and getting the reward."
This weekend, the Gophers will wrap up their regular-season series with the Badgers. The two teams split a two-game series at Kohl Center in January. Lucia said that he thinks both Badgers' goaltenders, Matt Jurusik and Jack Berry, are playing well at the moment, but that's not the only thing one has to worry about when it comes to Wisconsin.
"They're starting to mature and grow, each goalie is giving them a chance to win when they play one night a weekend," he said. "Up front, they're very deep offensively. You've got two first-round picks in your forward group, that makes a difference, but they have three lines that can score. They're really good on special teams if you look at what their power play numbers and penalty kill numbers are. That's a good recipe for success."
Lucia said that there were signs that the Badgers would be improved this season at the end of last year.
"Those young guys were starting to grow up, they were a much better team at the end of the year than what they were in the early and middle part," he said. "All those guys came back and that extra year of maturity, like our team, makes a big difference when you have a lot of young guys playing. You take your lumps and then they come back the next year a little bit more confident and a little more mature."
Minnesota may be in the catbird seat right now with a clicking offense and both special teams units performing well. That being said, its head coach said there is one big area that the Gophers can get better.
"When you get to this time of the year, you've got to win with defense rather than offense," Lucia said. "Offense is going to come and go and you've got to be able to lock people down. That's the biggest area we've got to grow and continue to grow is to continue working at getting that goals against average down. Like we did against Penn State a couple weeks back where we gave up one and two. That, to me, is more important from here on out than scoring four or five."
Along with defense, Minnesota's bench boss would like it to stop assisting opponent's goals.
"Turning pucks over, that's led to a lot of goals against the last month or month and a half," Lucia said. "We're putting pucks in the wrong areas, like the first goals against Penn State on Saturday we just drop a puck and they come on a four-on-two. No. 1, we can't beat ourselves. It's hard enough to win games, let's not spot anybody one or two goals. I'd like to see us start better and not turn so many pucks over."
Wisconsin welcomes another challenge
Most expected the Badgers to be a better team this season, but the fact that Tony Granato's squad is in a title race with three weekends remaining is impressive.
Two games at Mariucci is a tall order for any road team, but Wisconsin has not backed down from any road test this season. The Badgers are 7-2-0 away from Kohl Center this season.
"Our team this year has competed no matter what situation we've been put in," Granato said at Wisconsin's press conference this week. "Obviously, this is another challenge, we've talked about that a lot this year leading up to each weekend on different kinds of challenges we're going to face. We're playing the best right now, as far as going into Minnesota knowing the kind of run that they're on. Our guys have looked forward to these challenges all year, and this will be another one."
What has led to the success on the road?
"I don't really know…it's been impressive," Granato said. "Even some of the games we've lost on the road, the Denver game in particular, was one of the best games of the season."
Granato has played both Jurusik and Berry in net since the former came back from an injury, and he said he plans on doing the same this weekend.
"Both guys have been really good for us and both guys deserve to stay in the rotation," he said. "It's worked out well, both guys this weekend at different times in the games were when they had to be."
As for avoiding the pressure that could come with facing a rival on the road with an opportunity to capture first place in the conference, the head coach doesn't think that will be too big of an issue.
"You're always going to get excited to play Minnesota, no matter what the records are, no matter where the games are being played," Granato said. "The bottom line is we positioned ourselves at this point of the season, we said it the other night, these are meaningful games. It's nice to play meaningful games at this time of the year.
"The Gophers are a heck of a team, (but) I think we've got a heck of a team here. It should be some great hockey."
Three Stars of the Week
First star — Minnesota freshman forward Rem Pitlick: Pitlick notched his first career hat trick during Minnesota's 6-3 victory over Penn State on Friday. He also had an assist in the game. He scored the game-winning goal on Saturday. This is his first career Big Ten weekly award.
Second star — Wisconsin freshman forward Trent Frederic: Frederick had two multi-goal games against Michigan last weekend. He scored the first goal of Friday's game and added the game-winner later in the contest. He scored two more goals on Saturday, including one eight seconds into the game, which is the fastest goal to start a game in school history. This is his second career Big Ten weekly award.
Third star — Minnesota senior forward Justin Kloos: Kloos had two goals and an assist in Minnesota's two-game sweep over Penn State. He scored the game-winning goal on Friday and tied the game late in the third period of Saturday's contest. This is his seventh career Big Ten weekly award.
B1G in the Poll
No. 4 Minnesota, No. 11 Penn State, No. 12 Ohio State and No. 19 Wisconsin represent the Big Ten in this week's USCHO.com Division I Men's Poll.
My ballot
1. Denver
2. Harvard
3. Minnesota-Duluth
4. Minnesota
5. Boston University
6. Massachusetts-Lowell
7. Union
8. Western Michigan
9. Cornell
10. Ohio State
11. Notre Dame
12. Boston College
13. Providence
14. Penn State
15. North Dakota
16. Vermont
17. Air Force
18. St. Cloud State
19. Wisconsin
20. Omaha
This week's matchups
Wisconsin at Minnesota (Friday and Saturday, Mariucci Arena)
Penn State at Michigan State (Friday and Saturday, Munn Ice Arena)
Michigan at Ohio State (Friday and Saturday, Value City Arena)