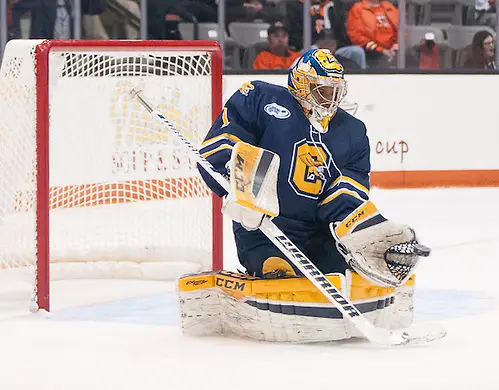 It's a well-known cliché in sports. Taking it one day at a time. One game at a time.
But Canisius coach Dave Smith says that's what his team is doing as it rides an unprecedented unbeaten streak, currently at 14 games (11-0-3) going into the Golden Griffins' final regular-season game on Thursday.
"It sounds like coach speak," said Smith. "But we really are going day by day. The number (14 straight) has snuck up on us. Our approach has been to be good today. I think that's part of the reason (for the streak). Each time, we flush the previous weekend and work on how to be good today. Have a good practice and build on that."
Canisius hasn't lost since it dropped a 2-1 contest to St. Lawrence on Jan. 7. The Golden Griffins haven't suffered a league loss since Dec. 31. Since then they've taken 29 out of a possible 32 league points and currently hold down first place in Atlantic Hockey.
The Golden Griffins are backboned by goaltender Charles Williams, a senior transfer from Ferris State. He's making the most of his final season of eligibility, posting a .942 save percentage, best in the nation.
Williams has been stellar all year, and once Smith's team found its scoring touch in January, there's been no stopping the Golden Griffins. Canisius averaged just two goals a game before the calendar turned. Since January, offensive output as almost doubled, averaging 3.75 goals per contest.
"We never felt like we couldn't score, it was just that we weren't scoring," said Smith. "We never got down and said 'Man, we just can't score'. We were getting plenty of opportunities, but the pucks wasn't going in for us."
Some moves Smith made in his lineups helped get the offense on track.
"We found a spot for David Parrottino," said Smith. "Moving him to the line with Ryan Schmelzer and moving Dylan McLaughlin to left wing. That pushed everything down in the line chart and got us going. Getting Mike Sabatini back from injury was a plus, too."
And Williams remains solid, allowing more than two goals just once since Christmas. When asked if he saw something special in the goaltender, Smith says it was an easy decision to add Williams to the team, even if was just for one season.
"We saw something special as a person," he said. "His work ethic and commitment to the team."
Canisius hosts Mercyhurst on Thursday in its regular season finale. The Golden Griffins have locked up a first round bye and home ice for the quarterfinals, and are looking for the first regular season title in school history.
They'll have to wait a couple of days to see if they're the regular season champs. Air Force trails Canisius by two points but have a game in hand.
"Our players are aware," said Smith. "We can't control what Air Force does. We want to take care of what we can control."
Shorthanded situation
It's been a tough season for Niagara, which has been able to muster just three wins and is locked into last place.
A main reason has been a ridiculous amount of injuries the Purple Eagles have endured.
It's been like fighting with one arm tied behind their backs, or more appropriately, one arm in a sling.
So far, Niagara has lost a total of 182 man-games to injury. College hockey doesn't track this statistic, but to give some perspective, Edmonton leads the NHL in man-games lost to injury at 199, but that's in 47 games. Niagara has played just 32.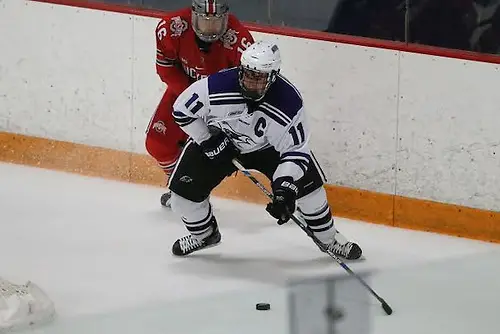 At least six players are out for the season, some out of the lineup from as far back as November.
Captain Derian Plouffe has been sidelined since Nov. 19. He had eight points in 12 games prior to the injury, and was expected to make big contributions offensively. Also not coming back this season are forwards Ryan Kuhn, Tanner Lomsnes, Ben Sokay and Nick Farmer. Injuries to the defense, especially Tyler Hayes, also out for the year, have been frequent.
Niagara averaged eight injured players a game in the month of January.
"It's been devastating," said Purple Eagles' coach Dave Burkholder. "We've had more than our share of injuries the past couple of years, but nothing like this.
"You don't have a farm system, you can't call guys up."
Niagara brought in two players at Christmas, forward Christian Cakebread and defenseman Andrew Pizzo, to stop the bleeding, but are still shorthanded.
"It's been a real struggle," said Burkholder. "We've had to change our practices and playing style as a result. We're a young team anyway with 10 freshman and 10 sophomores."
Youth and holes in the lineup has shown in games where Niagara wasn't able to hold leads. The Purple Eagles led early in three of their last four games, but couldn't maintain the advantage.
"We've gotten off to some good starts, and we're hanging with some good teams, which is encouraging," said Burkholder. "We haven't seen Robert Morris yet, but I have to think Canisius is the best team in the league and (on Feb. 15) we're 2-2 with 10 minutes to go. That was a game that was right there for us, even with 10 guys out of the lineup."
Niagara, which finishes the regular season with a pair of games with fourth-place Robert Morris, hopes to get a few players back for the playoffs.
"We're hopeful," said Burkholder. "It's been gain a player, lose a player. But we're hoping to get some guys back that have been week-to-week."
On Sunday, Niagara and Robert Morris will play an outdoor game at Heinz Field in Pittsburgh.
"That will be a great experience for our players", said Burkholder. We're looking forward to that, as well as finishing the season strong and getting a fresh start in the playoffs. It takes four wins to get to Blue Cross Arena, and that's the goal."
Where things stand, redux
Here's what we know going into the final weekend:
Canisius
Possibilities: It's going down to the wire in the battle for the regular season title. The Golden Griffins lead second-place Air Force by a point and hold the tiebreaker, but Air Force has a game in hand. Canisius can finish no lower than second and has clinched a bye and a home quarterfinal series.
Remaining games: Mercyhurst
Air Force
Possibilities: The Falcons control their own destiny and can win the regular season title with a home sweep of Sacred Heart. Air Force can finish no lower than second and has clinched a bye and a home quarterfinal series.
Remaining games: Sacred Heart (2)
Army West Point
Possibilities: The Black Knights will end the regular season in either third or fourth place. Two points against American International will lock up third. Army West point has clinched a bye and a home quarterfinal series.
Remaining games: at American International, American International
Robert Morris
Possibilities: Robert Morris can finish anywhere from third to sixth, and can lock up the final home quarterfinal spot with two points against Niagara, or the fifth and final bye with a single point this weekend.
Remaining games: at Niagara, vs. Niagara at Heinz Field
Mercyhurst
Possibilities: The Lakers are still in the running for a bye, and can finish between fourth and eighth. Mercyhurst will host a first-round series if it does not get a bye.
Remaining games: at Canisius, RIT
Holy Cross
Possibilities: Ditto for the Crusaders: they'll end up fourth through eighth, and will host a first-round series if they don't earn a bye.
Remaining games: at Bentley (2)
Bentley
Possibilities: The Falcons have the widest of possible scenarios, with a remote chance at fourth but also a remote chance at ninth. Bentley needs a point to clinch home ice in the first round.
Remaining games: Holy Cross (2)
RIT
Possibilities: The Tigers are looking at sixth through ninth. RIT can clinch home ice in the first round with either a point against Mercyhurst or Sacred Heart failing to get four points at Air Force.
Remaining games: at Mercyhurst
Sacred Heart
Possibilities: The Pioneers can finish as high as sixth and as low as ninth, and will need help from other teams to finish in the top eight.
Remaining games: at Air Force (2)
American International
Possibilities: The Yellow Jackets will be on the road in the first round. AIC is looking at ninth or tenth.
Remaining games: Army West Point, at Army West Point
Niagara
Possibilities:The Purple Eagles will be on the road for a first-round playoff series, and are locked into the 11th position, meaning they will travel to the No. 6 seed.
Remaining games: Robert Morris, vs. Robert Morris at Heinz Field.
Milestones
Each season at this time, I look at milestones that have been set or are about to be set. The 100 point plateau is a coveted goal for players looking to leave their mark in their school's record books.
The group of players at or near the mark is small this season, an indicator of the youth movement going on in Atlantic Hockey.
Here's who to watch:
* Max French, Bentley: French, a senior, was the only player in the league to come into this season with over 100 career points. He has 30 this season to up his career total to 134 and counting.
* Justin Danforth, Sacred Heart: The senior reached 100 point plateau on Nov. 22. He's at 118 and counting, including 26 this season.
* Brady Ferguson, Robert Morris: The junior passed the century mark on Jan. 28. He currently has 107 career points including 47 so far this season.
There are three players within easy striking distance of the century club:
* Daniel Leavens, Robert Morris: 97 career points and counting.
* Mike Barrett, Holy Cross: 95 points so far.
* Jordan Minello, Sacred Heart: He needs seven points to reach 100, currently at 93 including 48 goals.
For goaltenders, a 2,000 save career puts a player among the elite. There are three goalies in the league who have eclipsed that mark, all seniors:
* Army West Point's Parker Gahagen has 3,040 career stops, holding the all-time record at Army.
* Jackson Tiechroeb (Niagara) has 2,636 saves and counting.
* RIT's Mike Rotolo has 2,284 career saves, a school record.
Weekly awards
From the home office in Winthrop, Mass.:
Player of the Week
Derek Barach, Mercyhurst:
Barach had two goals and three assists in a split with Robert Morris, including a pair of goals in Friday's 7-4 win. He leads the Lakers with 31 points.
Defensive Player of the Week
Dalton MacAfee, Army West Point: The sophomore had a trio of assists in a sweep of Holy Cross. MacAfee had 13 points to date, including five goals, tops among Black Knights blueliners.
Goalie of the Week
Aidan Pelino, Bentley:
Pelino wins the award for the second straight week after recording his second shutout in his last three starts to help the Falcons to a split with Sacred Heart. In all, the freshman stopped 55 of 57 shots last weekend.
Rookie of the Week
Luke Lynch, Robert Morris:
Lynch was a bright spot in the Colonials' 7-4 loss at Mercyhurst with a pair of goals. He chipped in an assist in Saturday's 3-2 win over the Lakers.