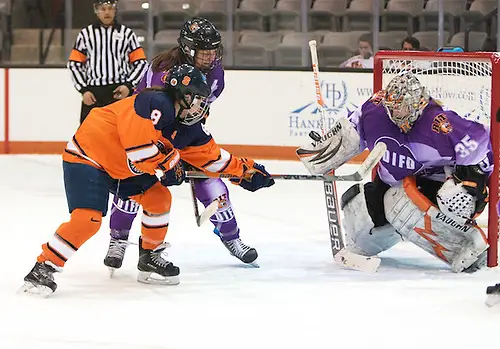 Arlan: Before we get to the playoffs, the round that occurred this weekend and those on tap, we had a bit of regular season business to finish up. Congratulations to Paul Colontino and Robert Morris on the program's first CHA regular-season championship. The Colonials clinched at least a share of the crown with a 2-1 comeback win on Friday at Lindenwood on the strength of a late goal from Jaycee Gebhard, her second of the day. Jessica Dodds made 35 saves on Saturday to earn RMU a 3-0 shutout, giving it the title outright.
Despite winning its last four games of the season, including a convincing sweep at Penn State this weekend, Syracuse has to settle for yet another runner-up finish. It has to be frustrating for Paul Flanagan's team to come so close so often but yet not be able to hang a banner from the rafters of Tennity Ice Pavilion.
They'll get another chance in the CHA tournament. This year, that conference has gone to a single-site, single-weekend tourney. Lindenwood and Mercyhurst kick off play on Thursday at 4:00 p.m. EST at the Harbor Center in Buffalo, the location of last year's semis and final, with RIT versus Penn State to follow. On Friday, the Colonials start their postseason against the lowest remaining seed, followed by Syracuse and the other Thursday winner. The two teams that triumph in the semifinals will square off on Saturday at 4 p.m. for the league championship and the right to advance to the NCAA tournament.
What do you think of the CHA's new format? I kind of like it, particularly for a circuit that doesn't have a full allotment of eight teams in its quarterfinals. By earning a bye, both Robert Morris and Syracuse would seem to have more of an advantage than teams did last year when the quarters were best-of-three series a weekend earlier. Yes, the bye teams got to rest a week while the others battled it out, but the week off could also disrupt a team's rhythm on the eve of the postseason.
The WCHA experimented with something similar a dozen years ago, although it had eight teams and quarterfinals split between Thursday and Friday. Having all eight teams play at one location gives it more of a tournament atmosphere, but a certain high-profile former coach in the league complained vociferously that it tired her team out and was the reason it was bounced in an NCAA quarterfinal the following weekend. The league didn't wish to incur further wrath and switched to the two-weekend setup with best-of-three quarters. It probably makes sense on the men's side where more fans attend, but outside of Madison, the quarters didn't draw that well around the country.
What are your thoughts on the CHA's new tournament format, and how do you see it unfolding?
Candace: I have mixed feelings on the tournament's new format, to be honest. It can definitely build excitement, and I think in a six-team league where two teams would be off one weekend, it does make some sense. In the other leagues where eight teams advance, I still favor best-of-three for the first round. While upsets can always be interesting, I do to some extent favor seeing the teams that have been the best advance to the final four. A good team can have an off night and still advance, and that happened a few times this weekend. If it was one-and-done, Boston University, North Dakota, and Princeton would all be done, and so would Vermont, though I think that latter is somewhat interchangeable with Providence, the team that the Catamounts defeated.
At least it's not like the WIAC in Division III, where the teams play a best of two. If the two teams split, they play a 20-minute mini-game on the same day as the second game to decide a winner. That is little better than playing a shootout in lieu of a third game.
Regardless, only one home-ice team lost a best-of-three this past weekend, and the one that did, Providence, wasn't a complete surprise, given the Friars were playing Vermont. The two teams played three extremely close games during the year, and that series fittingly went three games. Generally, having that leeway when the first real pressure games happen does help a favored team that might be tight.
As for how it will shake out, I see Robert Morris facing Syracuse in the championship game. Between the two, I think it could go either way. Robert Morris has played more consistently during the year, going 22-4-6. I think it's nice that Brittany Howard and her classmates get the regular season crown after they came so close four years ago. I think they have to enter the tournament as the favorite. I don't see upsets in the first round, so we'll have Robert Morris facing Penn State in one game and Syracuse vs. Mercyhurst in the other. Penn State did defeat Robert Morris a couple of weeks ago, but I expect the Colonials to advance. Syracuse and Mercyhurst could go either way, and regardless of who wins, the tournament final could go either way. It wouldn't surprise me to see it go to OT again either, and it that's the case, it'd be heartbreaking especially for Syracuse to lose if they did, given how it played out last year.
Do you see it differently? Also, what did you make of last weekend's playoff series?
Arlan: If I read that right, you're saying that any of Robert Morris, Syracuse, or Mercyhurst could win the tourney? That isn't exactly going out on a limb, is it? I'll whittle it down to two.
The Orange are likely to have to go through Mercyhurst to reach the final, and the Lakers have been a roadblock to much potential success for Syracuse over the years. I think that if they are able to finally solve that puzzle in March, then I expect the Orange will be able to take the next step and win the tournament and the automatic bid. RMU has had more success over the years versus the Lakers, so if it is Mercyhurst advancing over Syracuse, then I'll look to the Colonials to be the latest new entrant into the national tournament.
As for what happened in the quarterfinal series, the top seeds in particular couldn't have asked for much more. All of the No. 1 and No. 2 seeds posted sweeps, and of those six, only St. Lawrence draws an opponent that also advanced in two games. Boston College and Minnesota Duluth were through by Friday afternoon, so each has a couple of extra days' rest over an opponent that should be more tired. Clarkson's foe, Princeton, played three games, going to triple overtime in the first. Wisconsin plays North Dakota, a squad that played bonus hockey twice, including on Sunday. It really sets up well to see the chalk get through to the finals, and should that be how everything plays out, then Cornell will be cheering unapologetically for BC.
This has been a rather tame postseason in the early going. Looking at the season as a whole, so far it has been more of what we'd expect in an Olympic year, when many of the best offensive players are on sabbatical. We have to go back to 2007-08 to find a non-Olympic year where nobody reached at least 80 points. In Olympic years, nobody typically gets to 70 points. Minnesota's Kelly Pannek became the first player to hit 60 on Sunday.
I think that offense is lagging behind defense around the country. Wisconsin is the only team that scores four goals a game, and even the Badgers have been held to a goal or less six times. Compare that to last year, where BC racked up more than five goals a contest and wasn't held to a single goal until its final skate. Ten teams played on Sunday, only one scored more than three goals, and only two others reached three. Maybe it's easier to get players to block shots and execute a neutral-zone trap that it is to make tape-to-tape passes or establish a net-front presence. For the remainder of this season, we have what we have, but that scarcity of offense suggests that we haven't seen the last of overtime this postseason.
The 10 Kazmaier Finalists were announced last week. Given the lack of explosive offense, are you coming around to the thought that the award will go to a goaltender this time?
Candace: Yes, I think the award will go to Wisconsin goalie Ann-Renée Desbiens this year, in part because of the diminished production that you mention above. If you had a few 100-point scorers in the mix, I'd probably still favor them.
Desbiens has proven herself to be one of the best goaltenders in the short history of the game. Much like the Academy Awards seem to do frequently, this year's Patty Kaz might be a makeup for last year, when she was equally deserving, but it went to Kendall Coyne (who also deserved it; don't get me wrong).
Regardless, when I look at the list of 10, nobody but Desbiens jumps out. If Dani Cameranesi hadn't gotten hurt and continued scoring at the pace she was, she could have given Desbiens a run for her money for the award. Right now, apologies to BC Interruption's campaign to get the Patty Kaz to Megan Keller, I see the final three being Desbiens, Pannek, and either Cayley Mercer of Clarkson or Kennedy Marchment of St. Lawrence. Lara Stalder of Minnesota Duluth could end up being the third as well, because she's been so important to Duluth's success, but I would imagine committee members would want to avoid the award being an all-Western affair.
As for the diminished offensive production, I think you could also point out that in the last 4-5 years, we've had the special once-in-a-lifetime type players at several schools, players like Coyne, BC's Alex Carpenter, and Minnesota's Amanda Kessel, That's not to say that a Pannek or a Mercer isn't an outstanding player, but as I pointed out a few weeks ago, with the Carpenter/Coyne etc. class, you had the women's equivalent of Sidney Crosby and Alex Ovechkin playing for their schools.
We've already had one NCAA tournament team from last year end its season, as Quinnipiac was knocked out of the ECAC tournament and has no way to finish high enough in the PairWise to make it. It's a disappointing end to the careers of senior goalie Sydney Rossman and forwards Emma Woods and Meghan Turner. After winning 3-2 in triple OT in the first game, the Bobcats were held without a goal until 13 seconds remained in their season. It was an unfortunate trend for the Bobcats, who too often found themselves in defensive battles where no matter how few goals they gave up, they couldn't find the offense they needed.
At some point, you need to score. That's why teams like Wisconsin, Minnesota, Boston College, and Clarkson have done so well over the last few years.
Speaking of the Gophers, I thought they'd turned a corner with two ties against Wisconsin, but they went down to the wire against Bemidji State over the weekend. For some reason, the Beavers always give them fits. You stated in your recap that Minnesota had been playing for its season, which I thought was a bit of hyperbole given that the Gophers were and are fifth in the PairWise, in a good position for an at-large. This weekend, they face Minnesota Duluth. Can the Gophers advance, or will they be knocked out before the WCHA championship game for the first time in several years?
Arlan: I'm not sure how far a second-straight loss to Bemidji State would have dropped Minnesota, but it would have been in a similar situation to Princeton last season. It would be in the PairWise top seven, but if the wrong teams start winning auto-bids, it can make for a nightmarish weekend.
As for the Gophers being knocked out before the league final, that happened two years ago thanks to the Beavers. That was only the third time Minnesota had lost in the semifinals in the 17-year history of the WCHA, and ironically, only one of those losses was to Wisconsin and none were to UMD.
Whether they turned a corner or have turned too many so that they're just going in a circle remains to be seen. They poured a lot of effort and emotion into the series with Wisconsin the week before, so some regression could almost be predicted. Still, it was the start of playoffs, and normally, that infuses some adrenaline into the affair. Instead, through much of the first two games I thought both teams were misfiring and at less than their best, so who had the upper hand was usually determined by who had received the most recent kind bounce.
The Gophers were able to keep much of the play in their attacking zone, so all else being equal, they likely would have wound up with the extra bounce, but whatever its flaws, and those flaws are real, the Beavers are a team that you do not want to trail. Once they sink their teeth into a lead, it is hard to pry those jaws open. Minnesota was able to extricate itself from one deficit Saturday, only to sink into another when one of those pillow-soft goals that has plagued it at times wound up in the net.
Both teams played their best hockey of the weekend on Sunday. Brittni Mowat finished her career with a performance in which she could take pride, but Minnesota was able to build a two-goal lead. Bemidji State battled to the end but could never quite get back to even.
There are still echoes of greatness from the Gophers, but nothing that is sustained. They are missing three skaters from last year's roster who had more than 200 career points in Cameranesi, Kessel, and Hannah Brandt, who came close to 300. While Pannek and Sarah Potomak are on pace to make it to 200 points some day, the offense lacks the potential for fireworks that it had over its five-year run to the championship game. Against the top teams, there isn't enough production to compensate on the days when the team defense springs leaks.
Whether its the Bulldogs or the Gophers winning on Saturday, it's a likely be that they'll be matched again in the first round of the NCAA tournament, and either has the potential to win on the other's ice. The Bulldogs could lose Saturday and still host the Gophers a week later.
Boston University is another team with dangerous forwards that can present matchup problems and sleepless nights for an opposing coach in a single-elimination format. At the same time, Brian Durocher can't always be sure what type of defensive performance he'll get from the Terriers. Northeastern took the first two meetings, but the head-to-head is trending in BU's direction. Which team takes Saturday's game and plays for a Hockey East title?
Candace: I have to go with Northeastern. While I think of the two teams BU has more potential upside and can reach higher peaks, Northeastern is more consistent game to game. BU was a period away from getting swept by New Hampshire last weekend, trailing 3-2 entering the third period and down a game. And even after rallying to win 4-3, that lift didn't get BU enough momentum to pull away from the Wildcats in game three, again winning by a goal. Northeastern, by contrast, swept Connecticut, even if game two went to OT. The Huskies will be more rested.
On the flip side, the event is at BU, so home ice could give the Terriers a lift. BU was impressive in beating Northeastern 7-2 on the last weekend of the regular season. The other area that will help BU is leadership, as the Terriers have Mary Parker, who two years ago played in the national championship with Harvard. Between Parker and Maddie Elia, the Terriers are strong there. Northeastern counters with Haley Scamurra and Paige Savage, who helped lead Northeastern last year.
The reason I favor Northeastern is defense. I think Brittany Bugalski is more consistent for Northeastern than Victoria Hanson is for BU in net. It's not like Northeastern is a slacker in the offense either. In addition to Scamurra, the Huskies are led by Denisa Krížová and McKenna Brand, the latter of whom is third in the country in goals, one behind Parker, ironically.
I think on the other side, Boston College will likely defeat Vermont to advance to the championship again. Vermont has shown a lot of improvement this season, but the Eagles handled Vermont pretty effectively the last two times they played. If BC advances, the Eagles will be the favorite, but both Northeastern and BU beat BC this year, with Northeastern winning the most recent game against the Eagles. Given the current chaos in the PairWise, there will likely be several teams rooting hard for the Eagles to win Hockey East.
The other thing to wonder about is whether if BC wins the Hockey East tournament the Eagles can move up high enough in the PairWise to get home ice in the NCAA tournament. I'd say given that Clarkson and St. Lawrence are above the Eagles, as are Minnesota, Minnesota Duluth, and Wisconsin, it's unlikely. I think for the Eagles to move up that high, Clarkson, Minnesota, and St. Lawrence would all need to lose their semifinal games next week.
Who do you think advances to face BC in Hockey East? Do you even think BC gets to the final, and if they do, do you think they can get home ice in the NCAA tournament?
Arlan: It seems like it has been a long time since the Eagles have been in danger of not making the tournament field at this stage. My memory says that we'd have to go back to 2010, although it's possible that their spot was in jeopardy in 2014.
In any case, BC shouldn't lack for motivation, and that's really about the only place that Vermont could hope to have an advantage. If you listed the top 10 players in this semifinal, at least seven of them should be Eagles.
But we shouldn't lose sight of the improvements the Catamounts have made this year. Last season, they were outscored almost two to one over the course of the year. Now, they are plus-7 coming into this weekend. That starts with better goaltending; all three on the roster have save percentages above 91 percent, including senior starter Madison Litchfield at .928. As a junior, she was barely over 90 percent. There's also more sizzle up front, led by three underclassmen. Sophomores Alyssa Gorecki and Saana Valkama both have 24 points, while freshman Ève-Audrey Picard sits on top with 30, including 16 goals.
BC ran roughshod in the last meeting, but I think UVM provides a more competitive effort Saturday. The Catamounts will fall short, but by only a couple of goals.
That puts the Eagles in the final, and unlike you, I look for BU to be the opponent. You're not wrong that Northeastern is the better defensive team, but the Terriers advantage offensively essentially cancels that out. Durocher typically has his team playing its best for the final weekend of the conference tournament, and that earns them my nod.
In the final, that extra game last weekend takes its toll and BC will pull away at some point. Beyond that, the teams' forwards are comparable, and the Eagles have the advantage on the back end. I always expect offensive explosions when BU and BC meet, but those seldom materialize. It won't necessarily be a flashy tournament, but BC will make its seventh straight return to the national tourney a certainty.
At one point, it looked like one might be able to put the names of the top six ECAC teams in a hat, draw them out one at a time, and each was as likely to win the conference tournament as the next. Currently, there are some clear demarcations between the four remaining seeds.
Princeton enters the weekend at a big disadvantage, having played nearly twice as many minutes as any of the other three in the quarterfinals. The Tigers are a skating team, but how long can they skate? Cornell is tough defensively, but puts a lot of pressure on that defense with such low offensive output. St. Lawrence and Clarkson are nearly equivalent, but the Golden Knights are a little deeper and own the home-ice advantage.
Do you agree that separation has developed, and who poses with the trophy come Sunday?
Candace: I think there's been some separation all year, to be honest. All year, it's really been the North Country teams and everyone else. Cornell and Princeton are both good teams, but they haven't been quite as consistent as St. Lawrence and Clarkson. Princeton lost to Yale and Dartmouth, and had the tie with Penn State. Cornell lost to Rensselaer and Providence, and had a tie with Harvard and Yale. By contrast, St. Lawrence's only "bad" result was the loss to Mercyhurst, while Clarkson's bad results were ties with Syracuse and Harvard.
Cornell plays St. Lawrence in one semi. St. Lawrence went 1-0-1 against the Big Red this season, so there is some possible hope for the Big Red to pull the upset, but I give the Saints the edge because of the Kennedy Marchment-Brooke Webster-Hannah Miller line. The trio lead the team in scoring, and all average over a point a game, with the first two averaging over a point and a half. Bonus for St. Lawrence is that Marchment and Miller are juniors and will be back next season. While I think Cornell will put a scare into the Saints, it won't be enough.
In the other semi, we'll have Clarskon and Princeton, and I just don't see the Tigers winning that game. Clarkson won both games over the Tigers this year by two goals in each. Clarkson is just too balanced for Princeton. Shea Tiley guards the Clarkson net, and she's one of the better goalies in the game. The Golden Knights also have a strong offense led by Mercer and Geneviève Bannon. I don't expect the game to be closer than either of the others were.
That will set up a North Country showdown for the ECAC crown. St. Lawrence won the first game of the year between the two, but that was the only win the Saints got against Clarkson in four games. Admittedly, two of those results were ties, suggesting that the two teams are evenly matched, but I favor the Golden Knights of the two. I think Clarkson has generally gotten better as the season has progressed, more so than the Saints, who were better in the first half. I think it will be a one-goal game, but who knows.
Do you see it the same as me? Another set of playoff tournaments with no upsets?
Arlan: I picked BU over Northeastern so that's one upset. I think that the CHA will have an upset, with either Mercyhurst winning in the semis, or if that doesn't happen, then Syracuse takes the title. The WCHA will be the only league that plays out exactly as seeded.
The ECAC will have an upset as well. I'd like to say that Princeton will ride the momentum of a rare playoff win, but Steph Neatby would have to flat out steal the game from Clarkson. She's certainly capable of it, having stopped 117 of 121 shots against Quinnipiac, but her legs have to be a bit wooden after that performance. I expect that further heroics will have to wait for later in her career.
Instead, it will be Cornell swiping a semifinal at St. Lawrence's expense. Paula Voorheis denied 60 of 61 shots from Colgate last weekend, so it would seem a foregone conclusion that the senior will get the start for the Big Red. However, sophomore Marlene Boissonnault has the second-best winning percentage in the country, and her goals-against average is lower. Conversely, Voorheis has a higher save percentage, where she ranks fourth in the nation. The Saints touched Voorheis for four goals on 25 shots when they defeated Cornell, 5-2. Boissonnault got the call in the rematch, when the teams tied, 2-2. Voorheis had success against SLU earlier in her career, so intriguing as the prospect of going with Boissonnault may be, I think that Voorheis gets the nod and repays that confidence with a victory.
That produces a title game matching Cornell and Clarkson, as was the case in 2014 and 2010. Cornell took both of those contests, as well as a semifinal meeting in 2015. The Golden Knights will exact a bit of revenge this time. After winning a national title as freshmen, Mercer and Geneviève Bannon will lead this squad to an ECAC championship, something that has eluded them until their senior season.
If you want an upset tournament winner, and the possibility of Syracuse winning at a neutral site doesn't qualify, then I'd look at UMD. The Bulldogs have a lot of seniors in key roles who haven't won anything in their careers. I think they may have the edge in incentive over a dominant Wisconsin team that has won two straight championships. That's not my pick, but it do think it is the most likely upset winner outside of the CHA.
As I learned in the picks contest over the years, you aren't prone to picking a lot of underdogs, and you didn't seem to find any in these tournaments. Where do you think an upset is most likely to occur, even if it doesn't sway you to predict it?
Candace: Well, in my mind it's not an upset, but it would be by seed. I see Minnesota beating Minnesota Duluth to play Wisconsin. I don't, however, see the Gophers then beating Wisconsin. I have a tough time picking an upset conference winner. I think Clarkson takes the ECAC. That leaves the CHA and Hockey East. To me, the CHA is Robert Morris' to lose; they might do just that, but I lean toward the Colonials. In my mind, and I've been saying this for over a month, Hockey East is the most likely place to see an upset winner. The Eagles aren't as dominant as they have been in the past. On the other hand, you could equally say that BC's losses since winning the Beanpot were more about conserving energy for this weekend. I probably won't pick against the Eagles, but that's where I'd look for an upset tournament winner.