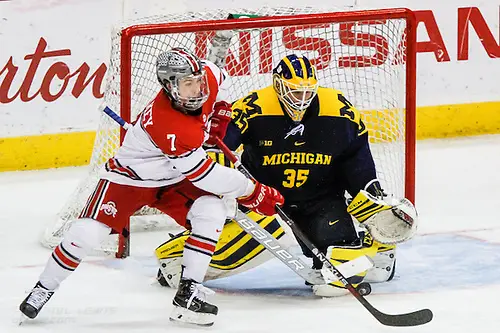 What an interesting weekend of Big Ten hockey it was.
What an interesting two weeks it's going to be.
This is how things stand.
If Minnesota wins out, Minnesota wins the regular-season title
That may seem like stating the obvious, but Minnesota needs to win out to finish in first place without help from anyone else in the conference. In other words, Minnesota's magic number is four.
The Golden Gophers split a pair of 3-2 games with visiting Wisconsin last weekend, preserving the three-point span between the teams in first and second place. After allowing three second-period goals in Friday's 3-2 loss to the Badgers, the Gophers opened Saturday's game with two unanswered first-period goals, but allowed two again in the second. With the game tied 2-2, Justin Kloos scored the game-winning goal for Minnesota at 14:54, fed by Rem Pitlick and Tyler Sheehy.
Those are some big names for Minnesota – and that, said coach Don Lucia – is exactly how things should go when a game's on the line.
"I thought you need your big-time players to make play," said Lucia. "That's what happened on our game-winning goal. We caught them on a three-on-two, a great mid-lane drive by Sheehy and Rem put it right on the tape and Justin finished."
Kloos, a senior with 17 goals, said that one of the hallmarks of this Minnesota team is its resilience. "We don't always want to be resilient. It would have been a much more fun game if we would have scored two in the first, two in the second and then we would've rode a four-zero win, but I guess we decided this wasn't the night we wanted to do that so we're just happy we found a way to win."
Still, the ability to pull a win out at the last minute is a mighty fine asset in college hockey at the start of March.
Minnesota plays its remaining four games against the two teams at the bottom of the league, starting with this weekend's road trip to Ann Arbor to take on Michigan. The Gophers end the season at home with two games against last-place Michigan State.
Lucia said that Saturday's win was "important for us obviously in the scheme of things nationally and in the Big Ten" and added that February was "a tough run." The Gophers went 6-2-0 for the month.
"We turned a page in February," said Lucia. "We'll probably give the guys a day off this week. We haven't had a weekend off here the second half. About four or five forwards are playing a lot of minutes right now."
Wisconsin's run for a regular-season title is a bit tougher
Not only are the Badgers trailing the Golden Gophers by three points in the standings, but Wisconsin's schedule for the remaining two weeks of the regular season is a bit tougher than Minnesota's. This weekend, Wisconsin plays Penn State on the road and the Badgers finish the season with two games in Madison against Ohio State.
Wisconsin could sweep the next four games and not catch Minnesota if the Gophers earn 10 points in the final two weeks. Two wins for the Badgers, though, guarantees that Wisconsin finishes no lower than second place.
With the split in Minneapolis, the Badgers played their way back into a good spot in the PairWise Rankings, up from 20th to 13th. First-year coach Tony Granato admitted this week that he's still getting used to the PWR and said that it's a good barometer of his team's progress, but that in the bigger picture the PairWise Rankings aren't something that he pays much attention to.
"Obviously we've been climbing as the year goes along," said Granato. "That's what we wanted to see was progress, keep moving up. I guess it's nice to be in that but it really doesn't mean anything now. Obviously, if we're in that position in a couple of weeks, it'll mean something. We know a little bit about it. We're trying not to distract it from what we're trying to do and that's improve each and every week."
It's "how you finish" that matters, said Granato.
"It is the system so you understand and respect it for what it is," Granato said. "It doesn't matter until the last day of the season in as far as whether you get a bid or not. It doesn't matter for a team, unless you're playing on the last day of the season when no other teams are. That's your goal as a college team.
"I don't know a whole lot about the PairWise. I'm worried the Friday night game at Penn State."
Penn State swept itself back into third place
The Nittany Lions were the only team to sweep last weekend, two wins in East Lansing against Michigan State. The six points from the series lifted Penn State into third place, two points ahead of Ohio State.
Friday night's 4-2 game was tied 1-1 heading into the third until the Spartans scored at 11:32 to give Michigan State a very brief lead. At 11:45, Chase Berger answered to tie the game and at 15:27, Dylan Richard scored the game-winner on the power play. Saturday's 4-1 win was very different, with the Nittany Lions opening up a 3-0 lead by the end of the first period.
While Penn State found a way to sweep on the road, coach Guy Gadowsky said that he didn't necessarily know if his team was learning how to win by different means. "That certainly happened," said Gadowsky. "I like it the less-stressful way, but we'll take any wins at this point of the season any we can get them.
"I like the way the guys came out. I suspect they're going to have to find many different ways to win down the stretch if we're to be successful."
The Nittany Lions went 4-4-0 in February, dropping all four meetings against Minnesota, but winning last weekend on the road against Michigan State and two weeks ago on the road against this weekend's opponent, Wisconsin. Penn State is five points behind the second-place Badgers.
"It's big-time hockey with a lot of emotion," said Gadowsky. "It's going to be exciting. I can't wait. I'm glad we get to play it in here in such a great atmosphere."
After hosting Wisconsin, Penn State finishes the regular season on the road against Michigan. The Nittany Lions are currently ninth in the PairWise Rankings, and if they win out their schedule, they finish no lower than second place. They can't finish lower than fourth.
The Buckeyes are a bubble team
While Granato isn't paying too much attention to the PairWise Rankings, you can bet that Ohio State coach Steve Rohlik is. After splitting at home with Michigan last weekend, Ohio State sits at No. 15 in the PWR – practically out of the NCAA tournament heading into the final two weeks of the regular season and the Big Ten championship tournament.
Ohio State went 5-3-0 in February but it was that last loss, 1-0 to Michigan at home last Saturday evening, that had perhaps more of an impact than the other two. The Buckeyes are a team that can score goals, and Saturday was the first time since a 2-0 loss to Bowling Green Oct. 10, 2015 that Ohio State had been shut out by an opponent.
"You've got to get to the dirty areas," said Rohlik, something the Buckeyes couldn't do Saturday when so much was on the line. "Sometimes, they don't come as easy as you'd like."
Rohlik said that the Buckeyes "chased it from the start" in Saturday's game.
"First period, I don't think we played very well," said Rohlik. "Second two periods, I don't know, shots were 30-some to 12."
Like the Nittany Lions, the Buckeyes still mathematically have a shot at finishing first in the regular season, although that is highly unlikely. If they win out their schedule, they can finish no lower than third. That's because they finish the season against Wisconsin on the road.
First, though, the Buckeyes face Michigan State at home. Ohio State swept the Spartans two weeks ago in East Lansing.
"We have to get back after it next weekend after a great week of practice," said Rohlik. "Our destiny is still in our hands and we just have to go out and keep winning hockey games."
The Wolverines and Spartans can finish no higher than fifth
It is a very strange thing to see Michigan struggle for an entire season.
The Wolverines looked mighty fine in that win against the Buckeyes Saturday. Early in the year, Michigan's defense was solid before becoming completely inconsistent. Saturday's 1-0 win was a reminder of how the Wolverines can play when they play as a unit. They shut down a powerhouse offense that averages four or so goals per game. In his fourth win of the season, senior Zach Nagelvoort made 42 saves.
After the game, coach Red Berenson said, "I thought we were lucky but it was a good team effort."
Berenson's also hoping that his team remembers what it took to win that game Saturday.
"We don't have enough dynamite to get this team to understand how desperate they have to play," said Berenson. "We know we're not that good. Maybe we didn't know that two months ago, but I think we've figured it out now. We're just not going to overpower a team or out-finesse a team or outscore them if we just play up-and-down hockey. We've got to play better defensively and I think our team learned that. We'll see if we can keep that in the mix."
The Wolverines have a tough schedule to finish the season. Even though their final four games are in Yost Ice Arena, they play Minnesota this weekend and Penn State after that. Three wins guarantee Michigan fifth place.
Michigan State finishes its season on the road against Ohio State and Minnesota, and the Spartans need a little help to climb out of the basement. Currently, Michigan State is five points behind Michigan. The Spartans went 1-6-1 in February.
The Spartans were swept at home by Penn State last weekend, a very close and competitive 4-2 loss Friday followed by Saturday's 4-1 loss. After that contest, coach Tom Anastos sounded very frustrated.
"It was bad decisions after bad decisions after bad decisions and poor execution after poor execution," said Anastos.
In spite of their record, Michigan State has played some tenacious hockey this season.
Not so Saturday night, according to Anastos.
"Mentally, our execution was poor," Anastos said. "We made poor decisions all over the rink."
Three stars of the week
Three players earning their first awards of the season.
First star – Michigan senior goaltender Zach Nagelvoort
Nagelvoort (Holland, Mich.) had 42 saves in Michigan's 1-0 road win over Ohio State Saturday. Nagelvoort stopped 31 shots in the final 40 minutes of play to protect that one-goal lead, including 20 saves in the third period. This is his seventh career weekly Big Ten award and his first of the season.
Second star – Penn State sophomore defenseman Vince Pedrie
Pedrie (Rochester, Minn.) led all Big Ten players with four points as Penn State swept Michigan State on the road. Pedrie had two in each game and assisted on both game-winning goals. This is his first career weekly Big Ten award.
Third star – Wisconsin freshman goaltender Jack Berry
Berry (Holly, Mich.) tied his career high with 36 saves in Wisconsin's 3-2 win over Minnesota Friday, including 17 in the third period. In the game, he stopped seven Minnesota power-play shots as the Badgers kept the Gophers 0-for-4 on the power play. This is his first career weekly Big Ten award.
My ballot
1. Denver
2. Harvard
3. Minnesota Duluth
4. UMass Lowell
5. Minnesota
6. Boston University
7. Union
8. Western Michigan
9. Cornell
10. Penn State
11. Providence
12. Notre Dame
13. Vermont
14. Wisconsin
15. Ohio State
16. Boston College
17. Canisius
18. Air Force
19. St. Lawrence
20. North Dakota