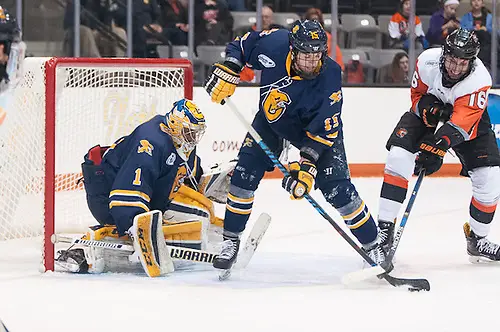 Every coach wants his team to be playing its best hockey at the end of the season.
The ability to enter the postseason with momentum can never be underscored, and in a league like Atlantic Hockey, recent history has proven Cinderella can come out of the first round and dance the glass slipper right to a league championship.
In determining the hottest teams at the end of the year, there are few surprises nationally. Canisius ranks No. 1 in that category, having gone 12-0-3 in its last 15 games, so it's no shock they wound up as Atlantic Hockey champions, winning the No. 1 seed over a nationally-ranked Air Force team.
Other names tend to make a lot of sense, too. Harvard's riding a 12-game unbeaten streak, and Minnesota Duluth is at 11, with Denver at nine. All three can make a case to be the best team in the nation right now.
Just 15 teams nationally have unbeaten streaks of three games or longer. Of those 15, just three are Atlantic Hockey programs, underscoring how hard it is to win week to week in the league. Of those three teams, one is the aforementioned league regular season champion, and the other is a Robert Morris team that won its way into a first round bye and quarterfinal home series.
The other is American International.
With just eight wins on the season, the Yellow Jackets enter the postseason as the league's 10th-seeded team. That might be all someone needs to be skeptical. But they're as dangerous as a team as anyone, and they're potentially peaking at the right time, making them ready to wreak havoc on a postseason known for Cinderella slippers.
"We're playing our best hockey late in the year," AIC coach Eric Lang said. "We played our last two weekends against the service academies, and their compete level brings out the best in every team. We've been defending hard, and we've really been defending the right way (over the last three weeks). We've cut down our goals against, and this is really the best we've played all year."
Statistically, AIC had its problems this year.
Overall, their goals against average sits at 3.32 goals per game, second worst to only Niagara, and their offense only scored 2.32 goals per game – also second worst. But while they battled a couple of losing streaks during the year, there were also positives.
The overall stats are skewed by bad performances strung together at a bad time in individual games. Despite finishing 10th, they weren't a bad team by any stretch. At one point in November, they had a chance to sit atop the Atlantic Hockey standings. Though they had only two wins in their first 11 games, they weren't losing; they had five ties over that same stretch en route to six before December.
It's the product of a group buy-in that happened on the first day under their new head coach. "This group has been all-in since Day 1," Lang said. "We've come out on the wrong side of some results (this year), and there were some nights that we just weren't as good as who we were playing. In those games, you're just going to lose. We combined that with four games where we had just awful goaltending, giving up goals on the first shot of the game. But we applied what we learned in those games and started to turn it around late."
Heading into the postseason, that's exactly what they've done. After losing to a nationally-ranked Air Force team on a Friday night, 5-0, the Yellow Jackets took a 3-0 lead over the Falcons on Saturday before ultimately tying 3-3. The next week, they trailed Army West Point 1-0 for almost the entire game before Janis Jaks tied the game halfway through the third en route to a 1-1 final score.
The next night in the season finale, they finally hit their stride.
With the Black Knights playing for third place, the Yellow Jackets again fell victim to an early deficit, giving up a first period goal. But perhaps grabbing the season by the proverbial horns, AIC tied the Black Knights with just over four minutes remaining in a third period where they were outshot, 16-6. 90 seconds into overtime, Jaks scored his fifth goal of the year to give Lang his first win over his mentor, Brian Riley.
And as for that goaltending? Zackarias Skog posted a .946 save percentage over this three-game stretch, allowing just two goals per game.
Now they head to the postseason as potentially one of the toughest outs in Atlantic Hockey. They'll head to Mercyhurst, a team they split with, albeit back in the season's third weekend. That's fine with Lang, who stressed how his team had to be ready.
"Nothing changes in how we play," he said, "but we have to have consistent execution. The opponent is irrelevant; that's not to say Mercyhurst is irrelevant by any stretch, though. They're never out of any play, and they can put up goals in bunches. So we can't quit on our backcheck, and we have to play stingy and close to our vest, just like we did against Air Force and Army."
Nuclear Upsets
Atlantic Hockey entered Saturday with an easy path to playoff seeding.
Second place Air Force, in the running for an at-large bid for the national tournament, needed to beat ninth-place Sacred Heart at home in order to gain the regular season championship. The rest would be decided by the four teams vacillating between fifth and eighth places.
Instead, we had full-fledged Atlantic Hockey chaos. Army West Point's one-point weekend against AIC opened the door for Robert Morris to get into the third seed with a sweep of Niagara, which would've been a statistical probability bet had Air Force not lost (in controversial fashion) to Sacred Heart. So Canisius, who didn't even play after Thursday, wound up as the league's regular season champion.
Then Holy Cross-Bentley and RIT-Mercyhurst happened.
In the first period of their game, Mercyhurst led RIT, 1-0. At that point, with Bentley and Holy Cross tied, 0-0, Mercyhurst would've finished sixth and RIT would've finished eighth. That would've sent Sacred Heart to Rochester and Niagara to Erie, with AIC going to Bentley.
At the same time, had Air Force not lost that game to Sacred Heart, Holy Cross would've been going to West Point instead of Pittsburgh. Instead, David Berard gets his first trip as a head coach to Robert Morris.
It's a big reason why coaches always preach to avoid scoreboard watching.
"It was about 30 minutes into our bus ride before we even asked where we were going (for the first round)," Lang said about AIC's night. "Either way, we knew we were going to make preparations for a hotel stay, and we weren't paying attention to being glued to what was happening anywhere else."
If nothing else, it proves an annual point about the league. No team can let up for even a single night in Atlantic Hockey. When your team loses that heartbreaking game in November, it inevitably plays a factor, perhaps more than in any other league, in what happens in February and March.
First Things First
Atlantic Hockey's playoff format has done more shifts and facelifts than a Hollywood plastic surgeon through the years.
Prior to 2009, the league had several formats to account for its first experience with realignment. With a shifting number of league members, a single-elimination tournament moved to a best-of-three, Final Five format in 2008.
In 2009, the league went to single-elimination first round games and best-of-three quarterfinal series. That lasted until it expanded to 12 members and introduced the experimental single-elimination, divisional format. Eventually, it went to a best-of-three format in 2012, where it's remained ever since (though the number of series went from four to three when Connecticut left).
So it's hard to get a grasp on who's had first round success. If we look solely at the "Best-of-Three Era," meaning 2012 through the present, Robert Morris, Canisius, and Holy Cross are arguably the best teams with records of 6-2, 6-3, and 5-3, respectively. None of those teams, for what it's worth, are in the first round this year.
Of interesting note is that Mercyhurst and Air Force have only played one single first round series since the format was introduced – even during the years when Connecticut was still in the league. The Lakers swept Army as the No. 6 seed back in 2013, and Air Force swept AIC as the No. 7 seed in 2015.
Pleased to Meet You
This year's first round will feature the renewal of a couple of Atlantic Hockey rivalries while introducing a new matchup to the postseason's main stage.
No. 11 Niagara at No. 6 RIT
This is the first time the two teams will meet in the first round, but the Purple Eagles and Tigers have managed to find each other twice since Niagara joined the league in 2011. In 2012, they played in Rochester, with the Tigers winning 2-1, before the Purps gained a measure of revenge the next season with a two-game sweep in the quarterfinals.
No. 10 AIC at No. 7 Mercyhurst
Despite both joining Atlantic Hockey during its MAAC days, they've never met in the postseason. AIC, who split with the Lakers during the season, is in search of its first-ever three-game series victory. Their last time advancing out of the first round came when they defeated Army West Point during the ill-fated divisional playoffs in 2011.
Don't count out a team based on seed, though. In 2012, a tenth-seeded Yellow Jacket team pushed Robert Morris to a third game by scoring seven in the second game, then took the Colonials to overtime in the deciding third game. And who can forget when 11th-seeded Niagara eliminated Holy Cross on the road? That year, Niagara, who won the first game, lost a triple-overtime heartbreaker in the second game to wind up in a third game that they won, 5-3.
No. 9 Sacred Heart at No. 8 Bentley
Since Atlantic Hockey's inception, they've only played three times in the postseason, twice coming in consecutive years. In 2011, Sacred Heart won their divisional playoff over Bentley, 6-3 to advance to the quarterfinals. The next year, the sixth-seeded Falcons won but not before the Pioneers forced a deciding third game.
This is a rematch of last year's postseason, where eighth-seeded Bentley eliminated ninth-seeded Sacred Heart They split a pair of one-goal games in the first two, with Sacred Heart forcing a deciding third game with an overtime, 2-1 victory in Game Two.
But beyond that, this is the fifth, sixth, and possibly seventh games between the two in about a month. Including the five games they played last year, the four games from two years ago, and the three games annually during the scheduling pod era, they've essentially fought each other more frequently than the Hatfields and the McCoys.
Including this season, Sacred Heart has a 31-29-6 edge overall with a 5-5-2 even split in the last 12 games played at Ryan Arena.
Players of the Week
Player of the Week – RIT's Matt Abt: The junior had three points on two goals in the 7-1 win over Mercyhurst on Saturday. His one-timer in the first period wound up as the game-winner as the Tigers scored seven unanswered against the Lakers.
Defensive PLayer of the Week – AIC's Janis Jaks: Jaks has made quite the name for himself as of late. He had both the game-tying and game-winning goal in the Yellow Jackets' three-point weekend over Army West Point.
Goalie of the Week – Canisius' Charles Williams: On Thursday, Williams posted his fifth shutout of the season in a win over Mercyhurst that wound up clinching the regular season crown for the Golden Griffins. Williams sits first in the nation with a .944 save percentage and second in the nation with a 1.83 GAA.
Rookie of the Week – Robert Morris' Jacob Coleman: Coleman scored his first career goal in the last game of the season, a 5-1 win over Niagara – outdoors at Heinz Field. A Pittsburgh native, he may want to put Steelers kicker Chris Boswell on notice; he scored three points on the turf.