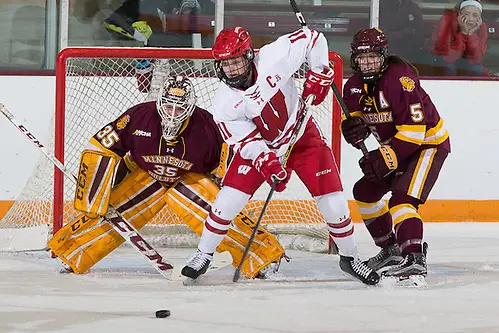 Minnesota Duluth sophomore goalie Maddie Rooney became the first player from the losing side to be named tournament MVP at Sunday's WCHA Final Face-Off. In two games, she racked up 112 saves, setting a two-game WCHA playoff record. (The old record was 83, set by Noora Räty in 2011.) She also broke her own record to set a new standard for saves in a single game on Saturday.
No teams peppered Rooney the way Wisconsin and Minnesota did this season. In 10 games against them, she made 412 saves, which accounts for just about half of all the saves she made this season over the course of 36 games.
It was a remarkable showing for any goalie, but made that much more impressive for the fact that Rooney is in just her second year and her first as the starter. She saw limited ice time in her first year, as she competed with two seniors for the net.
"Last year, she stepped into a pretty big role, but as a freshman, she wasn't as confident. But this year you can see she's just thriving off of playing these big teams. She wants to help us any way she can," said Bulldogs senior Sidney Morin.
Knowing that the job was hers allowed Rooney to focus on her play, and UMD coach Maura Crowell said she has thrived since being handed the starting job. The confidence is key, but Rooney said she also has gained so much from being able to develop a consistent routine and settle into the role.
"(She) gives us an opportunity to win every game, and I really mean that — she keeps us in games with the best teams in the country and allows us to beat the best teams in the country," said Crowell. "A lot of pressure is on her. She showed up back to back nights."
Off the ice, Rooney is soft-spoken but direct, but she transforms under the pressure on the ice and despite being an underclassman, has taken a leadership role for the Bulldogs.
"She has ice in her veins," said Crowell. "She's exactly the type of personality you want for a goalie. She doesn't panic. She is super confident and just brings a lot of calm to our team, and obviously plays fantastically well."
A great goalie changes so much of the dynamic of a team. While Crowell said she and her staff have never explicitly told the team that they can play a bit more risky because of the belief they have in Rooney, she thinks that just naturally starts to happen when the rest of the team gets comfortable and is assured that should something go wrong, they've got Rooney to back them up.
In Saturday's double-OT semifinal win over Minnesota, senior Lara Stalder scored the game-winner while pulling a few shifts on defense. She joked after the game that she obviously wasn't playing great defense if she was on the back door, but the faith the team has in Rooney is what allows them to take those chances. Stalder also noted that she was just paying Rooney back; the Gophers had two breakaways early in the OT period that Stalder took the blame for, but Rooney saved both of them.
"It's a little give and take," said Crowell. "That's the way that our offense clicks. They sense (the opening to hedge forward) and can read the game pretty well and are able to maybe take some chances at the right times."
The Bulldogs returned to the ice Sunday about 16 hours after they left it Saturday night. They were the second game, so were already facing a short turnaround for the final, but that was compounded by the two overtime periods. The fatigue seemed to settle in for UMD by midway through Sunday's game, but never seemed to affect Rooney.
That's not because she didn't feel it — she was just able to push through it. Goaltending is as much a mental game as anything else. Rooney said a huge lesson she took away from this weekend was how hard she can push her body — and her mind. There's strength and success that comes from hitting a wall and getting past it, and Rooney knows now that her physical boundaries go even farther than she thought they might.
While the conference tournament trophy would have been nice, it's not the goal for the Bulldogs; they're looking a bit bigger as a goal for this season. Ultimately, Sunday's championship had little importance in the overall picture for the Bulldogs, but aside from pushing her physical boundaries, this weekend's games reaffirmed for Rooney that Minnesota Duluth belongs here.
They'd been successful and held their own with Minnesota and Wisconsin earlier in the season, but to have battled through this year's Final Face-Off and come out hosting an NCAA quarterfinal — when last season they were just happy to be there — is the ultimate affirmation.
"Earlier in the season, we beat Wisconsin and then we swept the Gophers, so we knew we could play with these top teams and especially in one-game elimination. To know that we can play with these top teams and roll with the confidence we've received (is huge)," said Rooney.