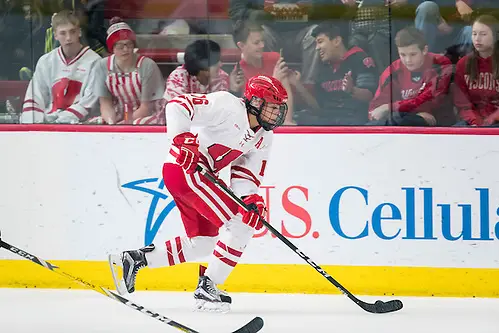 Arlan: One of the questions that I find most interesting each season is which program will break through and reach the national tourney for its first time.
Congratulations to Robert Morris; this year, the Colonials were the answer to that question. Paul Colontino's team backed up its CHA season title with its second league playoff championship and first trip to the NCAA tournament by defeating Syracuse, 2-0, in the final.
On the Colonials' first goal late in the first period, the puck was inches from exiting the zone when Leah Carey held it in and put a shot on goal. RMU was able to outnumber the Orange two to one in front of the net, and Jessica Gazzola got a couple of whacks at the puck and knocked it through Abbey Miller's pads. A period later, Robert Morris won a puck battle in the corner while on a power play. Brittany Howard emerged with the puck, circled the zone, and snapped a shot through a screen that found the net on the far side for her 20th tally of the season. Jessica Dodds' 32 saves and a little help from the pipe on a Brooke Avery shot took care of the rest.
The teams faced different semifinal opponents than most of us expected after Lindenwood dropped defending champ Mercyhurst, 3-2, in the quarterfinals, thanks to two goals from Sarah Bobrowski. That ensured that Syracuse would be matched against the winner of RIT and Penn State. The Nittany Lions drew first blood, but the Tigers rallied with third period goals from Taylor Thurston and Cassie Clayton for a 2-1 triumph.
Versus Lindenwood, Gazzola scored the winning goal in the third period on a high shot to the blocker that seemed to handcuff Jolene deBruyn. Howard and Bobrowski had traded goals in the middle stanza. Dodds was able to hold RMU's 2-1 lead, finishing with 25 saves.
In the other semifinal, Heather Schwarz put Syracuse ahead to stay midway through the contest when she popped in a second-chance opportunity. Kelli Rowswell doubled the lead when she picked the top corner 95 seconds later, and the Orange closed out their 4-0 win with third-period tallies from Megan Quinn and Allie Munroe.
As a reward, the Colonials get a trip to Madison. Our first reaction is to give them no chance against the No. 1 team, but they did battle Clarkson to a 3-3 draw, so they've done all right in deep water before.
You'll get to watch that game in person. What do you expect to see from Robert Morris?
Nicole: I hate to rain on Robert Morris' party before it even begins, but Wisconsin has only ever lost one NCAA quarterfinal — a 4-3 loss to Dartmouth back in 2005. They missed the tournament in 2010 and 2013, but every other time they've made the tournament, they've advanced to the Frozen Four.
Not only that, but the Badgers are virtually unbeatable at home. They've lost just one home game in the past two seasons — and that was to rival Minnesota. Over the past five seasons, the Badgers have won at an 82 percent clip at LaBahn Arena.
Even with all that, what might be the most concerning for Robert Morris is that the Badgers have the second highest strength of schedule in the country and still have just two losses. The Colonials' strength of schedule is 35th out of 36 D-I teams.
Ann-Renée Desbiens is allowing more than a full goal LESS per game than Jessica Dodds against much more difficult competition and the Badgers' offense is averaging a nearly a full goal more on offense than the Colonials are. Wisconsin is still allowing less than a goal per game to opponents and at this writing is first in team offense and team defense.
Up and down the matchups, things don't seem to come out well for Robert Morris. Of course, we don't play the game on the stat sheet. It only takes one bounce, one breakdown, and the Badgers struggled to score again in the WCHA semifinals, despite putting 49 shots on goal.
I'm not sure what to make of the tie with Clarkson. RMU did score two power-play goals, and that certainly helps, but I can't decide if it was an anomaly game for either team or just the Colonials rising to the challenge. I know the team is incredibly excited about their first conference title, tournament title, and NCAA berth and that will certainly hype them up, but I'm just not sure they can match not only the strength, but the depth of the Badgers.
So few teams have been able to hang with the Badgers, but in a one-and-done situation, I do think the Colonials do have a better shot. If this were best of three, I'd pick Wisconsin unequivocally; I'm near to that here, but you never know.
Do you see this one playing out any differently?
Arlan: If Wisconsin plays like it is capable of playing, then I'm not sure what most teams in the country can do about it. We saw this weekend that at times it was all that North Dakota and Minnesota Duluth could do to clear the puck out of their defensive zone so that they could change skaters. If the Badgers can clamp down with that forecheck, and keep coming, it will be a long 60 minutes for Robert Morris.
However, we don't always see that Wisconsin team, and even when we do for long stretches, the big number can remain stuck on the scoreboard. Often it's the goaltending, but at other times, the emphasis is so much on getting pucks to the net that it overshadows getting pucks into the net. Good goalies will stop shots just thrown on goal, and good defenses will clean up most of the second chances. I like the version of the Badgers that moves the puck and their feet in the offensive zone more, and that's what ultimately won the WCHA tournament this weekend.
The Colonials will need a few breaks to go their way, but the game will start at 0-0, and strange things happen in hockey games all the time.
Looking at the other tournaments, there were hints at strange things occurring, but it ended well for the top-seeded favorites.
The Badgers went down to the wire with North Dakota on Saturday and trailed midway through the final. I never got the feeling that they were in danger of losing either game, but they could have easily found themselves in overtime in the semifinal. However, a couple things went Wisconsin's way. First, Sarah Nurse set up Emily Clark on a beautiful play for the deciding goal, and then when UND had a legitimate chance on a power play with the goaltender pulled to tie and force OT, Rebekah Kolstad committed a selfish penalty to doom the Fighting Hawks' season.
Once Sydney McKibbon tied the game with Minnesota Duluth, it seemed like a foregone conclusion that the Badgers would prevail. The only tense moment came when Desbiens decided to leave her net in the closing seconds of the second period and attempt a misguided bomb pass that was intercepted. With the skaters that she has in front of her, she doesn't need to try to be an offensive catalyst; just stopping the puck in her own net will be enough.
We also saw the other two WCHA teams whose seasons will continue. One and only one of them will advance to the Frozen Four, as the Bulldogs and Gophers will play a rematch of their double-overtime semifinal on Saturday in Duluth. The biggest story from the weekend was the play of UMD goaltender Maddie Rooney. She set at least a couple of different records in a performance that earned her the nod as the tourney's Most Outstanding Player. First, she made a WCHA Final Face-Off record 62 saves to thwart Minnesota, 2-1. She came back with 50 more saves on Sunday, giving her 112 for the weekend, also a record for the event.
Based on what you saw from Rooney and her teammates, are the Bulldogs the biggest threat to an NCAA championship for Wisconsin in 2017?
Nicole: Based purely on what Rooney managed to do this weekend, I think the Bulldogs are everyone's biggest threat. That's not even taking into account what the rest of Duluth showed and is capable of. She played two spectacular games. Coach Maura Crowell said that Rooney gives them a chance to win every game, but I'm not sure the Bulldogs have needed to rely on her nearly as much as they did this weekend. She seemed to up her game and rise to the challenge. She's just a sophomore and she showed a ton of poise and maturity, and she looked like the only player that wasn't fighting fatigue, despite making 112 saves over the course of the weekend.
We've talked about the Badgers' high shot/low score issue a few times this season. The coaching staff prescribes to the idea of getting as many pucks on net as possible and looking for second and third chances, so while you mentioned not being a fan of that style, I don't think we're going to see that change any time soon. Ultimately, I'm not sure there's much the players or the coaches can do to "fix" that problem, but the Wisconsin players don't seem to be letting it get to them too much.
After Sunday's game, Annie Pankowski said the top line was just laughing about all the saves Rooney was making and not taking any of it too seriously. When you face someone playing like that, who's making saves behind her back, there's nothing to do but laugh it off, tip your hat, and keep trying. It bodes well for the Badgers that the players are responding that way and not by getting frustrated.
I think the Badgers are probably pretty excited that they don't have to go through both UMD and Minnesota — both teams match up well with Wisconsin, especially now that the Gophers have Dani Cameranesi back. I'd be hard-pressed to pick which of those two are a tougher match for UW, so their chances are greatly improved by the fact that one will eliminate the other.
As much as UMD is Wisconsin's biggest threat, the same can probably be said in the other direction. The Bulldogs are probably just as happy that a potential matchup wouldn't come until the National Championship game.
If there were a weakness to pick out for UMD, it's depth. They run with pretty much just two pairs on defense and that first line of Lara Stalder, Ashleigh Brykaliuk and Katherine McGovern logs a ton of minutes. When they were forced into a long game on Saturday and then Catherine Daoust was out for the second game, the Bulldogs were really pushed to their limits and ultimately seemed to run out of gas by the third period of the championship game. Wisconsin tends to wear down teams anyway with their pace of play, so it was just not a great situation for the Bulldogs to find themselves in.
Mark Johnson said the opening periods of the games this past weekend were like a chess match and while I think that's probably always the case, it becomes more pronounced the more teams play each other. Should two WCHA teams meet in the final, does the familiarity of at least five previous meetings this season help or hinder a team when trying to prep for their opponent?
Arlan: Whatever the familiarity does — helps, hurts, breeds contempt — it should apply to both teams in that game, so it cancels out. Maybe if one coaching staff is better than another at making adjustments from meeting to meeting, then that team will stand to profit from greater familiarity.
Similarly for two teams who haven't played at all, both squads and staffs are in the same situation. Familiarity should balance out, unlike other factors like how rested or worn down a team may be coming out of the conference tournament, travel differences, or the quality of the opponents faced during the season.
Even when teams have played, it can become a case of how much have those teams changed from the previous contest. Wisconsin has played Clarkson, but if the two meet in the championship, have the Badgers and Golden Knights evolved so much over five months that what happened back in October is ultimately meaningless?
Everyone is talking about Wisconsin and Minnesota Duluth, but if I'm Matt Desrosiers, I'm liking that a lot. He's probably thinking, "Go ahead, ignore my team just like you did in 2014." Since that series with Wisconsin, Clarkson has the fewest losses of anyone, having lost only once. Going 27-1-4 is a pretty nice run, one that we've mostly overlooked.
The catch for the Golden Knights is that the team that they play next is the same team that hung that lone loss on them over that stretch — Cornell. They defeated the Big Red twice since then, 5-4 in overtime and 1-0 on Sunday. So as hot as Clarkson has been, I don't think that Desrosiers and crew will be packing for St. Louis just yet, especially given that Cornell has knocked the Golden Knights out of a few tournaments over the years.
Clarkson used the same recipe in Sunday's win over Cornell that it executed to perfection in bouncing Quinnipiac out of last year's NCAA tournament: bag an early goal and nurse that lead to the finish. With as tight and low-scoring as many of these playoff games have been, does it make scoring first even more important than it usually is?
Nicole: That certainly sounds like sage wisdom and I'd agree with you on the surface, but then I checked this weekend's results. We had seven one-goal games this weekend (that had more than a single goal scored) and in four of them the losing team scored the first goal.
Obviously that's a small sample size, so take from it what you will, but I'm wary of the strategy of scoring and then hoping to hold on. But I would be saying that about any passive strategy. I'm probably being too idealistic, but it's kind of like how I hate that strategic fouling can get a team a win in the final minutes of a basketball game they've been losing for 40 or so minutes.
It's clearly been successful for Clarkson and Desrosiers certainly knows more than I do, so I feel like I shouldn't question it, but it does feel like the kind of thing that looks like a great plan while it's working and not so great when it's not.
I don't think that we can know very much about how Clarkson and Wisconsin would match up based on those games so early in the season. Both teams have grown so much since then that it's hard to think there's much information there that's particularly relevant.
Another thing we haven't talked too much about is how Cornell played themselves into the postseason in the second half. They were first ranked on January 16. They had five losses by the first week in January and just three afterward, and all but one of their losses came to ranked teams and teams ranked above them. In the span of two months, they went from unranked to an NCAA bid.
They've done nothing but build momentum and confidence and were rewarded. In some ways, they've got nothing to lose and that makes them the most dangerous.
What do you make of Cornell's run?
Arlan: Cornell looks to me like a team that can be a spoiler. It has a top-10 defense, but not quite a top-five offense. It has dynamic, young players that have played a big part in the improvement from last season to this one. Offensively — did I mention that Cornell has a top-10 defense?
That's the big problem with Cornell in this field; it's offense ranks smack in the middle out of 35 teams and is last in offense in the eight-team field. Everyone else scores at least three goals a game on average, but the Big Red only connect 2.45 times per game. For that reason, it also ranks last in the tourney in scoring margin at 0.82, the only team that is below a goal. So statistically, it is a reach to expect to finish at least a goal ahead of the best of the best for three straight games when it hasn't averaged a goal advantage over the course of its season.
Maybe I'm putting too much emphasis on scoring goals based on what we've seen lately. There were a dozen tournament semifinal and final games played this week. In only one of them did both teams score multiple goals. In seven of those 12 games, the two teams combined for three goals or fewer. I can appreciate a well-played, low-scoring game, but I'm not sure that a steady diet of them are the best thing for a sport that is trying to grow an audience.
You're not convinced that scoring first is all that, but the Big Red are 16-2-2 when they strike first and only 4-6-3 after conceding the first tally. I think the first goal becomes all the more important in games where not that many scores are going to follow. Senior Paula Voorheis is useful in that regard; only one goalie in the tournament has a higher save percentage — guess who — and the team out of Ithaca won't have to worry about her before the final.
They will have to worry a bit about finding someone to score. They're the only team without anyone with 30 points. All the other teams have a player who ranks in the top 20 in points per game. The Big Red don't have anyone in the top 40, although both senior Hanna Bunton and freshman Kristin O'Neill crack the top 50.
Anyway, those are just numbers, and games are played by skaters and goalies, not facts and figures. Cornell's seniors have played in the NCAA tournament, but not since they were rookies. They lost in the first round that year, while Clarkson's seniors won it all in 2014 and returned to the national stage each year since then.
Which brings us to the team that eliminated the Golden Knights in each of the last two years: Boston College. The Eagles needed more than 60 minutes to put away both of their opponents last weekend. How do they match up against a St. Lawrence team that won 15 of its first 16 games, but only came out on top in 11 of the next 19?
Nicole: I feel like BC is a bit like the Energizer Bunny this season. No matter what they've faced, they've just kept going. They've sort of defied the odds to end up with the Hockey East title and home ice for the NCAA quarterfinal. The term "rebuild" doesn't seem quite accurate, but the Eagles had a big adjustment to make this season after graduating some of the players that will define their program for years to come. They were helped by the fact that other Hockey East teams were experiencing something similar, but I think it says a lot about the Eagles — and coach Katie Crowley — that they weathered this turnaround about as well as anyone could.
Last year, the Eagles were a top team. They played that way and they sailed through their season. This year, they had a lot more adversity and some of that was compounded by the fact that they'd not really had any the year before. Suddenly, every goal and loss was that much more amplified by the fact that it hadn't happened a season ago. The ladies on BC's roster this year have shown some pretty great mental fortitude. That they've proven to themselves what they can accomplish even without Alex Carpenter, et. al. and have made this postseason run a few times now should really help them to be comfortable and settled.
It's kind of the opposite for St. Lawrence. This team is sort of blazing a new trail for the program and as such I sort of expect a couple of bumps and bruises along the way. Other than a loss to Mercyhurst the first week in January at a neutral site, it's not as though you look at the Saints' second-half schedule and think they gave away any games. Their ties and losses came to other teams that are either in the tournament or were in contention until the final weekend. Yes, championship teams have to find a way to pull out games like those and overcome those things, but I also think it's a sign of a young team — they have 15 underclassmen — which hasn't really been there before.
On paper, these two match up incredibly well. They're virtually tied in both team offense and team defense. One place the Saints will need to be careful is on special teams. BC has the country's best power play as well as the second-best penalty kill. In St. Lawrence's favor is that they have one of the most disciplined teams in the country, ranking 30th out of 36 teams in penalty minutes. Goalies Grace Harrison and Katie Burt are separated by just a few percentage points in both goals-against average and save percentage.
St. Lawrence obviously has that high-powered top line with Patty Kaz top-10 finalists Kennedy Marchment and Brooke Webster. A place Boston College might find some difficulty is with Megan Keller. She's the team's second-highest scorer as a blueliner. If she's tied up trying to keep Marchment and Webster in check, other members of the Eagles are going to have to step in and help fill that void.
We saw Maddie Rooney really excel this weekend at the WCHA tournament and sort of step into the spotlight. Who else do you think might be a difference-maker in this first weekend of the NCAAs?
Arlan: First, I have a few comments regarding BC and the Saints. If BC defied odds to win Hockey East, then I'm not sure who the odds favored. If before the season you'd given me a choice of the Eagles or the rest of the HEA field, I'd have taken the Eagles. That choice would be made in part because the 2015-2016 edition of Boston College was more than just one class, and also because there wasn't a lot left  in the conference other than BC.
As for hosting, I think that also says something about the criteria used for selection. BC can lose to the worst team in its league and not have any wins against teams that advanced to the tournament, but still be in the top four because the NCAA bases its decisions on a rating system that thinks Holy Cross is better than Colgate. That's not to say that BC isn't one of the four best teams in the country — it could well be. I just think that the Eagles have far less of a burden of proof than some other teams.
When it comes to the Saints blazing a new trail for the program, I think that there are still some old blaze marks to follow for those who know where to look. SLU played in the first ever NCAA championship game, and later, the Saints appeared in four consecutive Frozen Fours. Obviously, you have a valid point as it pertains to the current roster.
Finally, Keller seems to be out of the Angela Ruggiero mold when it comes to playing her position. She doesn't seem too concerned with who else is on the ice when she sees an opportunity to rush the puck, so I doubt that the presence of Marchment and Webster will diminish her contributions to the offense.
Let's now go back to your question about difference-makers. I could see someone like Michaela Pejzlová taking advantage of the focus being on Cayley Mercer to do some damage. St. Lawrence has the powerful top line, as you said, but I've been very impressed with Justine Reyes when I've watched the Saints. We can rest assured that some defenseman is going to net a key goal, and I might look to one of the fastest in the tournament, Kali Flanagan. Where are the goalies, one might ask? They all make a difference every time out; it just comes down to making a bigger difference than the woman in the crease 190 feet away.
As this is my final Wednesday Women of the season, I'd like to thank the readers for reading and you and Candace for sharing this space with me. From here on, I'll be one of them, reading the thoughts of both of you, starting with your answer to this question: Where should we be looking this weekend to see something that may be a bit of a surprise?
Nicole: I'm not sure any of this is surprising, but above we talked about all the main storylines that are likely to be important this weekend, so here are a few minor ones I think could be important.
I think home ice is going to be huge. Wisconsin sold out in a few hours and this weekend Annie Pankowski called the fans at LaBahn the sixth man for the Badgers. They even sold standing-room only tickets. It's going to be loud in Madison, but I actually think UMD might get an even bigger boost at Amsoil. They swept the Gophers up there this year and there's so much confidence for them in that.
I think we're going to see some second- and third-liners making an impact. I was impressed by how much I noticed Demi Crossman on the ice for UMD and I see her being impactful again. Freshman Caitrin Lonergan and Delaney Belinskas on BC's second line have been so crucial for them. Freshman Abby Roque brings so much strength to Wisconsin's third line. Her physicality gives linemate Baylee Wellhausen the opportunity to use her speed.