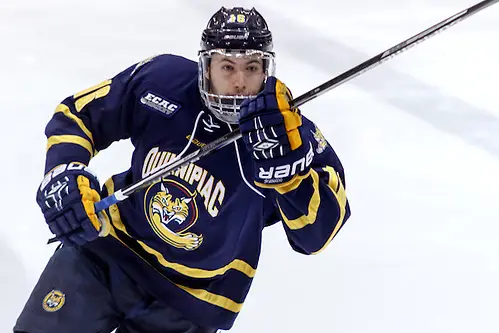 Quinnipiac's opening-round sweep of Brown last weekend in the ECAC Hockey playoffs was noteworthy for several reasons.
The wins gave the Bobcats' senior class 100 victories and marked the 12th consecutive season that QU has advanced to the quarterfinals. The Bobcats, seeded fifth, will travel to No. 4 St. Lawrence this weekend in the midst of a five-game winning streak.
Yes, those five wins came against three teams — Yale, Brown and Rensselaer — that finished below .500 in league play and near the bottom of ECAC Hockey in team defense. But that stretch also saw an increase in offense from Quinnipiac's forwards, who had struggled to generate goals for periods this season.
"A couple of months ago, our forwards were struggling to get offense going," senior Tommy Schutt said. "We've been working in practice on shooting to score and little things like that. Guys are starting to figure it out and we're not just floating pucks in there."
Quinnipiac scored 11 goals in the opening-round sweep of Brown. Nine of them were by forwards, including two by Landon Smith. The junior has a point in five straight games, including four goals in that stretch.
"Our guys are a little bit more confident shooting the puck," Bobcats coach Rand Pecknold said. "I think when we got in that little drought there it was just a lack of confidence and some good goaltending."
That improved confidence will be put to the test against the Saints. The Bobcats didn't score a non-shootout goal against St. Lawrence this season. The teams met twice in November, a 2-0 Saints win in Canton and a 0-0 tie in the Friendship Four in Belfast, Northern Ireland. Quinnipiac advanced to the tournament championship game via a shootout.
While St. Lawrence had the Bobcats' number on offense during the regular season, freshman goalie Andrew Shortridge has given QU stability in its own end during the stretch run and into the playoffs.
After splitting time in net with Chris Truehl throughout the season, Shortridge started all five of Quinnipiac's games during its current winning streak. He hasn't faced St. Lawrence this season.
"Playoff hockey is a much different atmosphere; it's a lot more intense," Shortridge said. "It's a lot more fun; you've just got to stay in the moment and enjoy it."
Appert out at Rensselaer
One of the worst seasons in program history spelled the end of coach Seth Appert's tenure at Rensselaer, as the school announced Monday that it had relieved him of coaching duties.
The Engineers finished the season with an 8-28-1 record. It's the first time since the 1980-81 season that RPI hadn't recorded double-digit wins, and its .230 winning percentage was its worst in more than 40 years.
Appert's career at RPI came to an end with a sweep by Clarkson last weekend in the opening round of the conference playoffs. He finished his 11 years at the school with a 152-221-48 record. His firing came despite signing a contract extension in 2013 that ran through the 2020-21 season.
No details on any buyout were available, according to Ken Schott of The Daily Gazette.
The Engineers appeared to be on the upswing at the start of the decade, finishing above .500 in 2009-10 and making the NCAA tournament for the first time since 1995 the next season.
RPI struggled the following year before riding a second-half hot streak in 2012-13 to a second-place finish in ECAC Hockey.
But the Engineers lost in the league quarterfinals to Brown, continuing a stretch of futility at home in the ECAC playoffs. RPI didn't win a postseason series at Houston Field House under Appert until last season.
Despite that, the team was viewed as a national contender entering 2013-14 before an early-season injury to goalie Jason Kasdorf kept him out for much of the year and impacted him the next season as well.
"As a coach, you know those things are always possible," Appert told the Gazette. "Certainly, I have full understanding that two of the last three years weren't what they should be. You always understand those things. But at the same point and time, I don't spend time sitting around worrying about those types of things. You're focused on trying to make the program better."
RPI lost at least 20 games in two of the last three seasons; it was 18-15-7 last year. Appert told the Gazette he's not worried about finding another coaching position and plans to spend some time with his family.
Appert was always gracious and respectful when talking about his team, even if the on-ice results weren't there. His passion and knowledge of the game was apparent during his interactions with the media.
His impact on those he coached was apparent from the many former players who wished him well on social media. From an outsiders' perspective, I'd be willing to bet that he'll get another shot at a head coach job.
Quarterfinal quick hits
Here are some quick thoughts on this weekend's quarterfinal matchups. All are best-of-three series. Check back later in the week for full predictions.
No. 8 Yale at No. 1 Harvard
Season series: Harvard 1-0-1
Harvard is one of the hottest teams in the country entering the ECAC Hockey playoffs. The Crimson's 11-0-1 streak is second only to Canisius' 15-game unbeaten streak. It's been an up-and-down season for Yale, especially on the back end. After splitting time with Patrick Spano during the season, Sam Tucker appears to have taken hold of the starting goalie job. The sophomore started three of the Bulldogs' last four games, including both games against Dartmouth last weekend. Assuming he starts this weekend, it will be the first time Tucker has faced the Crimson in his career.
No. 7 Princeton at No. 2 Union
Season series: Union 2-0
Both the Dutchmen and Tigers can score. Princeton's improvement this season was a result of keeping the puck out of its own zone. But it struggled against Union in that regard, as the Dutchmen scored a combined 11 goals in the two games between these teams. This is the second straight weekend that Princeton senior Colton Phinney has faced off against another veteran goalie. Last week, it was Colgate senior Charlie Finn; this week it's Union senior Alex Sakellaropoulos, who has a 20-4-2 record this season.
No. 6 Clarkson at No. 3 Cornell
Season series: 0-0-2
Like Harvard, Cornell enters the postseason on a roll. The Big Red ended the regular season on a 6-0-3 streak, including a 3-3 tie with the Golden Knights on Feb. 18. Both these teams can play a physical game but also score as well, as each averaged more than three goals per game in ECAC play. This might be one of the closest quarterfinal series this weekend.
No. 5 Quinnipiac at No. 4 St. Lawrence
Season series: St. Lawrence 1-0-1
The resurgent Bobcats offense will have a tough test in Saints goalie Kyle Hayton, who led ECAC Hockey with a .937 save percentage in league play. However, St. Lawrence stumbled down the stretch, winning only one of its final six games.
A milestone win for Colgate
It was a disappointing weekend for Colgate, as its season came to an end Sunday in a Game 3 loss at Princeton. But the Raiders reached a milestone in the series opener, as their 2-1 overtime win against the Tigers was the program's 1,000th victory.
Colgate's first win came in 1916 against RPI — the lone game it played that season. Current coach Don Vaughan has 390 of those wins. The Raiders will look to start another streak next season, as their nine wins this year marked the first time since the 1977-78 season that the program did not reach the 10-win mark.