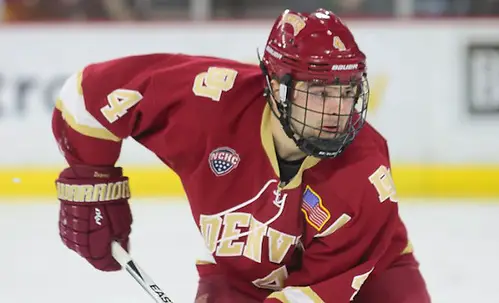 No. 1 Denver had two players named to the All-NCHC first team, the league announced Wednesday.
Senior defenseman Will Butcher and junior goaltender Tanner Jaillet made the first team.
They were joined by Minnesota Duluth senior forward Alex Iafallo, Miami senior forward Anthony Louis, Omaha senior forward Austin Ortega and North Dakota junior defenseman Tucker Poolman.
The awards were voted on by league players and coaches.
Butcher was the only repeat selection on the NCHC's first team.
The complete All-NCHC teams:
First team
F Alex Iafallo, Sr., Minnesota Duluth
F Anthony Louis, Sr., Miami
F Austin Ortega, Sr., Omaha
D Will Butcher, Sr., Denver
D Tucker Poolman, Jr., North Dakota
G Tanner Jaillet, Jr., Denver
Second team
F Henrik Borgström, Fr., Denver
F Dylan Gambrell, So., Denver
F Sheldon Dries, Sr., Western Michigan
D Neal Pionk, So., Minnesota Duluth
D Luc Snuggerud, Jr., Omaha
G Hunter Miska, Fr., Minnesota Duluth
Honorable mention
F Troy Terry, So., Denver
F Shane Gersich, So., North Dakota
F Mikey Eyssimont, So., St. Cloud State
D Louie Belpedio, Jr., Miami
D Jimmy Schuldt, So., St. Cloud State
G Ben Blacker, Fr., Western Michigan