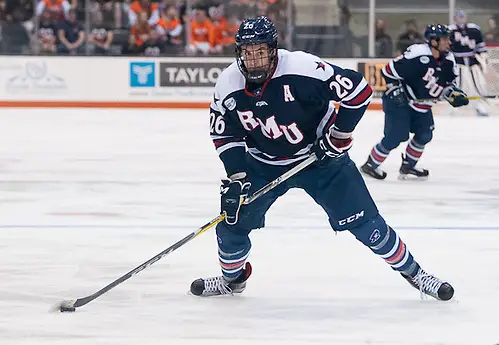 The consensus around Atlantic Hockey was that the 2016-17 season was going to be a rebuilding project for Robert Morris. The Colonials parted ways with a large, record-setting, award-laden senior class that had earned two regular season titles as well as a playoff championship.
But coach Derek Schooley and his team had other ideas.
"There's a lot of pride here," he said. "We had six (now seven) straight seasons of at least .500 hockey. We're one win away from another 20-win season. We've established a winning tradition here.
"Our captains made it clear at the beginning of the season that we were not going to take a step back."
There was no three-peat as regular season champions, but the Colonials were in the top half of the standings all season, ending up tied with Army West Point for third place and earning the No. 4 seed in the Atlantic Hockey tournament.
That high seed came with a first-round bye. Robert Morris will host Holy Cross in a quarterfinal series this weekend.
Eleven teams in Atlantic Hockey means that Holy Cross, the fifth seed, also received a bye. So both teams have two weeks to prepare for each other.
"We used the [bye] to rest and recover and hopefully get into a playoff mindset," said Schooley.
"Neither team played last week. Both teams are going to find out right away if they're playoff ready."
Despite losing 12 seniors, most in go-to roles, Robert Morris was able to turn to younger players and not miss a step. For example:
• Junior forward Brady Ferguson has 19 goals so far this season after scoring 24 in his first two years. His 51 points is also a career high.
• Daniel Leavens, a senior, is also having the best season of his career, with 42 points so far. He scored his 100th career point two weeks ago.
• Sophomore defenseman Alex Tonge has 17 goals this season, including 10 on the power play. He didn't score a goal his freshman year.
• Classmate and fellow blueliner Eric Israel has 27 points, including eight goals, this season. He had 11 points in his freshman campaign.
• Junior forward Timmy Moore has 15 goals this season after posting a combined eight goals his first two years.
"Guys have stepped up into new roles this season and shown how deep we are from top to bottom," said Schooley.
"Alex Tonge has taken a step up. Erik Israel, who was our sixth defenseman last season, has taken a step up. Timmy Moore was on a checking line last season, has double-digit goals this season. Guys are flourishing in new roles."
The Colonials have been rotating goaltending duties between senior Dalton Izyk and rookie Francis Marotte. Junior Andrew Pikul has also made seven appearances in net.
"We've been game-by-game [with the goalies]," said Schooley. "We have three quality goalies to choose from. We're looking for the best opportunity to win."
Schooley said that will be a tall order against Holy Cross.
"Holy Cross is very good and very deep," he said. "It starts with their goalie [Paul Berrafato]. They've got a good defensive corps and guys like Danny Lopez and [Mike] Barrett and TJ Moore and [Scott] Pooley, guys that can score.
"We're going to have our work cut out for us. It should be an exciting series."
Fathers, sons and brothers
I wasn't expecting to see these guys next weekend. #GoArmy #BeatMercyhurst #AHAPlayoffs pic.twitter.com/45CQQYQdbZ

— Brian Riley (@Coach_BRiley) March 6, 2017
This weekend's Mercyhurst vs. Army West Point quarterfinal series will be a homecoming for Mercyhurst's Jack and Brendan Riley, sons of Army West Point coach Brian Riley.
Jack, a junior captain and Brendan, a freshman, paid a visit in January when the Lakers and Black Knights split a weekend series. It was Brendan's first collegiate trip back to his childhood rink, but Jack, who was granted a medical redshirt as a freshman, has made the trip a few times.
The stakes are higher this time, and the elder Riley has mixed feelings about the matchup.
"Initially it was fun, but not so much anymore," he said. "I'd rather be watching and cheering from the stands. But the good news is that somebody's getting to Rochester."
Riley, in his 13th season, is continuing a 67-year tradition of Rileys coaching at West Point that began with his father Jack and continued with brother Rob before Brian took the reins in 2004. And now the next generation of Rileys will be coming home, for a weekend at least, with a lot on the line.
Brian said that he is fully focused on getting his team back to Blue Cross Arena, but will be sure to take it all in.
"I'm unbelievably proud of them, to be able to play hockey at the Division I level," he said. "They had a dream and were able to achieve it. And not many players get to come home and play in the rink that they grew up in."
When asked who his family will be pulling for this weekend, Riley chuckled.
"I used to be able to count on my daughter, but now she's a grad assistant at Mercyhurst," he said. "I know who my wife's rooting for and it's not me. I'm on an island here."
Mr. March
Niagara goaltender Jackson Teichroeb saves his best for last. He backstopped Niagara to an upset first-round series win last weekend at RIT, helping the Purple Eagles to find a bit of redemption after a 3-28-3 regular season.
That's been the case for Teichroeb in his college hockey career. The senior has stepped up his play each postseason, and the numbers prove it.
| | | W-L-T | | GAA | | Save Percentage |
| --- | --- | --- | --- | --- | --- | --- |
| Regular season | | 14-52-11 (.253) | | 3.29 | | .904 |
| Postseason | | 9-8 (.529) | | 2.41 | | .931 |
Teichroeb and company face off against archrival Canisius in a quarterfinal series this weekend.
From eight to four
Four teams seasons will end this weekend. Four will move on to Rochester.
Atlantic Hockey quarterfinal series (best of three)
No. 11 Niagara (5-29-3) at No. 1 Canisius (19-10-7)
The Western New York rivals have already met four times this season, all since Jan. 31 and all part of the Golden Griffins' current 15-game unbeaten streak. Canisius won the four games by at least three goals each, but this Niagara team is full of surprises and is as healthy as it's been in months.
No. 8 Bentley (13-17-7) at No. 2 Air Force (22-9-5)
Both teams are coming off emotional series with Sacred Heart — the Pioneers spoiled Air Force's quest for the regular season title with some last-minute heroics, and last weekend's Bentley-SHU first-round series was an instant classic, with the deciding game going into double overtime. The Air Force Falcons hold a 3-1 edge in head-to-head (beak-to-beak?) play against the Bentley Falcons this season.
No. 7 Mercyhurst (14-18-4) at No. 3 Army West Point (16-12-5)
Here's another pair of teams that share a common opponent in their most recent action. The Black Knights are 4-1-1 in their last six games, but that loss and tie were in the final weekend of the regular season against American International. Mercyhurst had just one win in five games to end the regular season but swept AIC in the first round of the playoffs. The teams split their only two meetings of the season at Tate Rink in January.
No. 5 Holy Cross (14-13-7) at No. 4 Robert Morris (19-11-4)
Special teams could be a factor. Robert Morris has the top power play in the league (22.3 percent), while Holy Cross has the worst-ranked penalty kill (76.5 percent). Fortunately for the Crusaders, they take fewer penalties (9.6 minutes per game) than any team in the conference. The teams split their only series this season.
Time flies
This is my final column of the 2016-17 season. Already? The older I get, the shorter the seasons seem. Dan Rubin has the honors next week and will take you through to the final buzzer. I'll be reporting on the Atlantic Hockey semifinals and finals from Blue Cross Arena in two weeks, and then from the Frozen Four in Chicago.
Before I go, some thank-yous are in order. If I did the math correctly, this is my 19th season writing for USCHO. I've been around and seen a lot, certainly enough to know how blessed I am to have a front-row seat to a sport I love.
I've had this Atlantic Hockey beat since 2006, sharing it with Dan for the past three seasons. I'm grateful to Dan for his enthusiasm and talent. I sometimes joke that every other week I write the AHC column under the nom de plume "Dan Rubin" and those are my better columns.
I'm also very grateful for the amazing collection of coaches in this league. They've had to work with less than many other programs, but still manage to compete with and often beat teams that on paper were far superior (although that gap continues to close). I appreciate them taking the time to answer my questions and share some of their wisdom. That's made me a better writer, I hope.
Thanks to the players — the ones I've interviewed and the ones I've seen play. You've inspired me through your dedication and love of the game.
The unsung heroes of college sports are the sports information directors who put in long hours to make sure that we're well informed. The AHC has some of the best in all of college hockey.
As always, thanks to my family, who still puts up with the sights and sounds of me incessantly banging away on a keyboard. They've supported and inspired me.
And finally, thank you dear reader, for your attention, your emails and your comments. I hope you enjoy the rest of the season, and we'll see you down the road.