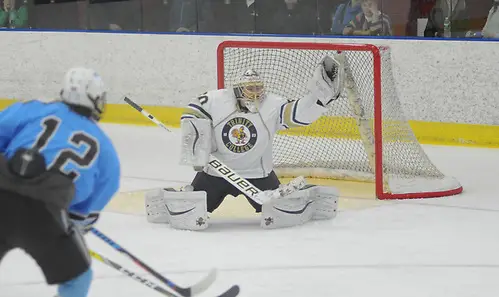 With a 12-team tournament on tap for the NCAA playoff, there is no doubt every team is going to see a very good to great team in any game they play starting on Saturday night. While that is true across the board, some first-round matchups seem to be at an extra high level of competition. Case in point, NESCAC champion Trinity hosting SUNYAC champion Plattsburgh.
"Wow, did we get a tough draw," noted Trinity coach Matt Greason. "They have been a very, very hot team virtually the whole second half and have knocked off Oswego twice in the past few weeks, so they are playing some great hockey. They may be young and not tournament experienced, but I am sure coach Emery and his staff have that culture of Plattsburgh success on a national stage instilled in this team already."
While the visitors bring a very young and talented squad to Connecticut on Saturday, the hosts from Trinity enter the first round playing in their third consecutive national tournament and second consecutive NESCAC championship. The roster is full of experienced players that experienced the thrill of a national championship run early in their careers and now have their final run at another title as seniors.
"This is certainly the most decorated senior class ever here at Trinity," stated Greason. "These guys have accomplished a lot as players and certainly as part of great teams here at Trinity. They have been through the battles of conference tournament play and national tournament play and seen both the disappointment of early exits as well as the thrill of winning it all. Knowing this is their last opportunity will surely have our guys focused and ready to go against a tough opponent."
While senior forwards Sean Orlando, Brandon and Ryan Cole, and Ethan Holdaway are stalwarts offensively for Trinity, Greason notes it is a very competitive goaltender that he is most excited about entering the tournament in Alex Morin.
"Alex has yet to play against a goalie he thinks is better than him this season," said Greason. "It is not an ego thing. It is how competitive he is in always wanting to outplay the guy down the other end and it is that level of competitiveness that really gives him an edge. Last week, he really pumped himself up against Hamilton's Evan Buitenhuis, who was first-team all-conference and the NESCAC player of the year. This week, he will be focused on being better than Plattsburgh's goalie. There is no goalie I would rather go into battle with than Alex."
Morin will be challenged not by a single Cardinals threat, but by their balance and depth as a team that has demonstrated a knack for scoring big and timely goals during a streak where they have gone 11-1-1 since early January. Freshman forward Joe Drabin and defenseman Ayrton Valente lead the team in scoring with just 21 points each, but nine other players have posted double-digit point totals and 15 players have scored three or more goals this season, showcasing the balance and secondary scoring Plattsburgh has leveraged to beat teams in the second half.
Senior Brady Rouleau will be in the opposite net from Morin, and while his numbers have not been stellar this season, he has proven to be a goalie that can make the big and needed save and has backed Plattsburgh's second-half success and conference title run.
"They don't have a lot of playoff experience on that roster," said Greason. "But right now that doesn't matter because they are playing well, are confident, and have a coaching staff that will have them ready to play on Saturday night."
Experience vs. youth. Conference champions alike; this one has all the ingredients to be an epic first round tournament game.