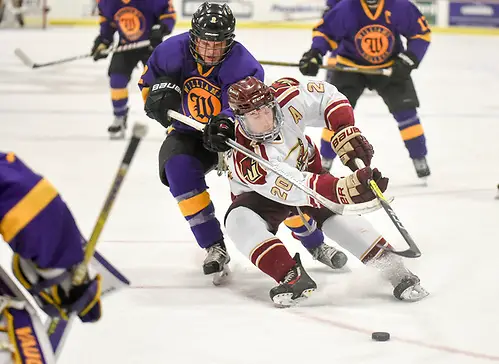 As longtime members of the old ECAC East, Norwich and Salem State have a great deal of history entering this weekend's first-round NCAA tournament game hosted by the Cadets.  While conference affiliations have changed, the respect for the opponent has not, and at this time of the year, nothing is being taken for granted.
"We go back quite a ways against Billy [O'Neill] and Salem State," noted Norwich coach Mike McShane.  "I think the last time we played them was a couple of years ago, also in a first-round tournament game, but we know how they like to play and I have seen them on film and am very impressed with their game. They can skate and they have clearly been a really good team in the second half, winning their conference championship."
For Norwich, which has held the top spot in the national rankings for much of the season, the game marks a return to the NCAA tournament following a year's absence and a motivation that drives a large group of seniors on the team.
"We have 10 seniors this season," noted McShane. "They have never been to a Frozen Four. We have been close and just didn't get the bounce in a couple of games that would have got us there. Last year, we were better than our record and missed out so we are very happy to be in the tournament, but want to do something now that we are here."
Leading the way for the Cadets has been the NEHC player of the year William Pelletier, along with linemate Kevin Salvucci. They lead the Cadets in scoring, and Pelletier, despite missing eight games this season, achieved the 40-point mark in just 19 games played for Norwich.
"Pelletier is healthy and that means so much for our team," said McShane. "He has so many moves and speed changes, he is tough to defend and you add in Sal, who started last year scoring big goals for us when we really needed him to pick up his game to cover the injuries we had. He has just continued that trend."
Salem State, which returns to the tournament for a second straight season as MASCAC champions, has been led by a trio of seniors down the stretch that have them playing on the national stage. Goalie Jason Pucciarelli was the tournament MVP in the MASCAC conference tournament and has started 25 of 27 games for the Vikings in goal this season. Up front, leading scorer Brandon Platt and fellow senior John Needham have scored big and timely goals for the Vikings, who went 11-3-1 over their last 15 games played in the second half, erasing a 4-6-2 start around the new year.
The Vikings have 12 players with double-digit point totals and have showcased great balance and secondary scoring in their second-half resurgence. Freshman Callum Hofford has been an offensive force from his blue line position and a key contributor on the power play, where he has scored six of his nine goals this season.
"I saw film of Salem State against New England and was really impressed with how they skate," said McShane. "They could have won that game and we know how tough NEC was in our league. There are no easy games, especially now as everyone earned the right to be here."
The last time the two teams played was a first-round NCAA game in 2014, where the Cadets ran away with an 8-2 win. Don't look for any blowouts from two familiar foes rekindling a long-standing rivalry.