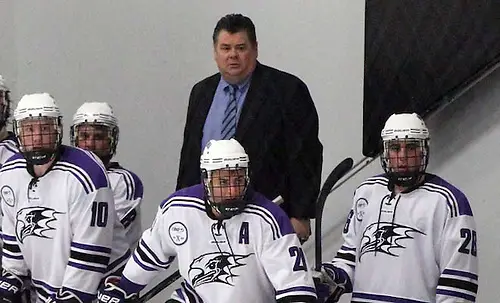 Dave Burkholder will not return as the head coach at Niagara, the school announced Monday.
This decision was reached after discussions with Burkholder "and careful consideration and review," according to a press release.
The Purple Eagles upset RIT in the first round of the Atlantic Hockey playoffs two weekends ago and were then swept by Canisius last weekend to complete a 5-31-3 season.
"The ice hockey program at Niagara University is incredibly important to the university community," said Niagara director of athletics Simon Gray in a statement. "Its success plays an important role in the vibrancy of our campus life, and that extends beyond the campus into our region. Much of that culture can be credited to Dave Burkholder's legacy with our team. However, after recent discussions with Dave about the future of the program, both Dave and the university have decided that a change in leadership is best for the program."
Burkholder had been the head coach of the Purple Eagles since 2001 and prior to that, he served as an assistant coach for Niagara for five seasons. He was a one-time Atlantic Hockey Coach of the Year (2013) and was a two-time College Hockey America Coach of the Year (2006, 2007). He coached the Purple Eagles to 247 total wins, two CHA tournament championships, two CHA regular-season titles and one AHA regular-season title and three trips to the NCAA tournament.
"Dave has worked tirelessly for NU and has represented our mission well," Gray added. "Dave has made an impact on a significant number of lives in the hockey community and has been an integral part of Western New York for more than 20 years. On behalf of the entire university, we thank Dave for his dedication and service to Niagara University."
A national search for a new coach will begin immediately.