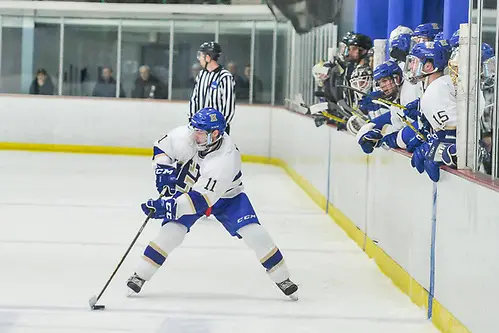 When the D-III NCAA tournament participants and matchups were named on March 6, newcomers Endicott and Hamilton faced big challenges in playing NCAA tournament teams with significant experience in Hobart and Oswego, respectively. Both took on the challenges of the completely new experience and won their way into this week's quarterfinals with a determination and joy that their coaches and players seem to be relishing each and every day.
"The thing I am most excited about right now is the fact that we get to practice together another week and extend that time together as a team longer," said Endicott coach R.J. Tolan. "We all started this together back in October with the goal of being the best team we could be in representing our college and our conference, so now we are enjoying the experience but are committed to going as far as we can as part of the final eight in the country."
The fact we are still practicing at this point of the season is a great thing," echoed Hamilton coach Rob Haberbusch. "We are trying to keep things as normal as possible at this point in the season in terms of our usual schedule. The players probably aren't aware of everything that is going on for the coaches, but that is OK; it's a great time to be busy with added travel plans and film work on opponents we haven't seen this season."
While both teams faced unfamiliar opponents in their first-round contests and face similar foes this weekend, both coaches have similar approaches to managing the expectations and preparation for the games.
"We will watch film and see what Norwich looks like and understand some tendencies from the coaching perspective," noted Haberbusch. "At this point of the season, 95 percent of what we are focused on is how we play our game and our style of hockey. We start with the strength Evan [Buitenhuis] brings in goal and then it is about our team speed, depth, and balance. We want to leverage all of those things against our opponent and look forward this week to playing on the bigger ice surface, where there is more room for our guys to move with the puck. We have had success this season in places like Skidmore and Middlebury on big sheets, so hopefully we can do some of the same things at Norwich."
"It all starts with Kevin [Aldridge] in net," stated Tolan. "These guys since day one have been committed to the program and the college and have worked day in and day out to be where they are right now. The compete level is great and I look down the bench at all of our players and have no question when any of them go over the boards that they are committed to a great shift and doing whatever it takes to help their teammates succeed. I am really proud of how they have bought in and support each other and we will need to keep doing those things against Trinity on Saturday night."
Both teams again look to play the role of the spoiler as road underdogs this weekend, but don't be surprised if these national tournament newbies punch their ticket to Utica and the Frozen Four.
Saving his best for last?
For any player, a potential season-ending injury can be the ultimate disappointment in a college career, but for Hamilton's Robbie Murden, his injury sustained on January 27 against Trinity was potentially devastating on multiple levels. The senior forward had been an offensive mainstay for the Continentals during his first three seasons and was enjoying the great season Hamilton had posted to date as they had raced to a 12-2-3 start overall and 6-2-3 in the always ultra-competitive NESCAC standings.
Moreover, the injury came with Murden sitting on a 99-point total for his career and 49 goals, leaving him just short of two significant individual scoring milestones that define success for many in their collegiate career. The prognosis was not good and for the next nine games the Continentals moved on without one of their senior leaders on the ice.
Murden wasn't just done yet, however. He worked his way back to a return to the lineup in the NESCAC title game against the same Trinity squad he faced when he sustained his injury and scored the second goal of the game, giving Hamilton a 2-0 lead. The goal also was the 50th of his four-year career and helped him record his 100th point to the delight of his teammates and coaches alike.
"Robbie isn't about Robbie," noted Haberbusch. "Knowing that when he went out injured and may not come back, we all felt for him being so close to those significant milestones. Honestly, I think we thought about it more than he did and I know he just wanted to come back and contribute to our success as a team. That was a big goal against Trinity and he did even more last week against Oswego with two huge goals."
Murden scored Hamilton's first two goals on the road against Oswego in Hamilton's 3-1 win, including the ultimate game-winner on a power play. No one could have been happier than his teammates and coaches.
"It was great to see him score those two goals for the team and for him personally," said Haberbusch. "I know the team got a spark from him being back and now we get to prepare for another good team in Norwich on Saturday."
So Murden had one goal in his first game back, and two goals in his second game back. Does Robbie have a hat trick in him as the next step in the progression?
"Wow, that would be great and I wouldn't put anything past him," laughed Haberbusch. "We are thrilled to have him back playing and want him and the rest of the team to enjoy whatever the rest of the season brings, but (are) focused on Saturday night against a very good opponent."