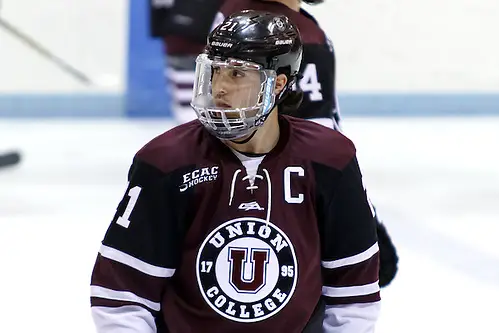 ECAC Hockey announced Friday the winners of its annual postseason awards and All-League Teams as selected by the league's 12 head coaches.
Player of the Year honors went to Union's Mike Vecchione, who returned for his senior season re-writing the Dutchmen record book as he became the program's all-time leading scorer with 171 points on Feb. 25 and the single-season point mark with 51 at Dartmouth on Feb. 11. In doing so, he guided Union to a share of the league's regular-season title, the fourth in program history. Known for his clutch scoring, the senior captain leads the nation in third period/overtime scoring with 28 points on 14 goals and 14 assists.
Leading the league in nearly every statistical category, St. Lawrence's Kyle Hayton was voted the Ken Dryden Award winner, recognizing the league's top netminder. He finished the regular-season first among league goaltenders with a .939 save percentage. Playing in all 22 league contests, he recorded a 1.75 GAA, which ranked second in conference play. Hayton also led ECAC Hockey goaltenders in shutouts with four and broke a 60-year-old program record for career shutouts in November with his 10th after posting back-to-back shutouts with a weekend sweep of Princeton and Quinnipiac.
Selected to finish seventh in the preseason coaches' poll and eighth in the preseason media poll, Rick Bennett guided Union to a share of the ECAC Hockey regular-season title, capturing the program's fourth Cleary Cup. In doing so he earned his second Tim Taylor Coach of the Year Award.
Freshman Adam Fox took home top rookie honors as he made a name for himself on the Harvard blue-line. The Calgary Flames prospect currently leads the team with 27 assists. His 1.14 points per game mark ranks first among all defensemen in the country and fifth among all rookies.
Jake Weidner, who helped Cornell earn a top ten ranking for much of the 2016-17 campaign, posting an impressive 13-4-5 conference record earning the No. 3 seed in the conference tournament, was tabbed as the league's Best Defensive Forward. The senior registered 53 blocks on the season, while winning 318 faceoffs in league play, which was second most. His 2.14 blocks per game were nearly double that of his next counterpart, as only three others players recorded half that number.
James de Haas from Clarkson was selected the league's Best Defensive Defenseman. The senior captain registered 47 blocks on the season, while totaling seven goals and 21 assists on 64 shots. His point total was the most by a Golden Knight blueliner since 2002-03 and ranked fourth among his league counterparts.
The 2016-17 Student-Athlete of the Year was awarded to Quinnipiac's Derek Smith. Boasting a 3.94 GPA, Smith is majoring in finance at Quinnipiac's school of business with a minor in computer information systems. The senior co-captain has consistently performed at the highest level in each of his four years at Quinnipiac earning a place on the Dean's List each semester and will be an inductee of the financial management association national honor society later this month. He is a three-time Quinnipiac male scholar-athlete award recipient working on such projects as event studies of merger bids in the technology industry and analysis of market and process response in the utility sector.
A leader in the locker room and one of the team's most consistent defensemen, Smith has helped the Bobcats claim two Cleary Cups, the first Whitelaw Cup in program history, as well as three NCAA tournament appearances and a visit to the Frozen Four in 2016. He is part of a senior class that has accumulated over 100 career wins.
His leadership extends off the ice as well serving a role model at such activities as elementary school visits and as clinic and camp instructor. He has also been a member of Quinnipiac's student athlete advisory committee.
The league also announced three All-League Teams and an All-Rookie Team.
First Team All-ECAC Hockey
| Player's Name | Position | School |
| --- | --- | --- |
| Spencer Foo | F | Union |
| Alexander Kerfoot | F | Harvard |
| Mike Vecchione | F | Union |
| Gavin Bayreuther | D | St. Lawrence |
| Adam Fox | D | Harvard |
| Kyle Hayton | G | St. Lawrence |
Second Team All-ECAC Hockey
| Player's Name | Position | School |
| --- | --- | --- |
| Ryan Donato | F | Harvard |
| John Hayden | F | Yale |
| Max Veronneau | F | Princeton |
| James de Haas | D | Clarkson |
| Jeff Taylor | D | Union |
| Alex Sakellaropoulos | G | Union |
Third Team All-ECAC Hockey
| Player's Name | Position | School |
| --- | --- | --- |
| Troy Crema | F | Dartmouth |
| Sam Lafferty | F | Brown |
| Sam Vigneault | F | Clarkson |
| Jake Kulevich | D | Colgate |
| Chase Priskie | D | Quinnipiac |
| Merrick Madsen | G | Harvard |
ECAC Hockey All-Rookie Team
| Player's Name | Position | School |
| --- | --- | --- |
| Jackson Cressey | F | Princeton |
| Sheldon Rempal | F | Clarkson |
| Nico Sturm | F | Clarkson |
| Adam Fox | D | Harvard |
| Yanni Kaldis | D | Cornell |
| Jake Kielly | G | Clarkson |