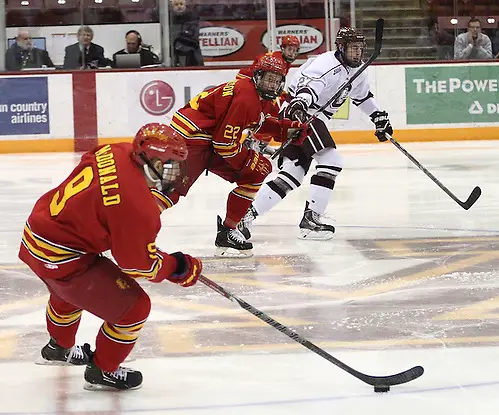 Ferris State senior forward Chad McDonald, who helped lead the Bulldogs to a pair of NCAA tournament appearances in four years while also holding a 3.94 GPA, has been named the 2017 WCHA Student-Athlete of the Year.
The honor is voted upon by the faculty athletics representatives of the league's 10 schools.
McDonald was a four-year contributor for the Bulldogs, helping Ferris State to a MacNaughton Cup as league regular-season champions, a Broadmoor Trophy as postseason champs and a pair of appearances in an NCAA tournament regional final.
The Battle Creek, Mich., native scored 38 goals with 46 assists for 84 points in 145 games, reaching the 20-point mark in three of his four seasons. After suffering a season-ending elbow injury in the 2016 WCHA Final Five, McDonald went through surgery and rehabilitation in time to return to the ice for Ferris State's 2016-17 season opener. A leader in all facets, he was selected by his peers to serve as one of the Bulldogs' assistant captains for his senior campaign.
In May, McDonald will graduate with a B.S. in Business Administration, an A.S. in Legal Studies and a Certificate in data mining. Often found tutoring teammates, he has helped inspire a Ferris State team that ranked among the nation's top 10 teams in the annual NCAA Academic Progress Report (APR) in each of his four years. A three-time WCHA Scholar-Athlete Award recipient and All-Academic Team member, McDonald was named to the 2016 CoSIDA Academic All-District Team and is once again a candidate for national honors in 2017.
Away from campus, McDonald has volunteered for a variety of different organizations that help those with disabilities, both in Big Rapids (playing floor hockey with Big Rapids Special Olympians) and his native Battle Creek (serving as a mentor for Community Inclusive Recreation). In addition, he has spent time speaking to fifth grade students from low-income households about the importance of education, and what it takes academically to pursue their dream of becoming a collegiate student-athlete.
A finalist for the 2017 Senior CLASS Award, McDonald has plans to attend law school. He aims to pursue a career in the NHL, with aspirations of one day becoming a general manager.