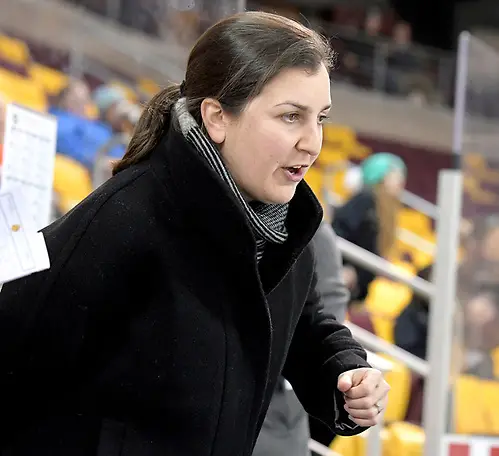 In just her second year at the helm of the Minnesota Duluth women's program, Maura Crowell saw a huge turnaround in results. The Bulldogs were 15-21-1 in 2015-16 and improved massively to finish the 2016-17 season 25-7-5. It was the biggest single-season turnaround in program history. Crowell's two-year record in Duluth is 40-28-6.
The Bulldogs entered the season unranked and gave notice early on, earning a tie and a win over Boston College on Sept. 30 and Oct. 1. The wins were a wakeup call for any opponent who thought this season's UMD team was anything like last season's.
In 2016, the Bulldogs upset Bemidji State to advance to the WCHA Final Faceoff and had an attitude of "just happy to be here." In 2017, they were there to win. They outlasted Minnesota in two overtimes to advance to the championship round, earning their first win at Ridder in nearly a decade.
Last season, the Bulldogs' biggest wins were over North Dakota and Bemidji State. This year, they had wins over Boston College and Wisconsin and they swept Minnesota at home, something UMD hadn't done since October 2010. The first win in that series ended a five-year, 21-game winless streak against the Gophers.
UMD fell just short in the WCHA Final Faceoff, earned a four seed in the NCAA tournament and home-ice advantage, and just narrowly lost to rival Minnesota in the NCAA quarterfinals. It was the Bulldogs' first time in the NCAA tournament since 2011 and first time hosting a game since 2010.
Nearly every player on the roster increased production in 2016-17, and senior forward Lara Stalder was named a Patty Kazmaier top-three finalist and CCM All-American.
Crowell became the second Bulldogs coach to be named ACHA Coach of the Year; Shannon Miller won the award in 2013.
Prior to being named head coach in Duluth, Crowell spent five seasons at Harvard, where she filled both interim head coach and associate head coach roles in her final two years there. She was at the helm of UMass.-Boston in Division III before that and spent two years as an assistant coach with Connecticut College from 2003-05.