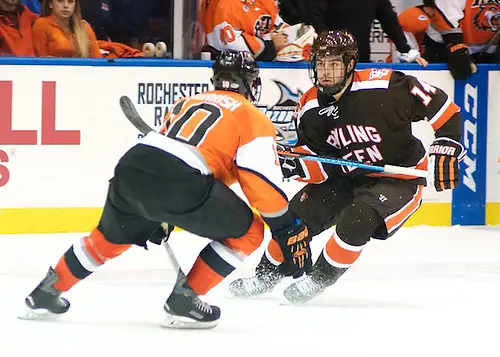 Bowling Green junior defenseman Mark Friedman has signed an entry-level contract with the Philadelphia Flyers and will begin with their AHL affiliate, the Lehigh Valley Phantoms, beginning this Thursday.
"I definitely had the best three years of my life here at Bowling Green and I'd like to thank my teachers, the coaches and especially my teammates and my parents for all of the things they had to go through to get me to where I am today," Friedman said in a statement. "The hard work is just continuing, but I feel like my overall game is good and has evolved as this season's gone on."
In his three years with the Falcons, Friedman tallied 16 goals and 52 assists for 68 points through 112 career games.
This season, Friedman was recognized with All-WCHA Third Team honors after posting eight goals and 18 assists, while leading the Falcons' defensemen with 26 points. The accolade follows a WCHA All-Rookie Team honor in his freshman season, as well as an All-WCHA First Team selection in his sophomore campaign.
"For him, defending is just a decision," BGSU coach Chris Bergeron added. "When he decides to take away time and space, he is really hard to play against because he skates and he competes. He'll fight you for it. When it comes to the offensive perspective, he has instincts that you can't teach so it's a pretty good package."
Friedman was selected by the Flyers in the third round (86th overall) in the 2014 NHL Draft.
"There's a lot to Mark Friedman," continued Bergeron. "He brings a bunch of different layers and he's a guy [the Flyers] have invested in, in terms of watching him for three years real close. He's a prospect, for sure. It'll be interesting to see how he does and how his career progresses."