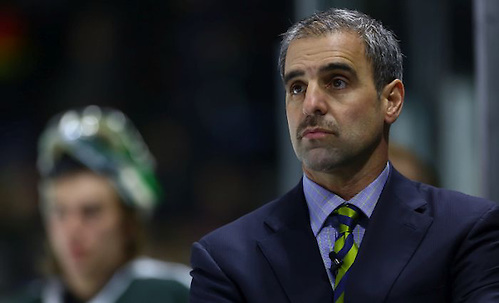 Michigan State announced Tuesday that Tom Anastos will step down from his position as head coach of the Spartan hockey program, effective immediately.
Assistant coach Tom Newton will serve as interim head coach while a national search is conducted to replace Anastos.
"I want to thank Tom Anastos for the guidance he's provided Spartan hockey over the last six seasons," said MSU athletic director Mark Hollis in a statement. "He would be the first to admit that he wished there were more on-ice victories, but he built a program that was a great value to our community. His student-athletes were successful in the classroom and were great representatives of the athletic department and the university as a whole with their commitment to community outreach.
"A loyal Spartan for more than three decades, Tom Anastos has given so much to Michigan State. He's had a positive impact on our entire department, well beyond the ice rink. Tom's an amazing individual whose passion for Michigan State is unsurpassed. He and his wife Lisa and their five children will continue to be valued members of our Spartan family."
"When I first became head coach I established my own timeline for the program's development," added Anastos. "After a review of our season, and in spite of the progress we have made in so many areas, we have not met my expectations. As a leader, I believe that you must always make every decision based on what's in the overall best interests of the program, and never put personal interests first. After lengthy conversations with Mark Hollis, I am stepping down from my role to help facilitate a change in leadership and direction for Spartan hockey.
"I'm truly grateful for the opportunity and support provided by our administration, especially that of Mark Hollis and President Simon. Michigan State is a special place to me and my family, and what makes it so special are its people. I appreciate the support and relationships that I've developed with the fans, boosters, alumni and media. I have loved working with our incredible group of coaches throughout the department, the most passionate and hardest working group of athletic administrators in all of college athletics, and most of all, the hockey coaches, support staff and student-athletes."
Anastos' dedication to MSU began when he competed as a player from 1981 to 1985. He later served as an assistant coach under Ron Mason from 1990 to 1992 and was appointed just the sixth head coach in program history in 2011 after serving as CCHA commissioner for 13 years.
Anastos was 78-122-24 in six seasons at Michigan State. He guided the Spartans to a berth in the 2012 NCAA tournament after going 19-16-4 in his first season behind the bench. In 2014-15, the Spartans posted a 17-16-1 record and finished second in the Big Ten regular-season standings.