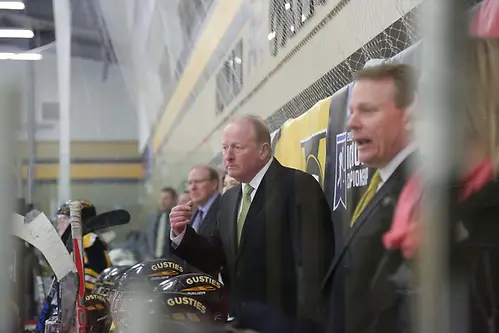 Gustavus Adolphus coach Mike Carroll is no stranger to success. When he was named MIAC Coach of the Year this year, it was the seventh time he'd earned the honor in his 18-year career. The Gusties have made 12 NCAA appearances over their 20-year history, and he has coached them to 12 MIAC regular-season titles.
However, entering this season, it had been a few years since the Gusties earned an NCAA berth; their last was the 2012-13 season.
After finishing 9-11-5 overall and 8-6-4 in the MIAC and not earning a berth in the conference tournament last season, this season's run in the NCAA tournament is all the more impressive. With a team featuring 17 underclassmen, Carroll engineered a dream postseason run after capturing the MIAC regular-season title. The Gusties finished the season 19-7-3 overall and 13-2-3 in the MIAC.
In the NCAA quarterfinal, Gustavus traveled to nearby Wisconsin-River Falls and upset a team that had been ranked first or second in the nation for nearly the entire season, earning a berth in the final weekend. They lost in overtime to host Adrian in the Frozen Four semifinal, but rallied for a win in the third-place game against Norwich. It was the third time the Gusties finished the season in third place.
Sophomore goalie Amanda DiNella was named a first-team All-American, becoming the 15th player, fifth sophomore, and first-ever goalie from Gustavus to earn the honor.
Carroll is 378-101-35 in his 18 seasons at Gustavus and has the most coaching victories in the history of the program. He is the second-winningest coach all-time in NCAA Division III women's hockey.
Prior to heading up the Gustavus women's program, Carroll was the head boys' hockey coach at Mankato West High school. He was the head coach of the Gustavus baseball team for 19 years before retiring from that post in 2015. He competed in hockey and baseball at Minnesota State and played two years of professional baseball in the Montreal Expos organization. He is in the Edina High School Athletics Hall of fame and the Minnesota State-Mankato Athletics Hall of Fame.
Congratulations to Mike Carroll, our Division III women's hockey coach of the year.