Of the four teams in the West Regional this weekend at the Scheels Arena in Fargo, N.D., three have won a national championship in the last decade.
Those would be Boston University (2009), Minnesota Duluth (2011) and North Dakota (2016), and those three schools join Ohio State this weekend vying for a Frozen Four berth in two weeks in Chicago.
UMD won the NCHC playoff crown, while the other three schools earned at-large bids to the NCAA tournament.
Here's the schedule for the West Regional, followed by a look at the four teams:
• Boston University vs. North Dakota, 2 p.m. CDT Friday, ESPN2
• Minnesota Duluth vs. Ohio State, 5:30 p.m. CDT Friday, ESPNU
• Regional championship, 5 p.m. CDT Saturday, ESPNU
Minnesota Duluth Bulldogs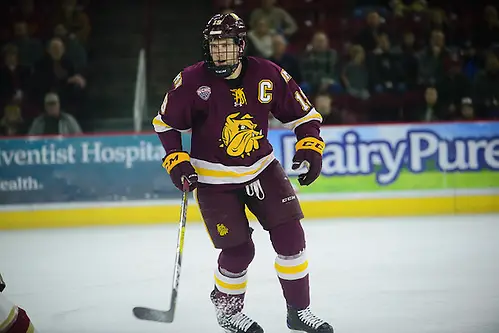 Team page | Statistics | Roster | Schedule/results | History
Coach: Scott Sandelin, 17th season at Minnesota Duluth and overall
Record: 25-6-7 (19-5-4 NCHC, second)
How they got in: NCHC playoff champions
Regional seed: First
Last NCAA tournament appearance: 2016
Best NCAA finish: Champion, 2011
Why they'll get to the Frozen Four: The Bulldogs are deep and ooze senior leadership that steps up at the right time. They've been one of the best teams all year.
Why they won't get to the Frozen Four: They have to overcome the curse of the NCHC Frozen Faceoff as no winner of the tournament has won an NCAA tournament game the next weekend. Duluth's penalty kill is a weakness, succeeding only 80 percent of the time, and that plays into Ohio State's strength, its top-ranked power play that clicks at 32.45 percent.
Last weekend, Minnesota Duluth completed a perfect run through the NCHC playoffs by defeating North Dakota 4-3 in the championship game on a dramatic five-on-three power-play goal with under a minute to go, less than two minutes after North Dakota had tied it.
"This group has been pretty resilient," said Minnesota Duluth coach Scott Sandelin. "I don't think they panic. I think we've been in a lot of those situations where we've given up the first goal or we've been behind, and we just stay with the game. I think that's a compliment to our players for doing that. Sometimes when those things happen throughout the year, you build that inner confidence that you know the game is never over and you have to keep staying with it and I think our guys have done a pretty good job of that for pretty much the whole year, because we've been in a lot of those situations."
Upon returning to Duluth, the team learned it was placed in the West Regional in Fargo, N.D., and would potentially have to go through North Dakota again to advance to the Frozen Four. It would be the sixth time this season the two would face off – Duluth has won all five.
Standing in Duluth's way of that potentially intriguing storyline from a journalistic perspective is Ohio State, which Sandelin noted with wry humor.
"You guys can help build that up, but this is the time of year where you have to have a very narrow focus," said Sandelin. "It's the time of year where if you don't play well and you don't win, you don't play any more, so it can only be on the team you are playing. Obviously, there will be outside noise about that, but the key is to just focus on the things we need to do to beat a good Ohio State team, and we know that's going to be a tough battle. They're there for a reason, they've had a good year, they have some really high-end players, and that's our focus."
Duluth is led offensively by senior Alex Iafallo, who likely should have been a Hobey Baker nominee. Iafallo averages 1.18 points per game. The Bulldogs also get a lot of leadership from not just Iafallo, but his classmates Dominic Toninato, Kyle Osterberg, Carson Soucy, Willie Raskob, Brenden Kotyk, Sammy Spurrell and Dan Molenaar.
The Bulldogs also have talented young players in sophomore forward Adam Johnson, sophomore defenseman Neal Pionk, freshman forward Joey Anderson and freshman netminder Hunter Miska, who has a .917 save percentage and looked strong in Minneapolis.
While Duluth gave up three power-play goals to North Dakota in the NCHC championship, the Bulldogs found a way to win, and Sandelin did feel the PK was strong.
"I thought our penalty killers did an outstanding job," Sandelin said. "It was similar to the Omaha weekend where they had six power-play goals on the weekend but we walked out of there feeling like we didn't do too many things wrong. It's hard – you start giving a team three five-on-threes, eventually they are going to score, especially a team like North Dakota with the players they have. Overall, I think our guys did a good job and the biggest thing is not giving them opportunities."
— Candace Horgan
Boston University Terriers
Team page | Statistics | Roster | Schedule/results | History
Coach: David Quinn, fourth season at Boston University and overall
Record: 23-11-3 (13-6-4 Hockey East, t-first)
How they got in: At-large bid
Regional seed: Second
Last NCAA tournament appearance: 2016
Best NCAA finish: Champion, 1971, 1972, 1978, 1995, 2009
Why they'll get to the Frozen Four: There may not be another team with high-end NHL prospects than Boston University. If all of their top players play to their potential, this team could be the toughest out. On that list, of course, is goaltender Jake Oettinger, who on any night can steal a game.
Why they won't get to the Frozen Four: This has been a team that struggles with consistency all season. Of late, its biggest problem has been digging itself into holes. Twice in the Hockey East quarterfinals, BU fell behind 2-0 only to come back and win. In the semis, a 3-0 hole against Boston College proved too deep. As the competition gets greater, comebacks become so much harder.
When you place the nation's top 16 teams into the NCAA tournament bracket, you hope every now and again, as the committee, that you find a diamond in the rough matchup
In Fargo, N.D., the NCAA has found that diamond.
Boston University and North Dakota will face off in the West Regional. Two of college hockey's powerhouses that have enough NHL draft picks combined to fill out an entire NHL game-night roster.
Add to the fact that North Dakota is a little more than an hour from campus and will fill the arena to the rafters with fans makes the game an even bigger attraction.
You might think that would be upsetting to BU coach David Quinn.
Not so.
"One of the things we've talked about is that as a player if you could play any game in the first round," said Quinn, "this is it."
He wants his team to relish the chance to play in a hostile road environment even if he understand this will be a challenge that isn't easy.
"They're a team that is healthy," said Quinn of the Fighting Hawks. "A lot of their top players have been out for stretches of time."
One thing he understands his team can't do is chase the game. BU fell between by multiple goals in all three playoff games they've played. It something Quinn says he's cautioned his team against all season.
But he's also realistic to the fact that his opponents are plenty hungry to play with the lead.
"You have to play well to be able to score.," said Quinn. "I thought we played very well in the first period on Friday [against Boston College] and had some golden chances to make it 1-0. The more chances you have, the more you can score, but you have to finish on those chances."
The fact that BU came from behind from two-goal deficits against Northeastern in the Hockey East quarterfinals and nearly rallied from three goals down to BC late on Friday does say one thing about this Terriers team: there isn't a lot of quit.
"We feel that way," said Quinn when asked if his team feels the ability to come back. "We're never out of it. You feel it on the bench and in the locker room."
— Jim Connelly
North Dakota Fighting Hawks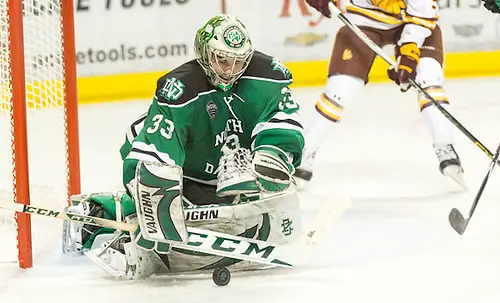 Team page | Statistics | Roster | Schedule/results | History
Coach: Brad Berry, second season at UND, second overall
Record: 21-15-3 (14-13-1 NCHC, fourth)
How they got in: At-large bid
Regional seed: Third
Last NCAA tournament appearance: 2016
Best NCAA finish: Champion, 1959, 1963, 1980, 1982, 1987, 1997, 2000, 2016
Why they'll get to the Frozen Four: After an up-and-down regular season, UND has been playing some of its best hockey of the season in recent weeks and will essentially play home games this weekend in Fargo.
Why they won't get to the Frozen Four: Should UND defeat Boston University in the teams' regional semifinal on Friday, a Minnesota Duluth team that defeated the Fighting Hawks five times earlier this season could deny UND a trip to Chicago.
No NCAA men's Division I hockey team has won back-to-back national championships in over a decade, and it didn't always look this season as though North Dakota would get that chance.
The Fighting Hawks, last season's title winners, struggled just to clinch home ice in the first round of the NCHC playoffs. After sweeping St. Cloud State, UND still needed one more win to lock up a return trip to the NCAA tournament.
A 1-0 NCHC semifinal victory over top-ranked Denver on March 17 did the trick. UND then dropped a 4-3 decision to Minnesota Duluth in the conference title game, but there's a feeling of comfort in Grand Forks, N.D., knowing the Hawks' season isn't over.
Heading into this weekend's West Regional in Fargo – just 80 miles away down Interstate 29 – there's plenty of confidence, too.
"There was a list of four very strong teams there," UND coach Brad Berry said of the NCHC's last four teams vying for the conference title in Minneapolis. "And our team battled extremely hard and we learned a lot from our team as far as being at that level. We wanted to win the championship, but we needed to win one game to solidify ourselves in the NCAA tournament and we did that, so we ticked that box and we're on to the next one here.
"We feel that our team is playing very well right now in playing as a team, and we've had a little bit of adversity through the year playing inconsistent hockey as a young team, and I think we've grown through the year here to make our team stronger. I know (losing in) the championship game wasn't the way we wanted it to end, but it left us even more hungry and stronger as our group commits to this upcoming weekend."
Most players on UND's roster have played this far into a college season before, but the Hawks are getting plenty of firepower from youth. Freshman forward Tyson Jost has collected 16 goals and 35 points this season, and the Hawks' top three point-scorers this season (in order: Shane Gersich, Jost and Brock Boeser) are underclassmen.
UND's younger players aren't carrying all the water, however.
"We really only have one senior that's an everyday player in Gage Ausmus as our captain, but our leadership has grown strong by committee in our locker room and it's driving the bus right now," Berry said. "This is the time of year that you need the leadership pushing, and they are."
As for vying for the program's ninth national title and eight freshmen's first rings, UND continues to try and pattern this season on the last one.
"The whole year, we ended up winning a national championship but we didn't skip a step," Berry said of UND's 2015-16 campaign, his first as a collegiate head coach. "We really broke it down into each individual game and each goal that we wanted to try to attain, and everybody wants to try to get to the end goal of winning the national championship or getting to the Frozen Four, but you can't skip any steps.
"I think our group has done a pretty good job of really breaking it down into small goals and trying to make sure you focus on the things at hand, and it'll be no different this week with us preparing for Fargo."
— Matthew Semisch
Ohio State Buckeyes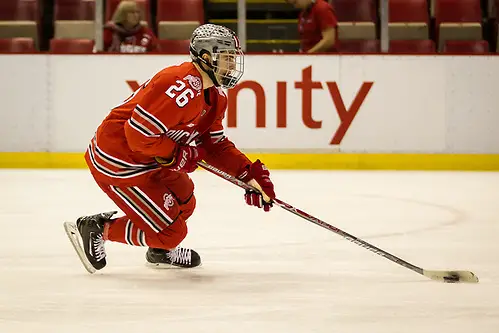 Team page | Statistics | Roster | Schedule/results | History
Coach: Steve Rohlik, fourth season at Ohio State, fourth overall
Record: 21-11-6 (11-8-1 B1G, third)
How they got in: At-large bid
Regional seed: Fourth
Last NCAA tournament appearance: 2009
Best NCAA finish: Frozen Four in 1998
Why they'll get to the Frozen Four: The Buckeyes are second in the nation in scoring with an average of 3.97 goals per game. Ohio State also has the nation's top power play, converting 32.5 percent of its chances this season.
Why they won't get to the Frozen Four: Inconsistent defense has plagued Ohio State this season, and it'll face a tough test considering the other three teams in the West Regional are in the top 20 in team offense. The Buckeyes' penalty kill is also near the bottom of the barrel, killing only 74.2 percent of its opportunities this season.
After an eight-year absence, Ohio State is back in the NCAA tournament.
"It's exciting to get in the door," Ohio State coach Steve Rohlik said after Sunday's selection show. "Now we're excited to maybe try to go make some noise."
The Buckeyes weren't a shoe-in for the field of 16, and had to cheer for conference rival Penn State to defeat Wisconsin in the final game of the Big Ten tournament last weekend. The Nittany Lions downed the Badgers in double overtime, giving the final at-large bid to the Buckeyes.
"Watching the games (Saturday) night, it was kind of a weird 24 hours for us emotionally," OSU senior Nick Schilkey said Sunday. "It was a weird roller coaster of emotions, not really knowing (and) waiting to see the outcome of the games. You always like to have your fate in your own hands, but with how things went, it didn't turn out that way. It was crazy to watch [Saturday], they went into two overtimes just prolonging the experience, but at the end of the day, we were just really happy to see how it all turned out."
Schilkey said that team watched the Penn State victory together and admitted that it was weird to root for the Nittany Lions.
This year marks Ohio State's seventh appearance in the NCAA tournament and is the first under Rohlik.
"It says a lot about everybody in this program – it just didn't happen this year," Rohlik said of breaking back into the tournament field. "This has been a work in progress. This is for all the alumni. This is for everybody that's put a brick in the wall here at Ohio State. We're just trying to carry on the torch and we're fortunate enough that we've got a chance here in the big dance."
Rohlik was an assistant coach at Minnesota Duluth, Ohio State's opponent on Friday, for 10 seasons before heading to Ohio State. He served as an assistant for the Buckeyes before landing the head coaching job in 2013.
"At this point, you have nothing to lose," Rohlik said. "We know we're playing one of the best teams in the country. We've got to go up there and be our best to five ourselves a chance, and that's our approach every weekend."
The Buckeyes are gifted offensively. Sophomore Mason Jobst leads the team in scoring with 55 points. Schilkey is the most dangers goal-scoring threat and he's lit the lamp 27 times this season. Fellow senior David Gust and sophomore Dakota Joshua have scored 18 and 12 goals, respectively.
"We're a confident group," Schilkey said. "And we know that we deserve to be here."
Senior goaltender Matt Tomkins has started the last five games for the Buckeyes. He has a 2.48 GAA this season with a 12-4-3 record.
While the Buckeyes' defense has been suspect at times this season, their 2.89 goals allowed per game average puts them in a tie for 30th in the nation – they have kept games close. Six of Ohio State's 11 losses this season, including its loss to Wisconsin at the Big Ten tournament, have been by one goal.
— Drew Claussen