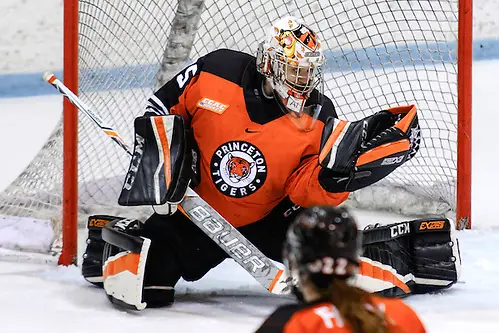 In a field absolutely full of spectacular, shut-down goalies, Princeton's Stephanie Neatby carved out a space and proved she — and the Tigers — will be a threat for years to come.
Regularly honored as both the top goaltender and top goalie in the ECAC and Ivy Leagues, Neatby back-stopped the Tigers to the ECAC semifinals. She helped the Tigers finish the season ranked 11th in team defense, allowing just 1.91 goals as a team over the course of the season.
Neatby finished the season with a 12-5-1 record and was 6-3 against ranked opponents with four shutouts. She set the Princeton program record for saves when she stopped 60 shots in a triple-overtime game against Quinnipiac in the ECAC quarterfinals. She finished just one shy of a school record in saves — men or women.
At 6-feet, Neatby provides an imposing presence in back for the Tigers. Her teammates refer to her as "Sneatby," and she has given Princeton the confidence to be more offensive-minded.
She finished second only to Patty Kazmaier Award winner Ann-Renée Desbiens in save percentage and fourth overall with a 1.52 goals-against average. A first-team All-ECAC and first-team All-Ivy League choice, as well as a member of the all-rookie teams, Neatby was also a finalist for ECAC player of the year and rookie of the year. She led the ECAC in save percentage and was second in goals-against.
She led Princeton on an 11-game unbeaten streak that started with just her second-ever career start. She received ECAC goalie of the week honors six times and was ECAC goalie of the month in both December and January. She was named the first-ever Hockey Commissioners Association national rookie of the month.
A member of the silver-medal-winning Canada team at the last U-18 Women's World Championships, Neatby has also been invited to be a part of Hockey Canada's Development team. She is also slated to be a two-sport athlete at Princeton, competing for the Tigers' lacrosse squad. She was a finalist for the Canada's U-19 lacrosse squad, was a four-year member of Team Ontario, and a 2016 Canadian National champion.
Congratulations to Steph Neatby, the USCHO rookie of the year.