Four teams from four different conferences will converge on the Dunkin' Donuts Center this weekend in Providence, R.I.
Atlantic Hockey champion Air Force joins ECAC Hockey champion Harvard, along with at-large teams Western Michigan and Providence as the foursome vying for a Frozen Four spot in two weeks in Chicago.
Here's the schedule for the East Regional, followed by a look at the four teams:
• Harvard vs. Providence, 4 p.m. EDT Friday, ESPNU
• Western Michigan vs. Air Force, 7:30 p.m. EDT Friday, ESPN3
• Regional championship, 8:30 p.m. EDT Saturday, ESPNU
Harvard Crimson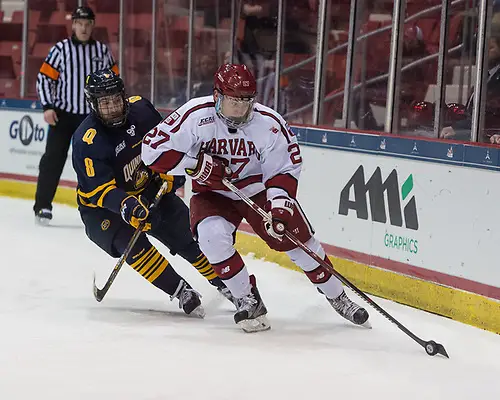 Team page | Statistics | Roster | Schedule/results | History
Coach: Ted Donato, 13th season at Harvard and overall
Record: 26-5-2 (16-4-2 ECAC, tied for first)
How they got in: ECAC playoff champion
Regional seed: First
Last NCAA tournament appearance: 2016
Best NCAA finish: Champion, 1989
Why they'll get to the Frozen Four: Harvard is one of the hottest teams in the country going into the NCAA tournament as the Crimson is 15-0-1 in its past 16 games. Their last loss was to Dartmouth was on Jan. 17
Why they won't get to the Frozen Four: The pressure of keeping the winning streak going as we enter the "win or go home" phase of the season.
The Crimson ended the first half of the season 8-2-1. The second half of the season started strong with wins over Rensselaer, Quinnipiac and Princeton. Things were looking good, but the Crimson got comfortable.
In a five-day period from Jan. 13-17, they dropped three games.
Since the 8-4 loss to Dartmouth on Jan.17, Yale has been the only team to salvage a tie, which happened five days after the loss to the Big Green.
"We had an extended Christmas break and we were off for quite a long time," Harvard coach Ted Donato said. "We came back and we played RPI, I believe, and we didn't play as well as we would have liked. The three games where we lost, we played well in the loss to Union and think we had to recapture what our focus was and what we needed to have an identity as a team. We wanted the results, but we didn't want to put the effort in – the effort and commitment playing both ends of the ice that we found success before the break. We were able to look at some video and talk as a group. I think we were able to build some momentum after that."
The 16-game unbeaten streak includes Harvard winning its first Beanpot title since 1993.
On defense, Harvard has given up 28 goals in the 16 games for a 1.75 goals-against average. The first 17 games of the season, the Crimson had a 2.64 GAA.
Since the loss to Dartmouth, Harvard has only have scored three goals or less three times and all three of those games came in January. The Crimson has scored 70 goals in their current 16-game unbeaten streak for a 4.37 goal per game average, which is slightly above the 4.05 goals per game prior to the unbeaten streak.
"I think our offense comes from playing the right way," Donato said. "We wanted to have the results, but we weren't doing the things that we were having success with. I think as a group, we decided playing both sides of the puck was going to be more beneficial to our success and even to our offense. We have been fortunate to have different guys step up. We have had number of guys that have gone on hot streaks, a power play that has been very productive all year. We have gotten good and timely goaltending that has helped us to have success."
The scoring has been spread out as five forwards have 30 or more points this season. Sean Malone and Tyler Moy lead the way as the only three players with 40-plus points. Each have 18 goals, while Malone has 24 assists for 42 points. Moy has 23 assists. Alexander Kerfoot also has 41 points as he has potted 16 goals and 25 assists.
Ryan Donato has 38 points this season on 20 goals and 18 assists. He has three four-point games during the streak. Luke Esposito lit the lamp 16 times while adding 20 helpers.
On defense, Adam Fox, as a freshman, has been a playmaker, scoring five times and adding 31 assists.
As the No. 3 overall seed, the Crimson heads down the road to Providence to face the hometown Friars at the Dunkin' Donuts Center.
Donato said his team is ready.
"It's a great challenge for us," Donato said. "We are playing a team in Providence that was one of the best teams in the country in the second half year. [Providence is] a team that has had a level of success in the NCAA tournament, a team playing near their campus, a team that's very well coached, disciplined and it will be a really great challenge for us."
— Nathan Fournier
Western Michigan Broncos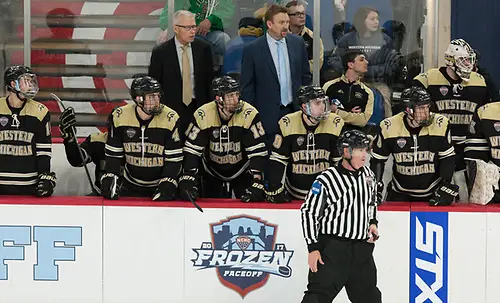 Team page | Statistics | Roster | Schedule/results | History
Coach: Andy Murray, sixth season at WMU, sixth overall
Record: 22-12-5 (15-12-2 NCHC, third)
How they got in: At-large bid
Regional seed: Second
Last NCAA tournament appearance: 2012
Best NCAA finish: First round, 1986, 1994, 1996, 2011, 2012
Why they'll get to the Frozen Four: Consistency has been a theme for a Western team this season that only lost back-to-back games once in the regular season. Two more losses last weekend came against the top two seeds in this year's NCAA tournament.
Why they won't get to the Frozen Four: The Broncos are part of a very tough regional field and could face in the final either a strong Harvard team or Providence, which advanced to the Frozen Four when the Friars last hosted a regional.
Five years after Western Michigan qualified for the NCAA tournament in coach Andy Murray's first season at the helm, the Broncos are back.
Western enters this year's tournament with the highest win total of any team Murray has had during his six seasons in Kalamazoo, Mich. This season's Broncos team compares well to the 21-win squad from Murray's first year at the school.
"We were a lot younger this year than we were then, and particularly on the blue line," Murray said. "Four of the six guys that played on defense for us back then are playing in the NHL right now, so that's fairly good.
"We were an older team and our defense was certainly the main part of our team, but I think certainly we're more balanced in terms of skill and speed on our team this year than we were at that time."
A year after WMU went 8-25-3, the Broncos are now 22-15-5 and flirted with potentially earning a No. 1 regional seed until they lost twice last week during the final weekend of the NCHC playoffs.
Those two losses came against the Nos. 1 and 2 seeds in this year's NCAA tournament. After a NCHC semifinal defeat against Minnesota Duluth that was closer than the final score suggested, WMU fell 3-1 last Saturday in the conference's third-place game against top-ranked Denver.
"When you watch the tape back, you're never as good as you thought you were and you're never as bad as you thought you were," Murray said. "That game on Friday night with Duluth, we lost it 5-2 but it was 3-2 in the third period and we hadn't given up one scoring chance the whole period up until four minutes to go when they got the 4-2 goal.
"We were a lot closer to tying the game and had one goal called back, so we ended up playing the team that won our league title and we were right with them all the way through, and then I give Denver credit because on Saturday they played a gritty, determined lineup, but if you go back and count the scoring chances, we didn't play very well and the number of chances we didn't finish on.
"Obviously, we've shown this year that we can play with anybody and we're disappointed in not faring better, but we can play better."
On Friday, Western will try to make history against Air Force, the No. 3 seed at this year's East Regional. WMU is still looking for it's first-ever win in a NCAA tournament game after six previous unsuccessful attempts.
That isn't, however, of much concern to Murray.
"The bottom line is that we are one of the 16 remaining teams in the country that's still playing hockey, and that's a pretty good feeling," he said. "We're just so darned focused on preparing for Air Force and doing what we can to beat them.
"I haven't even given that equation (of a first tournament win) any thought. We're just trying to win on Friday night, and then if we do that, that will eliminate that problem."
Should Western defeat the Falcons, another stern test would be waiting in the regional final against either Harvard or host school Providence. It's a difficult field from top to bottom, and WMU will be reminded of that right away.
"I think the main thing is that I don't think there's one matchup in these final 16 teams, the eight games that are going to be played, where you can say for sure who's going to win," Murray said. "I don't think there's one of them.
"We're forewarned about Air Force. Air Force beat Boston College this year, they beat Ohio State and they've lost one game in their last 14, so they won some big games. They lost 4-3 to Denver on a late goal, they beat Colorado College pretty handily.
"They've got some players and they play hard," Murray concluded. "There's three things: you can't outwork Air Force, you can't out-compete them, and you're certainly not going to out-condition them with what they got through in their cadet lives. You've got to match all those things and then hope that you execute. It's a real tough matchup for us."
— Matthew Semisch
Air Force Falcons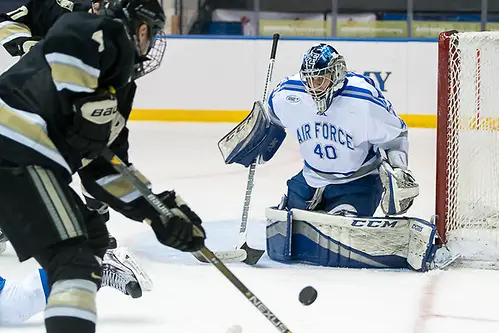 Team page | Statistics | Roster | Schedule/results | History
Coach: Frank Serratore, 20th season at Air Force and 24th overall
Record: 26-9-5 (19-6-3 Atlantic Hockey, second)
How they got in: Atlantic Hockey playoff champions
Regional seed: Third
Last NCAA tournament appearance: 2012
Best NCAA finish: National quarterfinal, 2009
Why they'll get to the Frozen Four: Air Force is 12-5-2 on the road so far this season, 3-0-1 at neutral sites. The Falcons have played a tough nonconference schedule, including a win over Boston College, a tie (and a loss) to first-round opponent Western Michigan and an overtime loss at Denver.
Why they won't get to the Frozen Four: No player on the Air Force roster has any NCAA experience, and if the Falcons do survive against Western Michigan, they are looking at either a virtual road game against Providence or a tough matchup against No. 3 overall seed Harvard, which should also have considerable fan support.
For more than half a decade, Air Force's presence in the NCAA tournament was almost a given. The Falcons joined Atlantic Hockey before the 2006-2007 season and immediately began a string of conference titles and NCAA appearances, five in six seasons from 2007-2012.
But since 2012, Frank Serratore's teams haven't been to the big dance, despite averaging 19 wins a season over that four year stretch.
"We had a good run for a while," said Serratore. "We won five of six. But after a couple years when you're not (in the NCAA tournament), you think, 'Oh my God, the league keeps getting better and better, am I ever going to get another chance?'"
That chance has come for the Falcons, who claimed their sixth AHC title after defeating Robert Morris 2-1 in Rochester, N.Y., on Saturday. Air Force goaltender Shane Starrett was the MVP of the tournament, allowing just two goals in four postseason games.
Starrett (25-5-4), a sophomore, has five shutouts this season, posting a 1.89 GAA and a .928 save percentage to date.
"We only scored five goals in (the final) three games but we went 3-0," said Serratore. "We've got a good team, I'll even say we have a very good team. (Starrett) is our best player. He makes us a great team. He gives us a chance to win every night."
Junior forward Jordan Himley leads the offense with 20 goals, including the game-winner in the Atlantic Hockey title game. Himley was named to the AHC all-conference second team. Joining him were Starrett (third team goalie) and junior defenseman Phil Boje (first team defenseman).
Serratore likes to say that special teams and goaltending are magnified in the postseason, and while the Falcons' power play has been struggling, their penalty kill has been outstanding, currently first in the nation at 89.9 percent. Air Force hasn't allowed a power-play goal since Feb. 18, a stretch of 24 chances over its final six games.
The Falcons, who were an overtime goal away from reaching the Atlantic Hockey title game last season, are young, and continue to be ahead of schedule.
"To be honest, we have a business plan, and we knew this (championship) was going to happen," said Serratore. "But it was going to happen next year. We only had three seniors last year and we only have three seniors again this year, so we're thin in our upper classes. College hockey is a men's league, and it's hard to win with young teams. We did it a year ahead of schedule."
Air Force is just 1-5 all-time in NCAA tournament appearances, but all but one of those losses were by a single goal. The exception, a 2-0 decision to Boston College in 2012, was a 1-0 game until the final two minutes. Two of the losses were in overtime.
Serratore expects nothing different in terms of the challenge his team will face, but says an aggressive on-conference schedule helps.
"Our guys look forward to those (nonconference) games," he said. "We circle those games.
"We've beaten some good teams this year," he added. "Denver, a pretty good team, a No. 1 team, we took to overtime. There's nobody that we play that's going to intimidate us. We play those (nonconference) games for a reason, to prepare for this moment."
— Chris Lerch
Providence Friars
Team page | Statistics | Roster | Schedule/results | History
Coach: Nate Leaman, sixth season at Providence, 14th overall
Record: 22-11-5 (11-7-3 Hockey East, fifth)
How they got in: At-large bid
Regional seed: Fourth
Last NCAA tournament appearance: 2016
Best NCAA finish: Champion, 2015
Why they'll get to the Frozen Four: This is a team that can establish an aggressive forecheck and put teams on their heels. They need to do that to success. Also, playing in a venue that will be like home ice could produce the same result as 2015 when the Friars won the East Regional and the national title.
Why they won't get to the Frozen Four: Let's start with the fact that Providence is playing the hottest team in the nation, Harvard, to begin. Add in the fact this team struggled to score goals in its quarterfinal series against Notre Dame and that goaltender Hayden Hawkey hasn't always been consistent and there are a number of variables in play.
It feels like déjà vu all over again.
Often times, that's not an expression you like to hear in sports as it usually references bad things happening for a second (or third, etc.) time.
In the case of Providence, déjà vu would be welcome.
Two years ago, the Friars lost in the Hockey East quarterfinals and had to wait out championship weekend, glued to TVs and computer screens wondering if they would get a bid. That happened again this year.
Two years ago, the Friars, despite being a number-four seed were given the chance to play at the Dunkin' Donuts Center in Providence despite not being the host of the regional. Last Sunday, that became the case again.
Two years ago, the Friars won that regional, upsetting Miami and Denver before heading to the TD Garden on the way to the school's first-ever national title.
Can that happen again? That's the million-dollar question.
On paper it feels familiar. But a closer look at this Friars team compared to the 2015 national champions shows a little less experience and a team that, for much of the year, struggled in many facets of the game.
Add to that the fact that Providence's opening round opponent is Harvard, the nation's hottest team, makes the mountain just more difficult to climb.
"They've had a great season and they've been on a roll," said Providence coach Nate Leaman about the Crimson.
Leaman knows that this won't be a cake-walk and certainly won't be influenced solely by the home fans. Despite a growing fan base, there still won't be a typical atmosphere that one can expect on-campus at Schneider Arena.
Additionally, Providence needs to harken back to its mid-February form when it was aggressive in puck pursuit and creating more problems than it faced.
"For us, it's about getting back to a better attacking mentality offensively," said Leaman. "Outside of that is having good discipline. They're a very good power play team and they draw a lot of penalties."
The one similarity from 2015 to this season that may benefit the Friars is the weekend off between being eliminated in the quarterfinals and playing in the regional. It was good for both the team and netminder Hayden Hawkey.
"We had to make a big push in the second half of the season," said Leaman. "I'm proud that we've played every weekend in the second half and having one weekend off can help us. If the team attacks it the right way it can help us.
"I think every goaltender this time of year has to be good. It's helping our team to have this little break. That's going to kind of reenergize us but it also allows 'Hawk' (Hayden Hawkey) to get a little time to work with [the goaltending] coach."
— Jim Connelly