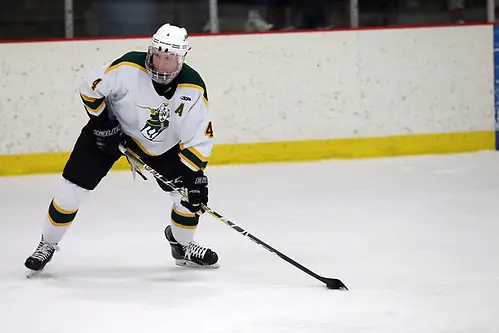 St. Norbert is headed to the Frozen Four this week, and it's a familiar place for the Green Knights, who are in it for the 11th time in the last 15 years, winning four national titles along the way. They advanced with a thrilling 4-3 overtime win over Augsburg and now play 2015 national champion Trinity Friday in the national semifinals.
The stage will be a little bigger, but that is the extent of what changes for the Green Knights.
"We'll do what we have done every other week this year, and that's get ready for a Friday tilt," St. Norbert coach Tim Coghlin said. "We'll do the same thing we do for any other opponent, and that's dig as deep as we can to learn about them."
At the same time, Coghlin understands the importance of this weekend.
"It's a special circumstance for sure," Coghlin said. "It's something you hope all players get a chance to experience."
The Green Knights, who are 22-5-1, last won a national title in 2014. They were the national runner-up a year ago. Roman Uchyn's overtime goal against the Auggies last Saturday has St. Norbert just two wins away from a championship.
Taking the next step means getting past Trinity, which needed two overtimes to skate past Endicott, 2-1, in its national quarterfinal game last weekend. The Bantams are 20-6-3.
"We don't know a ton about Trinity," Coghlin said. "The biggest wow factor about them is the last time they won it, they beat a good Adrian team and a good Stevens Point team. Those are two teams we know very well because we play them a lot. They have 13 upperclassmen, all of whom played the last time they won a championship. Hats off to them. They look like a team on a mission."
St. Norbert has a great deal of experience as well. Eleven players on the roster are either juniors or seniors. Only two players on the roster are freshman.
The Green Knights are the only team back in the Frozen Four for the second consecutive year, which speaks volumes about the program.
"It tells you how hard it is to make it back," Coghlin said. "We have guys we hope we can rely on from last year because they have experience. They will have to step up their games."
Experience only goes so far. Intangibles come into play as well in a team's quest to win a title.
"To win at this time of the year, you need that "it" factor," Coghlin said. "We don't know what "it" is. Sometimes it's goaltending, sometimes it's the power play or penalty kill, and sometimes one team is more committed than the other. And sometimes it's all of those things together."
The Green Knights have been phenomenal on both ends of the ice. They have cranked out 107 goals, including 13 by Tanner Froese. Uchyn and Riley Christiansen have tallied 11 apiece.
Then there is the tough-to-crack defense that has given up only 45 goals. T.J. Black leads the way in goal, giving up only 24 goals. He has won 17 games.
"We lead the nation in goals-against, and our success starts there," Coghlin said. "We try to play a 200-foot game offensively and defensively. We know we have to bring our A game to have a chance to win at this time of the year."
Bulldogs punch ticket to Frozen Four
A year ago, Adrian had its dreams of a national title dashed in a 5-2 national quarterfinal loss to Wisconsin-Stevens Point.
The Bulldogs found themselves matched up with the Pointers again Saturday night in another NCAA quarterfinal showdown. This time, the result was different, with Adrian rolling to a 6-3 win to punch a ticket to its fourth Frozen Four in program history.
Trevor Boyd scored twice. He also dished out an assist. Kyle Brothers and Connor Armour tallied two assists apiece, and Kevin Entmaa, one of the best young goalies in the country, made a career-best 39 saves.
The game was tied entering the third period. Boyd broke the tie just over six minutes into the third period and the Bulldogs never looked back. Cory Dunn and Austin Harvey added goals to finish off the win. Entmaa played a crucial role in that third period as well, helping to swing the momentum in favor of the Bulldogs by stopping all 15 shots the Pointers took in the period.
Entmaa now has 15 wins, the most in his career in a season, and the Bulldogs, who are 20-6-2, are off to the national semifinals for the first time since the 2014-15 season.
Beating the reigning national champs is quite an accomplishment. The next challenge is taking down the top-ranked team in the land in Norwich, which owns a 25-1-3 record and a 23-game unbeaten streak.
Although it won't be easy, the Bulldogs are more than capable of beating the Cadets and getting a shot at the program's first title. Three players have tallied more than 30 points, including Dunn, who has nine goals and 27 assists. Boyd is the leading goal scorer with 18, and has dished out 17 assists as well.
Then there is Brothers, who has come through with eight goals and 27 assists. Ten other players have racked up at least 11 points, and Entmaa has been phenomenal in goal, making 541 saves in 23 starts. He has fashioned a 2.18 goals-against average.
After back-to-back losses to NCHA rival St. Norbert, Adrian has won eight of its last nine. The only loss during that stretch was to the rival Green Knights in the conference title game.
The two teams could meet for a fourth time in the national championship, as both are in the Frozen Four. Even if they don't play for a championship against each other, Coghlin will be the first to tell you it's impressive that two teams from the same conference are in the Frozen Four.
"It's a big deal," Coghlin said. "It speaks well for the NCHA and how competitive that league is from top to bottom. It's great to have two teams represent our league in the Frozen Four."