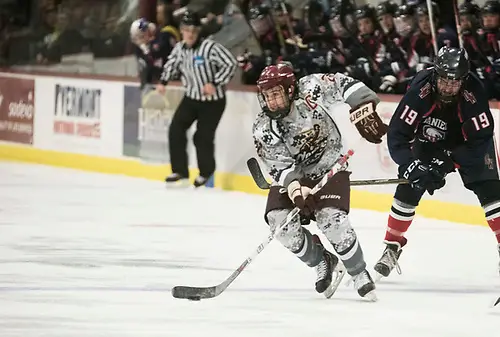 Listed on the roster at 5-feet-5 and 165 pounds, senior Tyler Piacentini plays much bigger on the ice for the No. 1 Norwich Cadets. Entering this weekend's Frozen Four, Piacentini, a two-time captain, is excited to have reached the Frozen Four for the first time in his four years with the Cadets, but feels there is yet more to achieve starting on Friday night against Adrian.
"None of us had been to a Frozen Four in our time at Norwich," noted Piacentini. "It really means a lot to the team and especially to our seniors, who have been close but not able to get here like other teams in recent years. Last season was not a typical one for us with our overall record and early exit from the conference playoffs. Injuries and other things happen, but we make no excuses and none of us were happy with the results. It was important for us to bounce back this season and all of the hard work and dedication from the upperclassmen and the great recruits coach (Mike) McShane and coach (Steve) Mattson have brought in helped bring it all together."
Since November 18, 2016, or 25 games ago, the Cadets are unbeaten entering the Frozen Four. They bring four lines that are contributing offensively, led by forwards William Pelletier and Kevin Salvucci with 43 and 36 points respectively, and have the added punch from Cody Smith on the blue line, who has added 33 points this season. Piacentini, who sees a lot of ice team in all situations, has 15 goals this season and most importantly, five game-winning goals for the Cadets.
"We are going well right now with all four lines chipping in," said Piacentini. "Our D-men are playing great and we have two goalies that have just been able to focus on doing their job with the five guys in front of them doing theirs. We are going in focused on the game on Friday night and hope we have two more games in our season."
Knowing that this edition of Norwich hockey hasn't been to the Frozen Four, Piacentini isn't worried about his team playing on the big stage or smaller ice surface than the friendly confines of Kreitzberg Arena.
"We have a very tight and mature group," said Piacentini. "There are a lot of guys that could be wearing letters on their jerseys, so leadership and work ethic are qualities that all of our players bring to the ice along with just being super competitive. We love playing at home and on a bigger surface, but we have had success on smaller ice surfaces all season as the visiting team. In Utica, we will have to adjust a little bit but it won't have much of an impact on our game. We are very excited to play."
The Cadets face Adrian in the second semifinal on Friday evening, with the winner moving on to Saturday's national championship game. The focus is on Adrian, but the Norwich captain fully expects his team to be playing in two games this weekend to close out the season.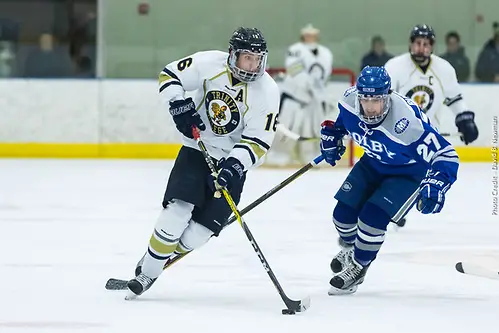 Orlando and Bantams looking for more big game magic
Two seasons ago, the Trinity Bantams won the national championship over last year's title holders from Wisconsin-Stevens Point by a 5-2 score, and the first goal of the game was scored by Sean Orlando. This year, the senior leads the Bantams in scoring and a return to the Frozen Four, where he and his teammates hope to add a second national championship to their resume as the most successful senior class in Trinity hockey history.
Orlando and the Bantams have turned up their game at the crucial point of the season, and the senior forward has been a key offensive weapon in Trinity's playoff run, including the NESCAC tournament and NCAA tournament leading into the Frozen Four. In five tournament games, (three NESCAC and two NCAA) Orlando has recorded five goals and two assists for seven points to lead the team. He scored the first two goals in the win over Plattsburgh in an NCAA first-round game before adding the key tying goal against Endicott in a game the Bantams won 2-1 in double overtime.
"Sean is a special, special player," stated coach Matt Greason. "Along with Ryan [Cole], he brings great experience and is a calming presence with the team in addition to being so talented on the ice. Sean's first goal against Plattsburgh showed off his amazing talent after he walked through two defensemen and roofed a backhander over the goalie. Not many players make that play at this level anywhere in the country."
Fellow seniors Ethan Holdaway (8-13-21) and Brandon (8-12-20) and Ryan Cole (13-19-32) have also been key performers in the balanced attack that has the team scoring better than four goals per game. The scoring across the lines and an effective power play that have emerged in the second half of the season are two aspects of Trinity's game that don't have them worried about matching up with anyone, including Friday afternoon's opponent, St. Norbert.
"Skill and talent sometimes become barriers to success," said Greason. "Early in the year, we were looking for easy offense. We thought skill alone was going to create the pretty highlight-reel goals. We needed to get to the hard areas and score some ugly goals and make the commitment to making that the foundation of our success. Once we got there, that was where the skill took over and if you look at our win over Endicott, the two goals may have gone a total of four feet off sticks into the net."
The Bantams' last loss dates back to Feb. 3 against Williams. Since then, they are 10-0-0 and have outscored their opponents 46-14, including six games where they have scored at least four goals in recording a win. While the offense has been great, equal credit should be given to the defensive group and goaltending of Alex Morin, who has backstopped the current win streak.
Morin out-dueled Endicott's Kevin Aldridge in last weekend's quarterfinal win, stopping 49 of 50 shots faced, and the team has immense confidence in playing in front of him. The Frozen Four is a new experience for the Bantams' netminder, but is a stage that all of his coaches and teammates think the junior will embrace with his competitive drive come game time Friday afternoon.
"Alex does not lack any confidence," noted Greason. "He needed to be great to beat a very, very good Endicott team and outlast a great effort by their goaltender. I don't worry about Alex in any crease in any game setting. He is a competitor, and as I said before we wouldn't want to go into battle with anyone else between the pipes."
For the seniors, this is the last chance for a national championship, but also a familiar environment for those that led the way in 2015 and hoisted the trophy in Minnesota. For Orlando and this group of seniors, a case of history repeating itself would be a most welcome weekend in Utica.