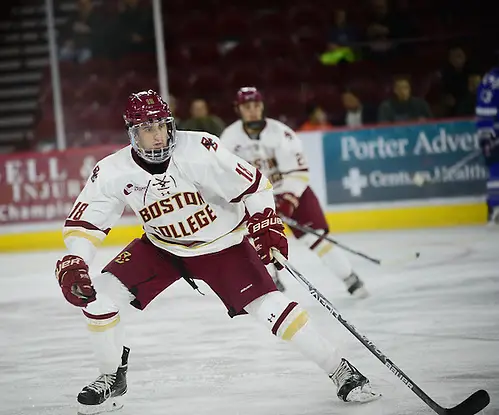 The Ottawa Senators announced Sunday that Boston College forward Colin White has signed an amateur tryout agreement with the American Hockey League's Binghamton Senators.
He will report to Binghamton immediately and will also forgo his last two years of NCAA eligibility.
"We are excited to see Colin make the next step in his development in turning professional after a great college career," said Ottawa GM Pierre Dorion in a statement. "We have spoken to Colin and his advisors at length and we are all in agreement that getting him on the ice to play games in the AHL is what is best for his growth at this moment. While our ongoing contract discussions are moving in a positive direction, we all know there is a small window left this season for Colin to gain professional experience."
White was the Senators' second first-round pick (21st overall) at in the 2015 NHL Draft and recently completed his second season with the Eagles, posting 16 goals and 17 assists for 33 points in 35 games, completing his two-year college career with 35 goals and 76 points in 72 games.
White also helped the United States win a gold medal at the 2017 IIHF World Junior Championship where he led the American team with seven goals (and recording eight total points) in seven games.