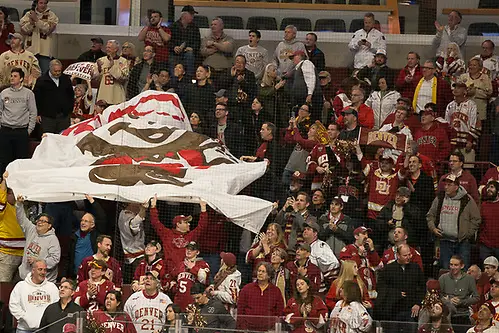 CHICAGO — Entering the Frozen Four, Denver was 23-0-1 when scoring first this season.
So, statistically, things were looking up on Thursday when senior forward Emil Romig got the Pioneers on the board first at 8:18 in the opening stanza.
The offensive momentum didn't stop there — another tally dished in the first period, three in the second and one more in the third sent Denver to the national championship game with a 6-1 victory over Notre Dame.
Denver had outscored its opponents 8-1 in the NCAA tournament and 9-1 in its last four games before the semifinal, so title game foe Minnesota Duluth should tread carefully.
An Irish goodbye
Notre Dame not only said goodbye to its dream of a 2017 national championship with the 6-1 loss, but the night also marked the team's departure from Hockey East.
The Irish are joining the Big Ten next season.
"For me, I think it just makes us more hungry to get back here next year and come in with a better mindset, and similar to what this Denver team here did," Notre Dame's Andrew Oglevie said. "So we're going to build off of it and have a good offseason and come back ready."
And, colloquially speaking of Irish goodbyes, a noticeable number of fans at the United Center who got up during the second intermission to "buy some popcorn" never came back.
History in the making
Saturday's Frozen Four final will be the first time in the history of the 16-team NCAA tournament that the No. 1 seed will play the No. 2 seed in the championship game.
The last time a No. 1 seed played a No. 2 seed in national championship game was back in 1993 — Maine vs. Lake Superior State — when it was a 12-team tourney.
The kicker here? Denver coach Jim Montgomery was then captain for the Black Bears, and his hat trick in the third period won the game, leading him to be named MVP. Oh, and Notre Dame coach Jeff Jackson happened to be coach of Lake Superior State that year, too.
Less is more
The teams combined for only three penalties Thursday — all of them came in the third period. That tied for the fourth-fewest penalties by both teams in a Frozen Four game and tied for second-fewest in a national semifinal.
The Pioneers held Notre Dame to three shots on net in the first period, the fewest shots on goal in the first stanza of a national semifinal by one team since at least 1999. It was the fewest shots on goal in any semifinal period by one team since Yale held UMass Lowell to three shots on goal in the third period of the 2013 semifinal in Pittsburgh.