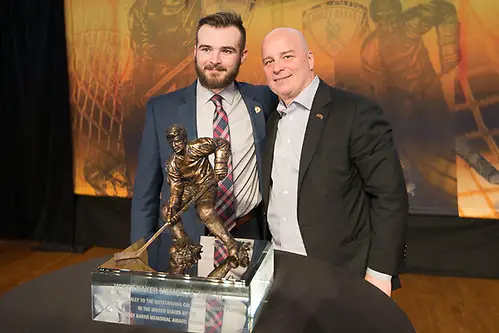 CHICAGO — Denver senior defenseman Will Butcher stressed two things after winning the 2017 Hobey Baker Award: team and process.
"I believe this award to be a team award," he said, moments after the announcement at the Aon Grand Ballroom at Navy Pier. "I accept it on behalf of my entire team at DU."
Frozen Four 2017
More coverage of the 2017 NCAA men's Frozen Four at Frozen Four Central.
Butcher, just the sixth defenseman to win in the 37-year history of the award, also talked about how all season his Denver Pioneers have stuck to a plan, and that plan has paid off big time. Denver will play Minnesota Duluth on Saturday in the national championship game at the United Center.
"At Denver, we talk about following the process and to never focus on the results," said Butcher. "My four years at Denver has been a process."
But it will be hard not to focus on this result. The Hobey is the culmination of four years at Denver that saw Butcher, a fifth-round draft pick of the Colorado Avalanche in 2013, record 103 points to date, including 37 so far this season. He's a plus-27.
Butcher said that this season and the drive to make it special started right after a last-minute loss that ended the Pioneers' season one win shy of the national championship game in Tampa last year.
"We realized right after we lost to North Dakota last year in the Frozen Four," he said. "That game and then the offseason working toward where we are now. It's been a great run and we're not done yet."
"He'll be the first one to tell you this is a testament to the team he has," said Will's father Joe, who was a part of Division III championships as a player for Wisconsin-Stevens Point in 1989 and 1990. "They're all there for each other. Having a large senior class and sticking together and not leaving [for the pros]. The amount of time and work and dedication that they all put in. I think he wants to leave his college career with no stone left unturned."
With one more shot at glory, it's indeed been all business, and all about the team for the soft-spoken Butcher this season.
"I'm not a big personality guy," he said. "I'm not outgoing; more an introvert. Most of this [awards] stuff, I don't feel too honored because, like I said, my team helped me win this award. I give them all the credit."
While Butcher is more comfortable talking about his team than himself, Denver coach Jim Montgomery had no problem describing Butcher's talents.
"I'm really happy for Will right now," said Montgomery. "He's the one that calms everyone down because he has the confidence and poise to make plays under duress. He makes plays that other people don't even see."
[photoshelter-gallery g_id="G0000zvZCR5Mpxw8″ g_name="20170407-Hobey" f_show_caption="t" f_show_slidenum="t" img_title="casc" pho_credit="iptc" f_link="t" f_bbar="t" fsvis="f" width="500″ height="375″ bgcolor="#AAAAAA" bgtrans="t" btype="old" bcolor="#CCCCCC" crop="f" trans="xfade" tbs="4000″ f_ap="t" linkdest="c" f_fullscreen="f" f_constrain="f" twoup="f" f_topbar="f" f_bbarbig="" f_htmllinks="f" f_enable_embed_btn="f" f_show_watermark="f" f_send_to_friend_btn="f" f_smooth="f" f_mtrx="f" f_up="f" target="_self" wmds="llQ6QNgpeC.p1Ucz7U.f0MZViqxDmE5RKqY8kcxZk98WBf4DXzVWBQedUM_5f.7wiMykTg–" ]
That's resulted in several individual awards, including being named the NCHC player of the year as well as an All-American for the second straight season.
The Sun Prairie, Wis., native is the first player born in the Badger State to win the Hobey, and the first defenseman to win the award since Boston University's Matt Gilroy in 2009. No blueliner has been named a Hobey Hat Trick finalist since, much less the winner.
Gilroy's Hobey win came the day before his Terriers won the national title in a wild comeback against Miami at the Verizon Center in Washington, D.C.
Butcher is hoping for the same kind of magic. After the ceremony, he was eager to get back to his teammates and prepare for the biggest game of their lives.
"We came here to win a national championship, and that's our one goal," he said. "This is just icing on the cake."
It will be one of the last times he and his Denver teammates will be all together, and he was looking forward to bringing the Hobey Baker Award back with him.
"They're going to give me crap like they usually do," he said. "And I'm going to love it."