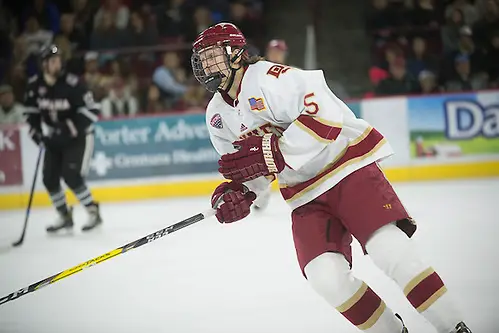 Seven players representing four teams have earned a spot on the 2017-18 NCHC Preseason All-Conference Team.
A total of 30 ballots were submitted by local media members from each school, as well as select national media.
Defending NCAA national champion and NCHC Penrose Cup champion Denver led the way in voting, nabbing four of the seven spots on the team, including three of four forward spots with the third forward spot resulting in a tie.
| Player's Name | Position | Class | School |
| --- | --- | --- | --- |
| Henrik Borgström | F | So. | Denver |
| Troy Terry | F | Jr. | Denver |
| Dylan Gambrell | F | Jr. | Denver |
| Shane Gersich | F | Jr. | North Dakota |
| Louie Belpedio | D | Sr. | Miami |
| Jimmy Schuldt | D | Jr. | St. Cloud State |
| Tanner Jaillet | G | Sr. | Denver |