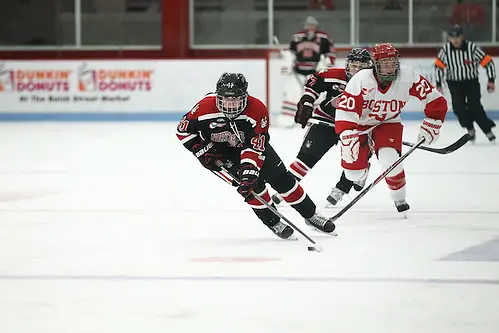 Boston College has had control of the conference for the past couple of seasons, but that could change this year. The Eagles are missing two of their top players in Megan Keller and Kali Flanagan as they are centralized prior to the Olympics. Meanwhile, Northeastern returns 75% of their scoring from last season and has been on the verge of breaking through for a few seasons now. It's going to be an interesting year across college hockey – and especially in Hockey East. I have no idea how to pick who'll finish where beyond the top two – and even those could flip-flop. The rest of the order seems like it will be a total toss-up, so I put absolutely no weight behind any of my ranks from 3-9.
Boston College
Last season: 28-6-5, 17-4-3 (first). Lost to Wisconsin in the Frozen Four.
Names to know
Caitrin Lonergan and Delaney Belinskas: Lonergan was named to the Hockey East All-Rookie team and the USCHO All-Rookie team, while Belinskas was also on the Hockey East All-Rookie team. They tied for third on the team with 33 points last season. They'll have an even more expanded role this year.
Katie Burt: Her play in net will be so crucial to the team's success with their two top defenders gone for the season. Burt has always been very good, but the team needs her to find another level in her season.
Toni Ann Miano: She has a huge opportunity to step up and be impactful. She's had a rocky go of it at times, but don't be surprised when you see her name pop up a bunch this year.
"Our team is very excited, and we have four strong freshmen joining our team who I think will help us. (Kenzie Kent, McKenna Newkirk and Katie Burt) are ready to try and prove something. It's going to be a year where they can try to prove something and prove that they can help carry a team." – coach Katie King
Three questions
1. Will the underclassmen take the opportunity presented to them? There are just four seniors on this roster, and there's a spotlight on the young talent here. How quickly the freshmen assimilate and how the sophomores handle year two will be huge.
2. Can Miano live up to the potential? She was suspended for part of last season, but before that she was playing at a nearly point-per-game clip. With Keller and Flanagan gone and a young team, the Eagles need strong leadership and a solid blue line.
3. Can they start strong? Last season's opening weekend against Minnesota-Duluth led to a tie and loss and signaled to the rest of the country that Duluth was a force. BC has Minnesota-Duluth then No. 9 Quinnipiac to start the season, and that will really set the tone for them.
Crystal Ball
BC gets the benefit of the doubt and the top spot, but I don't think it's going to be easy.
Boston University
Last season: 19-12-6, 12-8-4 (third). Lost to Northeastern in the Hockey East tournament semifinal.
Names to know
Victoria Bach: She led the team in scoring last year and looks to lead the offense again this season.
Jesse Compher: She is a two-time gold medalist with the USA U-18 team and BU hopes she'll make a big — and immediate — impact.
Abby Cook: Cook was the second-highest scoring defenseman on the team as a freshman.
"Every new season is exciting and brings with it a different look and personality. The 2017-18 BU squad has a good deal of uncertainty at all three positions. Who will step up in goal, how will the two transfers and four young defenders perform with our pair of upperclass blue liners? Up front, Victoria Bach and Rebecca Leslie are marquee players, but who will evolve behind them? Taking on the responsibility of new and more challenging roles will be expected of numerous players. How quickly they understand, adapt, and perform in these roles will help determine how much success we have this season. My staff and I will look for consistency in our overall effort and mental performance. Last year, we were erratic in this area and it cost us a few games." – coach Brian Durocher
Three questions
1. What the heck happened in the opening weekend? BU played its first preseason game against Canadian University Concordia and struggled to keep up. The game ended a 2-2 tie, but that's definitely got to make the Terriers a bit worried. They followed that with a loss to Merrimack. Maybe it's a blip or an early wake-up call, but either way, there's clearly a lot to learn still.
2. Can they shore up the goalie situation? Erin O'Neill got a handful of games last season, but neither she nor the now graduated Victoria Hanson were stellar. The Terriers should be able to score quite a bit this season, but they gave up nearly three goals per game last year. They need to be stronger in back.
3. How can they be better on the PK? They were fifth in the country for penalty minutes and killed penalties at just an 82 percent clip. They have to give their goalie a chance and stay the heck out of the box, and they have to be stronger on that penalty kill. The margin for error in Hockey East is too slim to be giving away that many advantages.
Crystal Ball
I'm trying hard not to let that preseason result skew my view too much, but I do think BU is the odd (Boston) school out this year. There's a lot of talent below them and I think spots 3-6 are going to be incredibly tight. Mostly based on how I think the others will move up, I've got BU fifth.
Connecticut
Last season: 14-18-4, 9-13-2 (seventh). Lost to Northeastern in the opening round of the Hockey East tournament.
Names to know
Leah Lum: She is one of eight returning seniors and the team's leading scorer last season.
Annie Belanger: She is 5-foot-10 and a huge presence in net for the Huskies.
Natalie Snodgrass: She should be an impact freshman. She's a two-time IIHF U-18 Women's World Championships gold-medal winner with Team USA and led that team in scoring in 2016.
"We are excited to get going. We had a great first half last season, but injuries in the second half derailed us. We're looking to bounce back. We have to focus on daily improvement, use experience to our advantage, and help along our younger players. If we do those things, our play will speak for itself. We have a great senior class that has been through a lot, and we'll be leaning on them this season." – coach Chris MacKenzie.
Three questions
1. Can they win at home? The Huskies say a goal this season is to finish with a winning record. One big key will be improving at home. Last season, they were 9-8-2 on the road but just 5-9-1 at home.
2. Can they play a complete season? They were 3-8-1 over the final 12 games of the regular season last year after a fairly strong start. If they want to reach their goal of a Hockey East title, that's just not going to cut it.
3. Can they win close games? They played 20 games decided by two goals or fewer last season. They're on the verge and have shown they can compete. Now they need to step up. One way they can do that: special teams. They converted just 14 percent of the power-play opportunities and killed just 85 percent of penalties. If they're going to make advances and nab some upsets this year, they have to be better on special teams.
Crystal Ball
Based on my weekly pick 'em standings, I'm actually pretty horrible at this, but I think the Huskies have a chance to make a splash this season. That big and experienced senior class joined with Snodgrass' scoring ability have me putting them third.
Maine
Last season: 10-21-1, 6-17-1 (ninth). Did not make the Hockey East tournament.
Names to know
Tereza Vanišová: She was the co-Hockey East Rookie of the Year. She also had five goals for the Czech Republic in the 2017 IIHF Women's World Championships. She tied for the team lead in points.
Allyson Matteu: She was third in the team in scoring as a defender. She was fourth in the conference for scoring among defenders.
"We have a roster with 18 freshmen and sophomores, and I think when you have a roster with that sort of makeup it's pretty inevitable that you're going to have to count on a lot of those players in key situations. Looking back at last year, obviously it was disappointing not making the playoffs and where we finished, but from a positive standpoint I think that we proved, beating all three of the Boston schools, that we can play against anyone when we put it together. I think we're more skilled than last year, I think we're deeper than last year, but experience is going to be something that we're going to have to try and gain as quickly as possible to make an impact in the league this year." – coach Richard Reichenbach
Three questions
1. Can they get better on the road? Just one road win all of last season has to make those games a priority this season.
2. What did they learn last year? Looking at stats and standings as a whole makes it look bleak, but there were quite a few high moments in the season, including sweeping Northeastern late.
3. Can the sophomores step up? It is a young team, but 11 sophomores now have a year of experience.
Crystal Ball
It is a tough year in Hockey East from top to bottom. I've got Maine eighth.
Merrimack
Last season: 11-22-3, 7-17-0 (eighth). Lost to Boston College in the opening round of the Hockey East tournament.
Names to know
Mikyla Grant-Mentis: She led the team with 27 points as a freshman. She was also third in the conference in face-off percentage.
Felila Manu: She led all of Hockey East with 56 blocked shots last season.
Katelyn Rae: She led the team with 18 goals.
"We can't say that we're young anymore. We started from scratch and had a lot of youth in our lineup, but now we're in a position where we feel that, as mostly juniors, that's not something that's going to be holding us back anymore in terms of our development. We're excited to see what our new leadership brings to the table in terms of climbing the ladder in Hockey East in terms of really being competitive with those top four teams. It was really rewarding to actually accomplish that goal (of making the playoffs), but in the same vein we thought we were a better team than what we showed. We just didn't have a strong finishing power." – coach Erin Hamlen
Three questions
1. What's the next step? The Warriors made the Hockey East tournament last season in just their second year in existence. It was a great first step toward growth, so what's the next one to show things are improving?
2. What's the key to a better defense? For a young and new team, Merrimack had an impressive power play and offense, but the defense game up an average of 3.25 goals per game. They have to find a way to lock down the blue line better so their offense has a chance to shine.
3. How can the 13 juniors make their final two seasons count? The team's "first class" has already made huge strides in their first two seasons and has started to write Merrimack's history book. With such a big presence, they have a chance to create a legacy.
Crystal Ball
With everyone else in the conference showing signs of promise, it's difficult to pick Merrimack higher than ninth.
New Hampshire
Last season: 14-19-2, 11-11-2 (sixth). Lost to Boston University in the opening round of the Hockey East tournament.
Names to know
Amy Schlegel and Julia Fedeski: They tied for second in the league in defensemen scoring, trailing only BC's now-Olympian Megan Keller.
Mary-Jo Pelletier: She is a scoring threat and led the team in blocked shots for the second straight season.
"We hope to build off of the successes we had last year and exceed expectations. We are fortunate to play in a great, competitive league. We want to play for a championship. That is what we will work for every day. Our defense has a lot of experience and we added two freshmen to the mix, so we expect great play out of that group. In the net we need to have more consistency, and with Ava Boutilier joining Hilary Cashin and Kyra Smith we hope to see that. Ultimately, we could talk about all of our players. They all work hard and they all deserve to be mentioned, but we need to play every game as a team, prepare for every situation and execute when it matters to reach our goals. If we enjoy the process of getting better every day, we will give ourselves a great chance of reaching those goals." – coach Hilary Witt
Three questions
1. Who's going to fill Jonna Curtis' skates? The senior led the team with 42 points and was second in the conference with that total. The Wildcats next three highest scorers were defenders. The forwards have an opportunity, and someone needs to step up and take it.
2. Can they be better in nonconference matchups? New Hampshire won just three nonconference games last season. Sure, all the focus has been on improving in Hockey East standings, but in the big picture, they need those out-of-conference games on their resume, and they need to be winning them.
3. What will it take to make the jump? The Wildcats finished at .500 last season with 24 points and in sixth place, but were a single point back from Vermont and Providence and four points back from third-place Boston University.
Crystal Ball
By virtue of where I placed everyone else, I've got New Hampshire sixth. Can I just pick a four-way tie for fourth?
Northeastern
Last season: 22-12-3, 14-8-2 (second). Lost to Boston College in the Hockey East tournament final.
Names to know
Denisa Krížová: She averaged 1.3 points per game and led the team in scoring.
McKenna Brand: She led the conference with three short-handed goals and five game-winning-goals and led the team with 23 goals.
Brittany Bugalski: The netminder set a program record for goaltender minutes played last season and put up a respectable 1.98 goals-against-average and a .928 save percentage.
"For this year, I like to use the words 'cautiously optimistic.' I think we have the deepest team since I've been at Northeastern. We've had great players over the years, but I feel like this roster through and through is probably our deepest. We have four lines that can compete. We have eight D that will compete for spots in the starting lineup. We have strong goaltending. We have a senior class that's pretty large that's been playing a lot since their freshman year, so they have lots of experience." – coach Dave Flint
Three questions
1. Can they start strong? With 16 upperclassmen on the roster, the Huskies should have no problem getting right at it, which is good since they start against defending champions Clarkson and follow up with BC, then Colgate, which spent much of last year ranked and is receiving votes this year.
2. How can they win close games? Northeastern played nine overtime games last season and won just two of them.
3. Can they return to the NCAA tournament? They made their first appearance in 2015-16 and with the wide-open field and their returning roster, they have more than good shot to do it again.
Crystal Ball
I have to give BC the benefit of the doubt coming off last season, but I think everyone should be a little scared of the Huskies. I'd be the least surprised if they win the conference, but I'll put them second for now.
Providence
Last season: 17-17-3, 11-10-3 (fourth). Lost to Vermont in the opening round of the Hockey East tournament.
Names to know
Whitney Dove and Katie Friesen: The duo were top-5 scoring defensemen last season as a freshman and sophomore respectively.
Brooke Boquist: She is the team's leading returning scorer and tied for the team lead with 18 goals last season.
"I think that we have depth and skill at every position. We've really put together a team that has a chance to take another step and that's always the goal, to be a better today than we were last year. We truly believe that we are moving in the right direction to be a contender in our league." – coach Bob Deraney
Three questions
1. Can they jump over Vermont? It's a refrain across the nation this year, but it's not a great year to try to make a move purely because so many teams have the personnel and opportunity to make waves. The two teams ended up tied at the end of the season in win percentage and Vermont took their opening round series in the Hockey East tournament.
2. Can they clean up their game? A year ago I pointed out that the Friars were second in the country in penalty minutes. This year, they're first, having taken 224 penalties for a total of 470 minutes — 77 more minutes than any other team. It's impossible to be successful playing that much time short-handed.
3. How will the underclassmen fare? Last year's large freshman class was impactful, contributing 100 points. If this year's seven newbies can contribute to what those sophomores have learned, the Friars could really be a team to reckon with.
Crystal Ball
It seems impossible to pick Providence at seventh, but based on where I've put everyone else, that's how the chips fall. As I said above, I think most of the final standings are up for grabs and I don't have a clue how they'll play out.
Vermont
Last season: 15-14-9, 9-8-7 (fifth). Lost to Boston College in the Hockey East semifinals.
Names to know
Taylor Willard: She is the only captain this year, but wore the C last season, and put a ton of minutes in for Vermont at the end of the season.
Eve-Audrey Picard: She was high in the rookie of the year voting last season. She's back even stronger this season, according to coach Plumer.
Jess Koizumi: She joined the staff as an assistant head coach.
"We're off to a good start with our team. I think the biggest challenge for us is integrating a huge group of new players and new staff. We have eight new players and two new assistant coaches and a new director of operations and equipment manager and a new SID. On the plus side, we really return a lot of key parts of our team. We're strong in net, we return five of our six defensemen that played regularly. Despite the fact that we did lose a big senior class, we still are returning some key players. We return our top three scorers. Optimism is the word of the day, and we're excited to see it all put together. It's going to be a work in progress, but we're hoping to peak at the end of the season like we did last year." – coach Jim Plumer
Three questions
1. Can they survive the second half? The Catamounts have set themselves a rough task in the second half with games against Minnesota, Boston College, and three against Northeastern. It looks like the conference will be a tight race top to bottom, and every point will matter.
2. How do they win close games? Vermont had nine ties — seven in conference — more than anyone else in the country. They ended up tied with Providence for fourth place, but might have even had a shot at third if they'd been able to convert a few of those into wins.
3. How can they bolster the defense? There was a slim margin of difference between their average goals for and average goals against. Pair that with the number of ties and it's clear to see that Vermont needs to widen the gap in offensive output and shut down on defense. Time in net was split last year, but Melissa Black was the goalie each time the Catamounts beat a ranked opponent. It would seem starting with her solid presence in back might be a good start.
Crystal Ball
I don't think it's much of a stretch to think that Vermont takes a step up in the conference this year. I expect them to finish fourth.