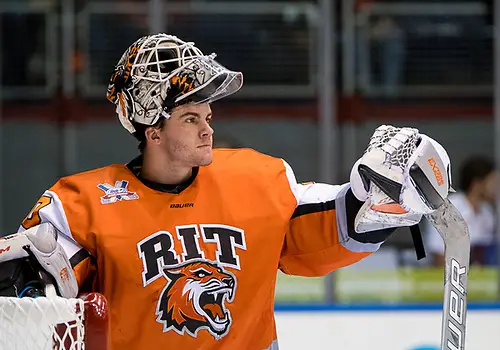 Several ECAC teams have faced intimidating early-season schedules, with mixed results.
St. Lawrence and Union are both looking for their first wins of the season, checking it at 0-4 and 0-5, respectively. SLU hosted Penn State and then traveled to North Dakota last weekend for a two-game series.
The Dutchmen opened on the road against Boston University, and then lost to Michigan Tech and Minnesota at the IceBreaker at Minnesota Duluth.
Rensselaer had a pair of 1-1 ties at Ohio State in Dave Smith's first weekend as head coach of the Engineers, while Quinnipiac played its first two games of the season against Boston University and Boston College, losing to the Terriers in overtime while tying the Eagles.
But it might be Clarkson that has had the toughest opening stretch, and there's still more to come. The Golden Knights 3-0-1, the best start for the program in 11 years.
Clarkson beat Michigan and Penn State at home, and then traveled to Western Michigan last weekend and tied and beat the Broncos. Overall, seven of the Golden Knights' first eight games are against teams that made last year's NCAA tournament.
"It's important that we get our players to different places for different experiences as a student-athlete," Clarkson coach Casey Jones said. "I like to play the best. I like to try and get outside our comfort zone and play teams that are going to challenge you. I think the ECAC is a fantastic league. A few of my years here, I've said this before, I didn't think we were prepared when ECAC opened play and we got hit hard in the early season games and it set us back in the league games."
While Clarkson was 5-3-1 in league play through December last year, it started 0-5-2 two seasons ago.
The games against the Broncos started a stretch of six straight games where Clarkson will play a team that made the NCAA tournament last year. That continues this weekend, when UMass Lowell and Providence visit the North Country to face the Golden Knights and Saints, and concludes in two weeks when the Golden Knights travel to Minnesota for a pair of games against the Golden Gophers.
Jones said that having St. Lawrence nearby has given the Golden Knights the opportunity to schedule games with new opponents. Last year, Minnesota and Wisconsin traveled to faces the Saints and Golden Knights.
"We want our fans in the North Country to experience different teams coming in," he said. "Teams are starting to travel more and we're starting to get some different teams in. It all came to a head this year, but we're real excited about the opportunity right in front of us to play some great teams at home as well as take some neat trips."
Behind the 'C'
Getting selected as a captain typically means that a player has earned the respect of his teammates for his leadership abilities, but there's more than that for Clarkson's Nic Pierog.
The Golden Knights senior was an assistant captain last year and will wear the No. 6 on his jersey after wearing No. 20 for the previous three years. No Clarkson player has worn number six since Mike Morrison during the 1988-89 season.
"It's a great honor, representing Mike Morrison and the family," Pierog told the Watertown Daily Times. "Being the first guy to wear it since Mike is obviously great, and I feel honored to wear it."
Morrison, who went from a walk-on to captain his senior year, was killed in a work-related accident on July 27, 1989.
Since then, Clarkson has handed out Mike Morrison/Coaches Award ever year to a player who displays teamwork, hustle, and dedication.
Jones said that the Morrison family returned to campus and gave him an inside look at Mike's legacy and who he was.
"They gave us the opportunity, if we had a leader that really embodied what Mike embodied, that they would like to see the number back on the ice surface," Jones said. "We thought about it for a few years and hadn't made a move on it, but this year with Nic Pierog being a unanimous selection for captain for our team – he's going into the graduate program, he's fantastic in the community, he has a fantastic work ethic – it just felt right. If we were going to that number back on the ice and have people cheer for No. 6 at Cheel, he was the right person to have that."
The Golden Knights aren't the only team with an interesting story behind its team leadership, as Harvard will have three elected captains for the first time in the program's 119-year history. Seniors Eddie Ellis, Jake Horton, and Merrick Madsen were elected as captains. Madsen is the first Crimson goalie to be elected captain since John Hynes in the 1979-80 season.
"Interestingly enough, Harvard has its own set of rules for how captains are elected," Crimson coach Ted Donato said. "Basically, players had an opportunity to vote for the number of captains and then vote on the captains. To me, the best captains that I've been around are really able to incorporate leadership throughout the whole group and not look at it an individual honor alone. I can't say that I've been around a lot of teams that have had a goaltender as a captain, but that is a testament to how Merrick handles himself."
In addition to his role as captain, Madsen will play a crucial part for the Crimson on the ice this year. Harvard graduated several important forwards, and while it still should score plenty of goals, the defense and goaltending should carry the Crimson more this season compared to the past.
Around the league
• A pair of former ECAC Hockey players made their NHL debut in the season's early going. Alexander Kerfoot, who tied for the team lead in points last year for Harvard, has played in six games for Colorado, scoring his first NHL goal Oct. 11 against the Bruins. Fellow Ivy Leaguer Joakim Ryan, who graduated from Cornell in 2015, made his NHL debut last Thursday for San Jose.
• Clarkson's Sheldon Rempal (player), Rensselaer's Chase Perry (goalie) and Quinnipiac's Odeen Tufto (rookie) were announced as the league's weekly award winners. Rempal had three goals and an assist for the Golden Knights, while Perry stopped 83-of-85 shots in a two-game series at Ohio State, including a career-high 56 saves Saturday. Tufto had two goals in Quinnipiac's first win of the season Sunday against Vermont, including the game-winning goal in overtime.