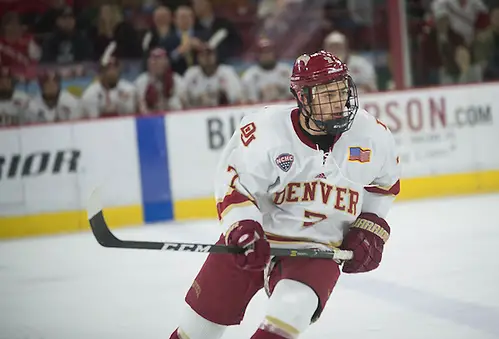 Being the defending national champion didn't get Denver any consideration for easing into a new season.
Rather than play at home, or play against an unranked opponent, Denver took to the road last weekend to face No. 4 Notre Dame, the same team Denver routed in the Frozen Four last year en route to the program's eighth national championship.
While Notre Dame was fired up to perhaps avenge that loss, and looked good entering the weekend, Denver shook off any early-season rust and emerged with a tie and win, an impressive start to the season.
"Yeah I was really happy with our effort and how hard we were to play against, and I thought our mental toughness was good because you're right, Notre Dame is a really good hockey team and it's a tough place to start the year going on the road against an excellent hockey team," said Denver coach Jim Montgomery. "To come out of there with a tie and a win with the way we played, we're very happy."
Coming into the season, most of the talk has focused on Denver's top two lines, forwards who can score in bunches. In fact, Denver had three forwards on the preseason NCHC All-Conference team: Henrik Borgström, Troy Terry, and Dylan Gambrell. All were productive against Notre Dame, with Borgström scoring two goals, Gambrell a goal and assist, and Terry a goal and two assists.
However, what set Denver apart from Notre Dame was its ability to quickly score and negate any momentum the Fighting Irish might have built. On Friday, Notre Dame scored first, but Borgström responded 15 seconds later. Saturday, after a bizarre sequence that saw the referees go to video review for a play that happened two minutes earlier and award Notre Dame a tying power-play goal, Denver scored just 24 seconds after the time the tying goal reset the game to.
"I mean our responses both nights, I just loved our bench the entire weekend," said Montgomery. "You can tell that we have a lot of players that have been through tough moments and tough games. And you know, we didn't waiver at all, and it was really impressive on Saturday night considering that we had eight freshmen of our 20 skaters."
Denver also got good production with those eight freshmen, with four recording a point and two of them, Ian Mitchell and Griffin Mendel, logging regular minutes on the blue line.
"I think they've come along really well," said Montgomery of the freshmen. "They're progressing at a great rate on how to play Denver hockey. It's every one of them. This is a very deep and talented and fast skating class. And I give credit to our upperclassmen. They've done a great job in our first two weeks of practice of communicating with them about different situations."
One of the reasons perhaps that the freshmen can play relaxed and confident is the presence of Tanner Jaillet in net. Jaillet, last year's Mike Richter Award winner, played both games and made 58 saves while posting a .935 save percentage.
"Tanner was great; he was rock solid, he was reading plays well," said Montgomery. "You know we don't give up a lot of shots because he doesn't give up a lot of rebounds. He takes whistles at intelligent moments. So just his understanding, his hockey sense and his understanding of how to manage a game from the crease, he's like having another coach out there."
This weekend, Denver is home for a series against Lake Superior, and on Friday, the team will raise the banner for its championship last season. Montgomery recognizes that night and this weekend as an opportunity.
"Well, I mean, it's again, it's another task," Montgomery said. "And you said it perfectly, an opportunity for us to really put last year's championship behind us, celebrate it and then put it behind us. And how do we maintain that even emotional control and go out and five minutes after the banner is raised go out and play Denver hockey."
North Dakota gets its offense back on track
It says something about the team's depth and recruiting strengths that North Dakota entered as the preseason pick for second in the NCHC, despite losing top scorers Brock Boeser and Tyson Jost to the NHL via early departure.
The team's offensive output in the first three games reflected that; while North Dakota had two wins and a tie, the Fighting Hawks scored two goals per game. Saturday against St. Lawrence however, the Fighting Hawks finally exploded for six goals.
"Well, first of all I think when you look at the group of players that we lost last year, that was probably the bulk of our offensive scoring," said North Dakota coach Brad Berry. "They were a big part of it. I know Shane Gerisch is back from last year being our leading scorer, but you know we lost some impactful players from our group. … The biggest thing for us, if you're not scoring, you better not be giving up anything, and we haven't. We played solid defensively, tight defensively, and when you're growing as a group you want to make sure that your play away from the puck is sound, and it is."
North Dakota is currently ranked fourth in team defense, giving up only 1.25 goals per game. Part of that is due to the play of senior Cam Johnson.
"First of all he made a commitment to come back to North Dakota," said Berry. "He had opportunities after his junior season to leave; he came back because he wanted to be part of our culture for another year here, because you know our team is special here. So he came with the focus knowing that he left a little something on the table last year in the West Regional not advancing to the Frozen Four, and he wants to make sure that his last year counts. Saying that, he's done all the right things in the summer. His conditioning is the best it's ever been, and his focus is on trying to help this team get to where it was two years ago."
While the defense in front of Johnson is not quite as veteran as it was two years ago when North Dakota won the national championship and could lean on players like Gage Ausmus, Paul LaDue, Troy Stecher, and Keaton Thompson, the current unit has juniors Christian Wolanin and Hayden Shaw, as well as sophomore Colton Poolman leading the charge.
"We had some young guys playing a lot of big, big minutes and growing as last season went on," said Berry. "Well, they grew to the point where the second half of the season they were playing very well and gained experience, and now they're another year older. We don't have any seniors on our D-corps, but we have guys that played a lot of minutes, and we've got three new D-men that came in this year as freshmen that that have done well so far this year."
While Boeser and Jost are making waves in the NHL, North Dakota still has forwards like Shane Gerish, Rhett Gardner, and Joel Janatuinen to score, as well as senior Austin Poganski to provide leadership.
"We have some pretty good guys coming back with a wealth of experience that know how to play our way here at North Dakota, and they're paving the way as far as the habits and the work ethic that we have here for the younger guys on a daily basis," said Berry.
This weekend provides a stout test, as North Dakota will renew an old rivalry, hosting No. 8 Minnesota.
"It's nice in the fact that we have this renewed rivalry that will be going on for the next few years," said Berry. "We had the first taste of it last year playing down in Mariucci Arena. We're back in our building now and obviously you know we're excited about it, I know they're excited about it. The fans are surely excited about it. … Obviously nonconference is very impactful in the PairWise rankings at the end of the year, and our focus is preparing ourselves for the nonconference weekend."
NCHC Players of the Week
Offensive Player of the Week ⸺ Mason Bergh, Colorado College: Bergh's offensive output helped lead Colorado College to a sweep of Alaska Anchorage, its first series sweep since Dec. 4-5, 2015. Friday, in a 6-1 win, he assisted on CC's first goal and scored the fourth goal, posting a plus-3. On Saturday, he notched his first career hat trick in 3-2 win. CC was down 1-0, but he scored one goal in each period for a natural hat trick, including two on the power play, with the game-winner coming in the third period before Anchorage added a late goal, and finished plus-1 on the night while being named the game's first star. He also won 52.8 percent of his faceoffs on the weekend.
Defensive Player of the Week ⸺ Jimmy Schuldt, St. Cloud State: Schuldt earned defensive player of the week honors for the second consecutive week, posting a plus-3 and helping lead the Huskies to a sweep of Alaska. On Friday, Schuldt helped St. Cloud rally from a 3-0 first-period deficit, scoring two power-play goals, the second being the game-winner in the third period, and assisted on an empty netter while being named the game's first star. Saturday, he scored another power-play goal and set up a tying goal in the third period of a 5-4 OT win. He also helped the penalty kill go five-for-six on the weekend.
Rookie of the Week ⸺ Grant Mismash, North Dakota: Mismash notched his first two career points as North Dakota swept St. Lawrence. On Friday, he assisted on North Dakota's first goal in a 2-1 win and finished plus-1 while playing on the top line. Saturday, he scored his first career goal, unassisted, in a 6-1 win. He finished plus-2 on the weekend.
Goaltender of the Week ⸺ Cam Johnson, North Dakota: Johnson helped North Dakota sweep St. Lawrence, only giving up one goal in each game. Friday, he made 20 saves while only giving up a single power-play goal, and Saturday, he stopped 27 in the series-clinching win while again only allowing a single goal and being named the game's second star. He stopped 47 shots on the weekend and had a .959 save percentage and 1.01 goals-against, lowering his career GAA to 2.04 and cracking the North Dakota top 10 with his 46th and 47th career wins.