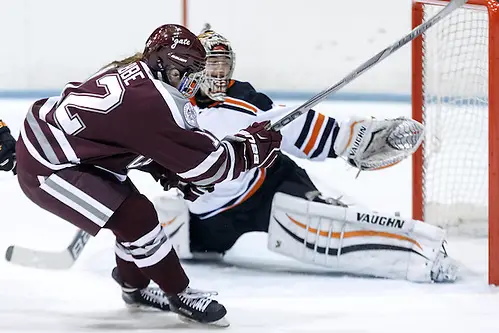 It's been something of a transformation the past few season for Colgate. In 2014-15, they won just seven games, but in each of the past two seasons they've amassed 22 wins and berths in the ECAC tournament.
But the dream has stalled there.
Despite the brilliant season last year that including an overtime win against then No. 5 St. Lawrence, the Raiders were largely unable to overcome the top teams in the ECAC and ended the season on a four-game losing streak and a quarterfinals loss to Cornell in the conference tournament.
While that season is not necessarily one the players want to linger on, it served to give them a wealth of experience, as well as the confidence and hunger to do better.
They're certainly set up for success. Coming back in 2017-18, the Raiders return 94 percent of their goal scoring. They graduated just three seniors and now have 15 upperclassmen on the roster.
All that adds up to a wealth of leadership, experience, and depth that is going to surprise opponents.
Junior Shae Labbe has been a big part of the turnaround for the Raiders, leading the team in goals last season and currently tied for the team lead in points so far this year. She's only known the good at Colgate, but as she starts the second half of her career, she's got her sights set on bigger prizes.
"We ended last season wanting a little more for ourselves as a team. Coming into the season that really lit a fire under us. We're here to prove to ourselves and to everybody else in the nation that we're a top team and we can play against anyone," she said. "We have more to show. We want to be more consistent with our play in every game and every zone on the ice. That's one of our biggest goals this year; we want to do all the little things in all three areas of the ice."
The Raiders came out strong in the first week, blanking a St. Cloud State team that tripped them up last season, but it was two wins over then No. 6 Northeastern that seemed to show that Colgate is a team to reckon with this season.
It's still early, but one big change for the Raiders is less focus on opponents.
"As a team, we're just focusing in on our goals day to day," said Labbe. "This year, we're focused on ourselves. We know that if we show up to the rink and we're ready to play, we can beat anyone, and it doesn't matter who's on the other side of the ice. We know what our potential is, and we're just focusing on making sure that we come to the rink every day and we're ready to perform at our best."
Thus far, those things are ringing true. Opponents are averaging just more than 17 shots per game against them. They lead the country in team defense, allowing 0.50 goals per game. They're tied for second nationwide in team offense, with 4.00 goals per game.
It's been an impressive opening set of games for sophomore goalie Liz Auby. She didn't play much in her rookie season, but seems to have solidified the starting spot with three shutouts through her first four outings. It's a bit of a paradox for the younger players on the ice. They haven't known the struggles of the Raiders' program, but they also don't want to let their leaders down. There's pressure on the underclassmen as a whole, but on Auby in particular.
Though the starting job seems assured, she's not taking it for granted.
"I'm just going out there and just trying to work my hardest and prove myself," she said. "It's an ongoing process. I'm just trying to prove myself every day and be the best I can every day and whatever that looks like in the lineup is what it is. I'm just trying to go out there and not worry about too much — just be the best I can in practice and go from there."
When the team is doing all the things right in every zone of the ice and she's facing a minimum of shots, she knows it makes her life much easier. Though there have been the types of mental lapses that come early in the season, the Raiders are showing they have the poise — and depth — to weather those missteps.
A major key to the team's success thus far, both players said, is how much fun they're having together, both on and off the ice. Through the self-imposed pressure of erasing the end of last season and proving themselves, the team is remarkably loose. Labbe said that's what's making the offense click so well.
"We're just going out there and playing free. We're not thinking. We're having a lot of fun, and I think that's why we're producing right now," she said.
It sounds contradictory to hear the players speak both about pressure and fun, expectations and being loose, but Labbe said it's working for the Raiders.
"Obviously we're very focused on our goals, and we know what we want to accomplish and we know what we can accomplish," she said. "It's a balance, and we're definitely in the process of fine-tuning that balance."
Keeping loose while focusing on bigger goals doesn't sound odd to Auby; it's a bit second nature at this point.
"We're going to be our best when we're playing at our fullest potential and relaxed and having fun, so we're not really thinking about the pressure, we're just trying to become the best team we can be."