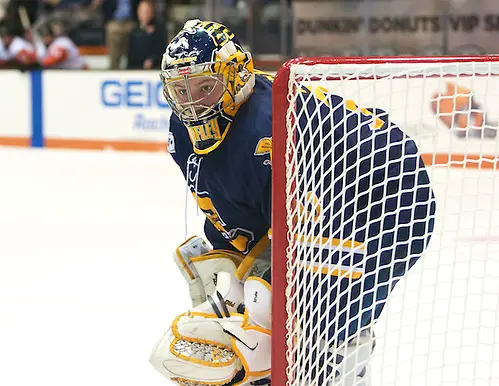 Trevor Large has coached just two games so far, but he and his Canisius Golden Griffins have been through the gamut already.
Last Friday, Canisius fell behind visiting Robert Morris 3-0 midway through the second period, but came storming back with three third-period goals to even the score.
But RMU's Spencer Dorowicz got the game-winner with four minutes to go, ending Canisius' comeback bid.
"There was a lot of emotion (on Friday)," said Large. "First game of the season. We raised a (regular-season championship) banner. New coach."
It made for a great game, albeit not the end result Large and his team wanted.
"Coming back in the third period was great," said Large. "The crowd was great. When (Matt Long) scored the third goal, I thought the roof was going to come off the HarborCenter. But then to lose 4-3, that was tough."
That kind of game is often hard to rebound from. It's difficult for a team to pull itself together in less than 24 hours and fight for a split.
But Large said his team's confidence was high heading into Saturday.
"We played in the third period (on Friday) how we knew we could play," he said. "And I was certain we would carry that over to Saturday.
"We were calm and confident."
Behind a pair of goals from Matt Hutchison and 23 saves by Daniel Urbani, Canisius rebounded with a 4-1 win over the Colonials. It was the first collegiate win for Large, as well as Urbani.
Urbani and Simon Hofley, who made 22 saves in the loss on Friday, are among a group of four goalies looking to fill the skates of the graduated Charles Williams, a Hobey Baker finalists and All-American last season.
Large said he's going with his instincts for now in deciding who gets the nod in net.
"They were gut decisions," he said of selecting his starters. "We didn't go into the weekend thinking that we were going to play Simon Hofley on Friday and Daniel Urbani on Saturday. Simon played well on Friday, but we decided to go with Dan on Saturday and he responded with his first win, which was big for him."
Large said his returning goalies learned a lot from watching Williams last season.
"They've benefitted from being around Charles and learning what it takes to play at that level," he said. "They learned that you can be an all-American goalie on this team and in this league. He set a great example."
Speaking of examples, Large said the mentors he's had have prepared him well for a head coaching role.
"I had the privilege of spending six years with (Army West Point coach) Brian Riley and three years with (Canisius coach) Dave Smith," said Large. "They went about things in their own way but both showed players that they cared. And if a player knows you care, they can push themselves to new levels."
Large says he's grateful for inheriting a veteran team that knows what it takes to win a championship.
"I'm fortunate that my first year, we have so much coming back," he said. "I know we have a great group of forwards and really good defensemen. That helps a lot. Not every coach comes into a situation like that."
Strange scheduling
The early part of the college hockey schedule is typically full of nonconference matchups, setting the stage for intraleague battles in the second half of the season.
But exceptions to that rule abound this season when it comes to the timing of non-conference games.
Usually, teams will get the majority of their non-league games out of the way in October, with the remainder coming around the end of the calendar year, often in the form of holiday tournaments.
But the trend over the past couple of seasons is to throw some teams into conference play right away, meaning those intriguing nonconference games have to wait.
Army West Point is the most extreme example. The Black Knights won't play a nonconference game until Dec. 2, when they host Colgate. Army West Point will have played 15 of its 28 league games by then.
Bentley doesn't play out of conference until Nov. 10. The Falcons open the season with eight straight conference games.
Army West Point and Bentley (as well as Niagara) were idle last weekend, another strange bit of scheduling.
On the other hand, Air Force's first six games this season are against nonconference opponents. Sacred Heart won't begin conference play until six games into its schedule.
We've already had the previously mentioned conference series between Canisius and Robert Morris, teams expected to challenge for first place this season. Last weekend was the only time this season that those squads will clash. How large will that split loom four months from now remains to be seen.
In the end, it will all balance out, of course. And as the saying goes, "Points won (or lost) in October are as valuable as the ones contested in February."
Speaking of nonconference games
Atlantic Hockey teams are a respectable 4-5-2 in non-league games so far. But big challenges lay ahead, including this upcoming weekend.
* Sacred Heart is at No. 5 Notre Dame for a weekend series.
* American International travels to No. 11 Penn State for a pair.
* Air Force, ranked No. 20 in the latest USCHO poll, travels to Bemidji State this weekend. This will be a showdown between head coaching brothers Frank (Air Force) and Tom (Bemidji State) Serratore. The last time the teams met was way back in 2009 when Tom's Beavers swept Frank's Falcons. Bragging rights and Pairwise points are on the line.
* And finally, RIT hosts Rensselaer on Saturday. New Engineers coach Dave Smith, whom RPI snatch up after 12 seasons at Canisius, is 3-1 all-time at RIT's Gene Polisseni Center.
Save that puck
While Trevor Large picked up his first collegiate win last Saturday, new Niagara head coach Jason Lammers earned his first victory a week before, against those same RMU Colonials.
The lack of freshmen seeing significant playing time around the league (an average of just over three rookies per team have seen action) means just six frosh have scored their first collegiate goal so far this season.
A pair of goalies have recorded their first career win, and neither are freshman. Senior Cole Bruns at Army West Point won his first two starts this season, the first was a 5-1 win over American International on Oct. 6.
And as previously mentioned,Canisius sophomore Daniel Urbani backstopped the Golden Griffins to a 4-1 win against Robert Morris last Saturday.
Having their number
Sacred Heart got off to a rocky start this season, falling twice to Northeastern in convincing fashion. But last Saturday the Pioneers rose to the occasion against state rival Connecticut, coming away with a 3-1 win over the Huskies in Bridgeport.
Sacred Heart staked junior goaltender Brett Magnus to a 2-0 first period lead, and that was all he needed. Magnus made 44 saves, including stopping all 16 shots he faced in the third period.
It was the fourth meeting between the schools since Connecticut left Atlantic Hockey for Hockey East in 2015. Sacred Heart has won all four.
The Pioneers' win streak over the Huskies now stands at five dating back to their final meeting as conference opponents back on March 1, 2014.
Weekly Awards
Here's what the league came up with this week. No arguments from me.
Player of the Week — Nick Hutchison, Canisius:
The sophomore had three goals in a split with Robert Morris. All three came on the power play, including a pair in the Golden Griffins' 4-1 win on Saturday.
Goalie of the Week — Brett Magnus, Sacred Heart:
Magnus stopped 44 of 45 shots on Saturday to lead the Pioneers to a win against state rival Connecticut. The junior's 44 stops were the second highest total in his career – he recorded a ridiculous 64 saves in a loss at Penn State in 2015.
Defensive Player of the Week — Brady Norrish, RIT
The senior captain had an assist and blocked a team-high five shots in the Tigers' 3-3 tie with No. 14 Northeastern.
Rookie of the Week — Logan Drackett, RIT
Another standout in RIT's tie with Northeastern was Drackett, who made 41 saves in his collegiate debut. The rookie stopped all 16 shots he faced in the first period.